One of my favorite Bakehouse breads for as long as I can remember now. The base of so many of our Deli sandwiches over the years has been the Jewish Rye bread sans caraway seeds, but given the chance to make the choice for myself, I'd opt for the Caraway Rye each time.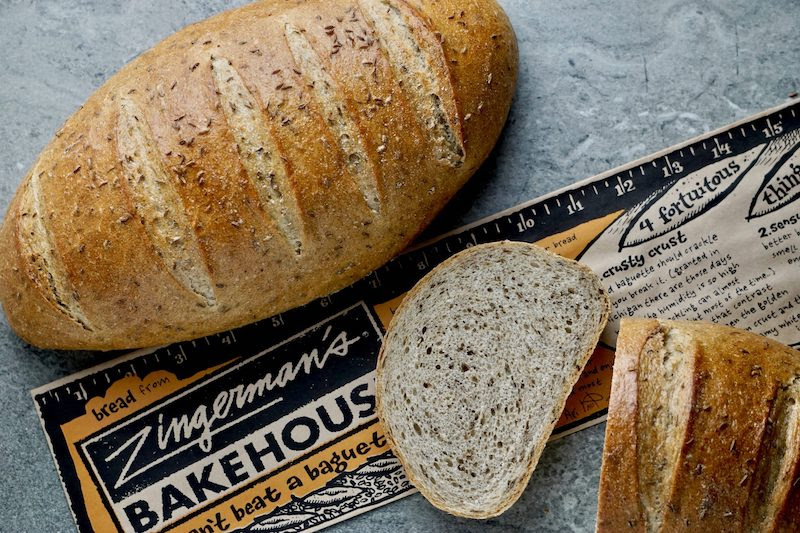 A thick slice, hand-cut from a fresh loaf (I far prefer the roughness of hand-cut slices than the uniformity and "convenience" of having the bread sliced on a machine) and spread with the Creamery's handmade Cream Cheese is, to my taste, one of the best combos one can get at Zingerman's. Toasted and spread with butter is almost as good. Great dunked in chicken soup. Spread with chopped liver. With Willi's cheddar and sliced apples on a grilled cheese.
Or you can make what my friend Jay Sandweiss suggested—toasted Caraway Rye spread with chicken schmaltz (we can sell you some at the Deli). Jay's creatively witty Yiddish name for this? Chazer-rye. Chazer means pig in Yiddish. Chazerei in Yiddish means "junk" or something along those lines. I look at it as the Eastern European Jewish version of bruschetta.
Even without the bread, I have a long-standing love for caraway. There's something about the aromatics, the small hint of anise it offers, the almost but not quite fennel-y flavor that it adds, that makes the rye all the more interesting to me. Caraway is a somewhat misunderstood spice.
A lot of consumers think that caraway is rye, but it's not; rye is a grain, caraway is a spice. And what we all call caraway "seed" is actually the fruit of the caraway plant. It's in the same family as anise, dill, cumin, and fennel, and it's been used since ancient times—you can find references to it in the writings of Rome, Egypt, Persia, and the Arab world. Caraway has been used extensively in northern Europe and Russia for centuries, hence its prominence in the Jewish cooking and baking of that area. And its role in this bread.
Old superstition says that caraway gives the gift of retention—supposedly if you put caraway seeds into something, a thief who tried to steal it wouldn't be able to leave the house. For that reason, it was used in love potions as well—people used caraway to make sure their lovers would be locked in for life.
The Jewish Rye at the Bakehouse—with or without caraway—has been pretty amazing since we started making it back in the mid-90s. Jane and Michael Stern rated the Bakehouse's rye bread the best in the country in Saveur magazine. What makes it so good? A lot more rye flour than most bakeries use, a real rye starter (instead of something out of a can), baking on the stone hearth, steam in the oven to help develop the crust all enhanced by hard work by the bread bakers at the Bakehouse and you get some really great tasting loaves.
Two years ago we raised our own quality ante when we began buying rye from western Illinois and milling it fresh here at the Bakehouse. All of which is taken one step further still at the Deli by double baking (putting the loaf unwrapped into a 350°F oven for about 20 minutes or until the crust is crisp and center hot and steamy) and then hand slicing every loaf while it's still warm to bring out that crust. When you double bake at home, one added bonus is that the entire house is likely to be perfumed with this great aroma.
In the context of creative connection, Jewish rye bread was the critical element in my now dozen-year project to connect anarchist beliefs with progressive business began with Jewish rye bread, and a long essay I wrote about its history. The head of the Jewish Studies Department, Deborah Dash Moore, invited me to speak and titled the talk "Anarchism on Rye." (If you want a slightly longer version of this historian's version of a philosophical fairy tale email me and I'll send it your way. Ironically, or maybe not ironically at all, this is the bread that many of the early 20th century anarchists I was so intrigued by would almost certainly have been eating. Emma Goldman, Alexander Berkman, Joseph Ishill, and others of their group would have enjoyed it regularly.)
HUNGRY FOR MORE?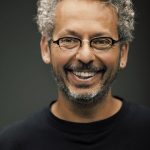 In 1982, Ari Weinzweig, along with his partner Paul Saginaw, founded Zingerman's Delicatessen with a $20,000 bank loan, a Russian History degree from the University of Michigan, 4 years of experience washing dishes, cooking and managing in restaurant kitchens and chutzpah from his hometown of Chicago. They opened the doors with 2 employees and a small selection of specialty foods and exceptional sandwiches.
Today, Zingerman's Delicatessen is a nationally renowned food icon and the Zingerman's Community of Businesses has grown to 10 businesses with over 750 employees and over $55 million in annual revenue. Aside from the Delicatessen, these businesses include Zingerman's Bakehouse, Coffee Company, Creamery, Roadhouse, Mail Order, ZingTrain, Candy Manufactory, Cornman Farms and a Korean restaurant that is scheduled to open in 2016. No two businesses in the Zingerman's Community of Businesses are alike but they all share the same Vision and Guiding Principles and deliver "The Zingerman's Experience" with passion and commitment.
Besides being the Co-Founding Partner and being actively engaged in some aspect of the day-to-day operations and governance of nearly every business in the Zingerman's Community, Ari Weinzweig is also a prolific writer. His most recent publications are the first 4 of his 6 book series Zingerman's Guide to Good Leading Series: A Lapsed Anarchist's Approach to Building a Great Business (Part 1), Being a Better Leader (Part 2), Managing Ourselves (Part 3) and the newly-released Part 4, The Power of Beliefs in Business. Earlier books include the Zingerman's Guides to Giving Great Service, Better Bacon, Good Eating, Good Olive Oil, Good Vinegar and Good Parmigiano-Reggiano.
Ari regularly travels across the country (and world) on behalf of ZingTrain, teaching organizations and businesses about Zingerman's approach to business. He is a sought-after Keynote speaker, having delivered keynotes for Inc. 500, Microsoft Expo Spring Conference, Great Game of Business Gathering of Games, Positive Business Conference at the University of Michigan Ross School of Business, American Society for Quality (ASQ), and the American Cheese Society. Most recently, Ari and Paul Saginaw were invited to address an audience of 50,000 for the University of Michigan 2015 Spring Commencement.
One of Zingerman's Guiding Principles is being an active part of the community and in 1988, Zingerman's was instrumental in the founding of Food Gatherers, a food rescue program that delivers over 5 million pounds of food each year to the hungry residents of Washtenaw county. Every year Zingerman's donates 10% of its previous years profits to local community organizations and non-profits. Ari has served on the board of The Ark, the longest continuously operating folk music venue in America.
Over the decades, the Zingerman's founding partners have consistently been the recipients of public recognition from a variety of diverse organizations. In April 1995, Ari and Paul were awarded the Jewish Federation of Washtenaw County's first Humanitarian Award. In 2006, Ari was recognized as one of the "Who's Who of Food & Beverage in America" by the James Beard Foundation. In 2007, Ari and Paul were presented with the Lifetime Achievement Award from Bon Appetit magazine for their work in the food industry. Ari was awarded the Lifetime Achievement Award by the American Cheese Society in 2014. And Ari's book, Building a Great Business was on Inc. magazine's list of Best Books for Business Leaders.
Notwithstanding the awards, being engaged on a daily basis in the work of 10 businesses and 21 partners, writing books on business and in-depth articles on food for the Zingerman's newsletter, Ari finds time to be a voracious reader. He acquires and reads more books than he can find room for. Ari might soon find himself the owner of the largest collection of Anarchist books in Ann Arbor outside the Labadie collection at the University of Michigan library!