Back in the early months of 1982, Paul and I drove all over the Detroit area together going from one bakery to another to try rye bread. The one we settled on, for whatever reasons of fate and good fortune, was the only one of the two dozen breads we tasted that would not deliver to Ann Arbor!
We picked up baked goods from them every day for ten years until September of 1992 when, in our drive to improve the quality of our bread, we opened the Bakehouse. Frank Carollo was the Managing Partner; Amy Emberling was one of the original bakers and joined Frank eight years later as a Managing Partner. Jaison Restrick, who became a Managing Partner earlier this year, started working in the shop in 1998!
How Our New Yorkers Came to Be
Back when we were still getting the bread from the Detroit suburbs, one of the positive side notes was what they called New Yorkers. Soft, onion rolls, filled with a generous dose of dark roasted onions and plenty of poppy seeds. I'd never seen them before, and I've still not found anyone outside the area who knows New Yorker onion rolls or has any background to share about their history.
It's not hard to imagine rolls like this as a part of the baking of poverty that took place for centuries in so many Eastern European Jewish communities. Onions were readily available in northern climates and could be grown by almost anyone interested. Unlike more expensive spices like cinnamon, poppies grew locally and seeds were plentiful. It seems reasonable that Eastern European Jews who came to the U.S. in the early years of the 20th century would almost certainly have brought some along.

How to Enjoy New Yorker Rolls
This weekend (7/1 – 7/4) we'll be doing a special bake of these New Yorker Onion Rolls. They're terrific just eaten out of hand. Great with lots of butter or the Creamery's handmade cream cheese. Since I love poppy seeds, I might just spread on some cream cheese and then throw an extra handful of seeds in the middle before I eat it.
I also think they're wonderful for egg sandwiches—either a fried egg, or scrambled eggs. (Even better still if you do it with the salami and eggs I wrote up a few weeks ago, or smoked salmon and eggs.) Spot-on for burgers or BLTs as well. In fact, thinking back, making a BLT on a New Yorker was a regular morning treat for us when we opened the Deli.
HUNGRY FOR MORE?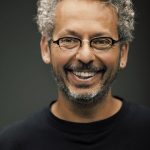 In 1982, Ari Weinzweig, along with his partner Paul Saginaw, founded Zingerman's Delicatessen with a $20,000 bank loan, a Russian History degree from the University of Michigan, 4 years of experience washing dishes, cooking and managing in restaurant kitchens and chutzpah from his hometown of Chicago. They opened the doors with 2 employees and a small selection of specialty foods and exceptional sandwiches.
Today, Zingerman's Delicatessen is a nationally renowned food icon and the Zingerman's Community of Businesses has grown to 10 businesses with over 750 employees and over $55 million in annual revenue. Aside from the Delicatessen, these businesses include Zingerman's Bakehouse, Coffee Company, Creamery, Roadhouse, Mail Order, ZingTrain, Candy Manufactory, Cornman Farms and a Korean restaurant that is scheduled to open in 2016. No two businesses in the Zingerman's Community of Businesses are alike but they all share the same Vision and Guiding Principles and deliver "The Zingerman's Experience" with passion and commitment.
Besides being the Co-Founding Partner and being actively engaged in some aspect of the day-to-day operations and governance of nearly every business in the Zingerman's Community, Ari Weinzweig is also a prolific writer. His most recent publications are the first 4 of his 6 book series Zingerman's Guide to Good Leading Series: A Lapsed Anarchist's Approach to Building a Great Business (Part 1), Being a Better Leader (Part 2), Managing Ourselves (Part 3) and the newly-released Part 4, The Power of Beliefs in Business. Earlier books include the Zingerman's Guides to Giving Great Service, Better Bacon, Good Eating, Good Olive Oil, Good Vinegar and Good Parmigiano-Reggiano.
Ari regularly travels across the country (and world) on behalf of ZingTrain, teaching organizations and businesses about Zingerman's approach to business. He is a sought-after Keynote speaker, having delivered keynotes for Inc. 500, Microsoft Expo Spring Conference, Great Game of Business Gathering of Games, Positive Business Conference at the University of Michigan Ross School of Business, American Society for Quality (ASQ), and the American Cheese Society. Most recently, Ari and Paul Saginaw were invited to address an audience of 50,000 for the University of Michigan 2015 Spring Commencement.
One of Zingerman's Guiding Principles is being an active part of the community and in 1988, Zingerman's was instrumental in the founding of Food Gatherers, a food rescue program that delivers over 5 million pounds of food each year to the hungry residents of Washtenaw county. Every year Zingerman's donates 10% of its previous years profits to local community organizations and non-profits. Ari has served on the board of The Ark, the longest continuously operating folk music venue in America.
Over the decades, the Zingerman's founding partners have consistently been the recipients of public recognition from a variety of diverse organizations. In April 1995, Ari and Paul were awarded the Jewish Federation of Washtenaw County's first Humanitarian Award. In 2006, Ari was recognized as one of the "Who's Who of Food & Beverage in America" by the James Beard Foundation. In 2007, Ari and Paul were presented with the Lifetime Achievement Award from Bon Appetit magazine for their work in the food industry. Ari was awarded the Lifetime Achievement Award by the American Cheese Society in 2014. And Ari's book, Building a Great Business was on Inc. magazine's list of Best Books for Business Leaders.
Notwithstanding the awards, being engaged on a daily basis in the work of 10 businesses and 21 partners, writing books on business and in-depth articles on food for the Zingerman's newsletter, Ari finds time to be a voracious reader. He acquires and reads more books than he can find room for. Ari might soon find himself the owner of the largest collection of Anarchist books in Ann Arbor outside the Labadie collection at the University of Michigan library!