These are unprecedented times. People are spending more time at home and stocking their pantries with intention. Freshly milled whole grains—in our artisan baked goods and used in home baking—foster a connection to the land and to our friends in the regional grain economy like Janie's Mill. Even in times of isolation, we can find connection.
***

Our relationship with The Mill at Janie's Farm, in Ashum, Illinois, allows us to make a meaningful investment in the regional grain economy, while infusing the great flavor of freshly milled local and organic grains into our artisan breads and pastries.
We connected with fifth-generation farmer Harold Wilken, the owner of Janie's Farm and its mill, and quickly realized the Bakehouse and Janie's Farm share many common values. "Harold sees his farm and mill as his way of giving back to the land, the area's economy, to feed people healthy, nutritious food, and to support the entire regional grain economy. Considering the many parallels between our business philosophies, our relationship is a natural, easy fit," said Amy Emberling, Managing Partner of Zingerman's Bakehouse. 
Harold grows both organic heirloom and hybrid grains, offering everything from heritage Turkey Red, a hard red winter wheat, to Erisman, a soft red winter wheat. The Zingerman's Grain Commission, which is committed to developing the Bakehouse's grain sourcing practices and to research and development, greets each grain delivery from Harold with excitement. 
MEET OUR FRIEND HAROLD WILKEN
A fifth-generation farmer, Harold has raised grain in Ashkum, Illinois for almost 40 years. After 23 years of conventional farming, he made the leap to organic and regenerative farming. 
Harold named his family's farm and mill after his daughter Janie who passed away in 2001 at the age of 15. Her passing marked the dawning of a new day for the Wilken family. 
The Janie's Farm website shares, "As we felt her spirit leading us to abandon chemicals, transition to organic, and grow healthy grains. We have been blessed and continue to be led by Janie's spirit in everything we do."
Janie's Farm is proud to restore the life and health of the soil through crop rotation and cover cropping. These regenerative practices support the land by adding nutrients to the soil, sequestering carbon, increasing water absorption, and preventing soil erosion, which can suppress weeds, insect pests, and soil-borne plant diseases. 
Harold remembers the way his grandparents farmed—without the use of pesticides, and with a focus on nurturing strong soil health. He continues in their footsteps, using hand and machine cultivation instead of herbicides, and seeks to leave the soil deeper, richer, and healthier than I found it.
In addition to nurturing soil as a life-giving organism, the farm also makes significant contributions to the health of its rural community economically, environmentally, and socially, by providing jobs on the farm and in the mill, offering land-owners an alternative farming system to conventional farming, and creating a healthy farming environment for its family and employees.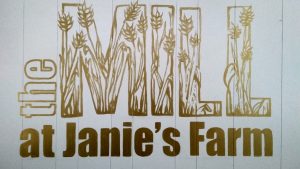 Janie's Mill
Janie's Mill is set up to not only benefit Janie's Farm, but also to reintroduce the idea of a mill as a regional economic engine. The impact isn't limited to its surrounding area; its presence is a pillar of opportunity for farmers and bakers across the entire regional grain economy, including right here in southeastern Michigan. 
"At Janie's Mill, we transform those crops into dozens of delicious and nutrient-dense products that are good for you, and good for the planet. Stone milling is an art and a science. Key to our high-quality products is the skill of our miller, and the modern science behind the ancient, time-tested technology of stone-milling," said Harold.
Janie's Mill now supplies its freshly milled flour to bakeries across southern Michigan and then back-hauls Michigan-grown grain berries to be milled at The Mill at Janie's farm in Ashkum, Illinois. Having the truck full both ways, allows Harold to consistently feed his mill with regionally-grown grains, and gives Michigan bakeries access to a less centralized, industrial flour source that is freshly milled, certified organic, and regionally sourced.
TASTE HAROLD'S FRESHLY-MILLED WHOLE GRAINS
Our relationship with Janie's Mill is only a year old. Slowly but surely we are incorporating their whole-grain flours into our baking repertoire. You can find retail bags of Janie's Mill flours in our Bakeshop for you to take home and bake with yourself. If you'd rather let us do the baking, all of our brownies are now made with Janie's Mill flour and this spring so will the crusts of our fruit pies.
Janie's Mill also supplies bakeries with grain berries. Here at the Bakehouse, for example, we freshly mill Harold's Warthog Wheat, an organic, hard red winter wheat, on our new stone mill to produce true whole-grain flours that preserve the integrity of the grains. 
"Our stone mill slowly grinds Harold's wheat berries into a flour containing all of the wheat bran and the germ together with the endosperm—allowing us to tap into the full flavor and nutrition potential of the grains. We use Warthog wheat in our fougasse and our holiday Celebration Wreaths," said Hazim Tugun, quality and innovation specialist at the Bakehouse.
Come try a Magic Brownie or pick up a few bags of flour from our shop to celebrate this collaboration and to taste the sweet rewards of our relationship with Harold and Janie's Mill.