We had the pleasure of being introduced to Dr. Maria Trumpler at the 2018 Grain Gathering at Washington State University's Bread Lab, where she was one of the keynote speakers and a workshop presenter. For Amy, Hazim, and me, it was an impactful few days of learning, tasting, and connecting with like-minded people. Each morning in the beautiful Skagit Valley we kicked off our day with a welcome and a haiku from Dr. Stephen Jones and then a keynote address. This past year all of the speakers were women doing trailblazing work in different facets of grain education and baking.
Dr. Trumpler, a Senior Lecturer at Yale in Women's, Gender, and Sexuality Studies, presented a talk titled "Why women stopped baking bread at home and why it matters." It was a historical look at the evolution of women nourishing their families through baking and presented theories of why changes in agriculture, technology, and personal taste could have contributed over time to what you see today. It was a thought-provoking presentation, that appealed to us as bakers who are always looking to learn more about the origins of what we do. And, after all, our mission at BAKE!, our school for home bakers, includes "seeking to preserve baking traditions and inspire new ones."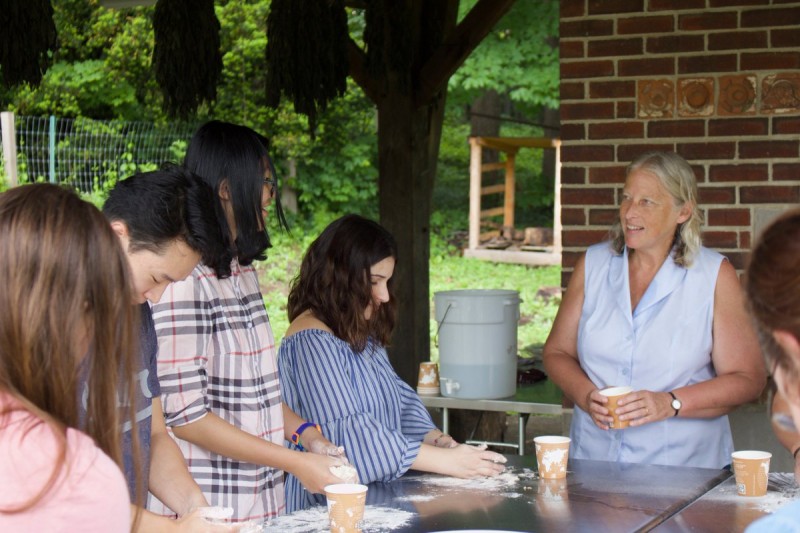 So, Amy invited Maria to share her work with our community of bakers here at Zingerman's Bakehouse. Lucky us, she said yes! We look forward to hosting Dr. Trumpler in May and giving her the Zingerman's experience and a warm Ann Arbor welcome. (She's never been to either.) You can join us in welcoming her if you attend her brown bag talk "Why Women Stopped Baking At Home" or "American Breads Pre-1850" baking demonstration. If you're interested in food studies or women's history, you helped your grandmother bake bread as a child, or you're an avid home baker today, these special events are for you.
I asked Maria a few questions to get the inside scoop on what drives the work she does:
 
What inspired you to do the research for why women stopped baking bread at home?
I had been teaching a course on women in science, about how science was conceived of as a kind of knowledge women couldn't do in the 1700s. I began to wonder what was a "science-like" knowledge that women were doing, but perhaps not leaving us written records. Making cheese and other dairy products and making bread were two possibilities that require an extensive practical knowledge as well as some overarching theoretical knowledge. Then I came across this astonishing statistic that after millennia of making bread at home, between 1890 and 1940, 90% of families in the United States stopped making bread at home. What could possibly have changed?
 
Is this where you became connected with the breads of pre-1850?
Yes, I realized that in the past we have used a great variety of grains and leavens, to start with. And the switch to commercial flours and commercial leavens and the start of the sandwich craze really narrowed what kinds of breads seemed appealing.
 
How would you describe breads of that era?
It can be a bit of a challenge for our palates to be open to these breads. They are often very grain-forward, unsweetened, and dense. But they were far more central to the diet than bread is now for most of us. And people got to make them the way they and their families preferred them.
 
What has been the reaction from your students and talk attendees to your studies on the evolution of bread and baking in the American home?
Most have never thought about what was lost in that transition, but then go on to share stories about their mothers or grandmothers. I love bringing attention to the changing lives of ordinary women, and I'm excited for a new audience!
By Sara Hudson 
Marketing Manager
Photo via the Yale Sustainable Food Program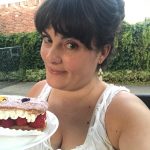 Sara grew up in metro Detroit making her own birthday cakes and dreaming of a career in baking. At age 17 her path began with the Schoolcraft College Culinary Arts program, and at 18 she got her first job in the field right here in the pastry kitchen of Zingerman's Bakehouse. That work evolved over a couple of decades to include baking, customer service, cooking, project management, copywriting, and much more. She even helped to create BAKE! and this blog! Today, Sara leads the creative team at Zingerman's Service Network, supporting the blogs, websites, copywriting, packaging, and other marketing for Zingerman's Community of Businesses. Sara remains a die-hard fan of Pecan Pie, Pavlova, Paris Brest, Patti Pockets, and other desserts that start with 'P.'