"We Zingerman's Bakehouse are passionately committed to the relentless pursuit of being the best bakery we can imagine."
The mission of the Bakehouse has always been twofold. Of course we are committed to making the best-tasting breads (and pastries and cakes). But we are also committed to challenging ourselves and our recipes, limiting ourselves only to our imagination.
How do we do that? We taste and evaluate. We try new methods of baking, different ingredients. We are constantly moving. Because it's hard to get better if you're sitting still.
With that in mind, let us introduce you to a new addition to our Bakehouse team- Hazim Tugun.
His passion for bread baking and his long history with the craft is what led him to the Bakehouse. And here, he is putting those passions to work, helping us fine-tune recipes and try new methods of baking and continue living our commitment to excellence.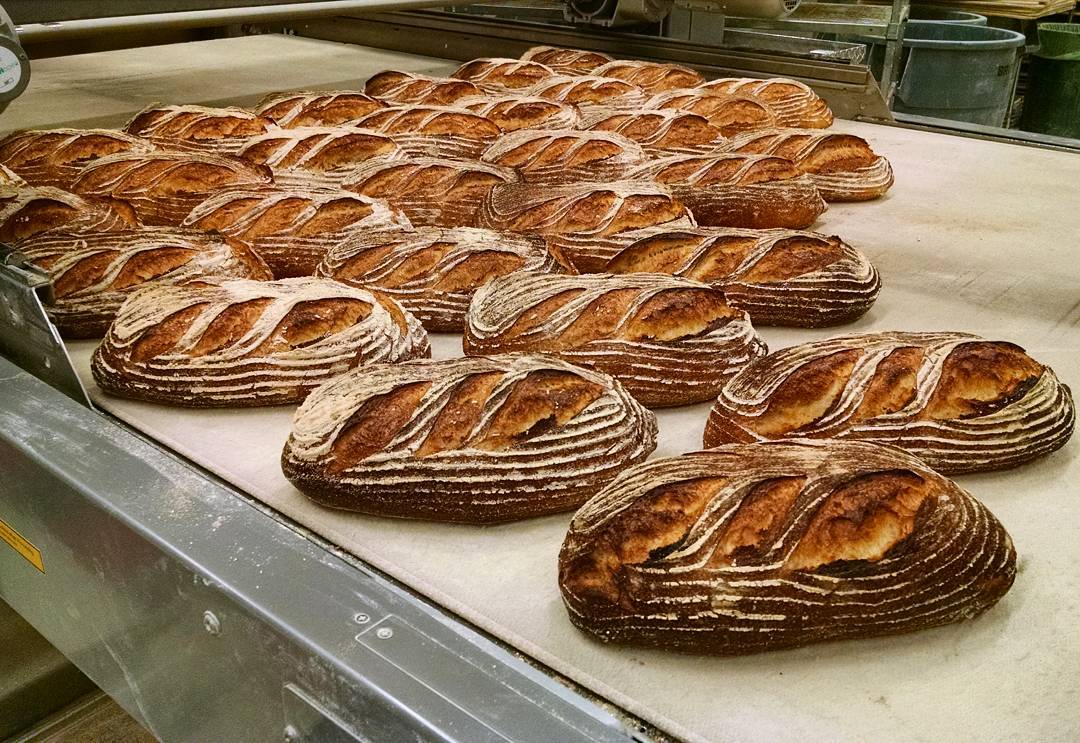 Laying the foundation
Now a passionate bread baker, this was not Hazim's original career path. When he was about 17 years old, Hazim moved to the United States from Cyprus (an island in the Mediterranean) to study civil engineering. He studied engineering in Austin, Texas and, after graduating, moved to the San Francisco Bay Area to work as a consultant.
While living there, he described himself growing antsy. "While I was working in the Bay Area, I started feeling antsy. My training was as a civil and environmental engineer. But that was not what I wanted to do in the long run."
Cooking quickly became a passion of his outside of working. He found himself looking for more avenues to learn and practice. As luck would have it, one of his good friends took him to a Sicilian restaurant in Oakland called Dopo. That friend knew the chef and introduced them. Hazim remembers this time as his official entry into the professional world of cooking and baking. From that one introduction, he began working at the restaurant on Saturdays, helping with prep and just learning about the processes.
"I did this for two, maybe three years. And I learned a lot, it was fascinating. During that time, I took a course from Peter Reinhart. He wrote the book 'The Bread Baker's Apprentice.' It was a couple of hours and I learned a lot more about baking."
After taking that course, Hazim began practicing his baking more at home. Up until that time, he was much more comfortable with cooking. But his experience at Dopo, as well as Peter Reinhart's class led him to pursue home baking further.
Then, after a couple of years in the Bay Area, Hazim moved back to Cyprus. He was there for about two years, still doing consulting engineering work. This was a perfect opportunity for him to continue learning about baking.
He describes one of the biggest differences between the US and Cyprus. "In Cyprus, time is slow. People take their time, have more time. It's not like here in the US where everyone is busy and moving fast. In Cyprus, you can enjoy your time."
With that extra time to enjoy, Hazim practiced baking. "I started to try to bake bread, baking just for my family. We had a traditional mud oven in the backyard, so I used that to bake."
The Zingerman's experience
It wasn't until he moved to Michigan with his wife in 2011 that he first heard about Zingerman's. And, truthfully, it was a bit of a shock moving from a place like the Bay Area to where they were living in Novi, Michigan.
"Coming from the Bay Area, I was disappointed with the food culture in Novi. It was pretty depressing for me. When I worked in San Francisco, lunch in the office would be fresh Banh Mi sandwiches or other great food. Working in Novi, lunch was usually a sub-par sandwich from a chain. It was pretty depressing for me. I was thinking, where is the good food?"
So, when he and his wife were looking for Cowgirl Creamery cheese, a friend of theirs recommended they check out Zingerman's. Luckily, Ann Arbor isn't too far of a commute from Novi. He remembers thinking, "this is it, this is where the food is," while sitting at a table in the Coffee Company, and exploring the other Zingerman's South Side businesses. Even though he was still working as an engineer, bread was still on Hazim's mind. He remembers, "In early 2012, I was really getting antsy about bread again. I knew I really wanted to bake and I knew I needed to get more experience."
Enter… Zingerman's Bakehouse
Finding great food at Zingerman's while living in Michigan led him to seek out his continued education and experience with us here at the bakery. He explains, "I came to the Bakehouse and asked if I could talk to a manager. I was looking for something like I had in California, where I worked on the weekends, learning about baking and cooking."
And that is exactly what he did. Hazim started coming in on Saturdays, learning about baking bread. He did this for a few months before eventually quitting his engineering job and moving back to Cyprus with his family.
Dreaming of naturally leavened breads
In Cyprus, his dream was to open up a bakery. "What I wanted to do is naturally leavened breads. Nothing else. And to just do a few breads, very high quality breads. When we moved back in 2014, I converted one of our rooms into a bakery and started selling breads."
Baking on a small scale and focusing on just a few, high quality breads, gave Hazim the opportunity to focus all of his time and energy on perfecting the craft. He remembers that it took him a while to fine tune his process. "I was able to be very intimate with it. To see what kind of changes affect the process. I had the privilege to do that on my own, and I learned by doing it over and over and over again."
After baking for his village in Cyprus for about a year and a half, he moved back to the US. But a change of location did not get in the way of his dream. "I knew I wanted to continue this. Either I was going to do my own thing or I was going to team up with a great team of bakers."
Pursuing this dream was not always easy, especially starting out. As you can imagine, introducing a new style of baking bread, ones made with a natural leavening process over multiple days, is not always the easiest.
Hazim described how he introduced his breads to Cyprus, "The breads I was making were very different from what was offered on the market. Mine were very moist breads with a dark crust and  had a lot of flavor. I tried to explain my philosophy behind baking to people, and it wasn't that easy. Fortunately though, the breads did speak for themselves, and I had a good following. I was essentially testing the waters, and I did well."
That time was one of growth and learning for Hazim. "I think I did a lot of growing, being able to bake solo, questioning, learning about and tinkering with every step of the baking process, using flours and grains that did not come with consistency, quality or specifications that one could find here in the US or Europe. I was also able to make friends and reach out to mentors throughout the world"
His time of growth, learning and, even, experimenting with various baking methods left him with a strong customer base in Cyprus. He remembers how many of his 'regulars' were sad to see him go. "I baked till my last day for friends and family. What really made me happy though is that I think I touched a lot of people in the sense that they learned what bread could be. I am proud to say I have a couple of friends who now bake sourdough breads in their homes."
While leaving his hometown (and loyal customers) behind was definitely bittersweet, moving back to the US has been a huge benefit to us and, to his growth as a bread baker.
Back to Ann Arbor
Now, we are back to present day. After moving back to Michigan, Hazim began reaching out to Frank. "I had a vision and I shared that with Frank. I used Ari's book (A Lapsed Anarchist's Approach To Building A Great Business by Zingerman's co-founder Ari Weinzweig) to help me write my vision, too. I was like, I want to do this."
His vision of using freshly milled flours to craft high-quality naturally leavened breads (among other things) seemed a natural fit at the Bakehouse. After talking to Frank and Amy, they asked him to join the Bakehouse team to help the continual improvement of the quality of the breads we bake here.
For Hazim, he views a big part of his job here as asking questions. "From day one, I immediately started asking questions: why is the dough like this, why are we rolling it like this, why are we shaping it like this? That is the perspective I look at it from. When we work together, I help contribute from the craftsmanship perspective. And I am looking forward to learning more."
Hazim & the Bakehouse
Having Hazim in our bread bakery has given us another way to continue on in our passionate pursuit of baking great bread.
One of the ways he does this is by participating in our daily bread tastings. These tastings are something we do in both the bread bakery and pastry kitchen to taste the different things we are making. It helps keep us in tip top shape, ensuring our end product is something beautiful and very flavorful. During these tastings, Hazim has brought his unique perspective to the table.
"The tastings have been a lot of fun and a great learning experience. First of all, I am learning more and more about Zingerman's breads during these tastings- their nuances and what they are supposed to taste like. With that in mind, I am trying to bring my own passion and experience about bread into this role, looking at each bread through my own eyes, as well as a potential guest's eyes."
The things he considers? How does it feel to bite into this bread? Is the crust too chewy or perfectly crisp? Is the crust dark enough to contribute to the overall flavor of the bread with its wonderful caramelization/Maillard reaction aromas? Is the crumb tender or tough? It is open enough? Does the flavor have the depth or acidity we are looking for? How is the shape and size?
These are just some of the questions he thinks about during the tastings.
"During each tasting, I am trying to think about and answer these questions. I try to picture the recipe and the process that went into making the bread. To me, that is probably one of the most fun aspects of doing the tastings, but also one of the most challenging, mainly because each bread we make here is an amazing example of teamwork. So many hands touch the dough to make  that one bread. There is already a great level of communication happening between everyone."
These tastings, of course, help facilitate that conversation, as well as the overall development of recipes and methods of baking.
Additionally, he is working on a few, special new recipes. One of those is a rice baguette. The inspiration behind it was, actually, for the new Zingerman's restaurant, Miss Kim. For a Korean restaurant serving really good, traditional Korean food, rice baguettes were the perfect fit.
"They were a recipe the Bakehouse had made for a short time long before I joined the team. I tweaked it a bit, increasing the amount of the amazing stone-ground whole-grain rice flour from Anson Mills, toasting some of the rice flour used in the recipe for added flavor, and adding a touch of levain for a bit of depth and acidity."
Rice baguettes are not his only venture, though. Another bread he wants to focus on is the True North.
"I want to continue tweaking the True North to coax more flavor and even better texture out of that grain. It is a local grain, which makes it more likely to deviate from the predictable baking performance of the more industrialized flours and grains. More flavor, more fun and challenge to work with."
Working here at the Bakehouse, learning the ins and the outs of bread baking is Hazim's dream. The experience he is gaining here at the Bakehouse, as well as the knowledge he has accumulated over his years of baking bread are getting him closer and closer to perfecting his process of producing naturally leavened breads. And he is a true asset to the Zingerman's bread bakery.
-by Natasha Mason, Zingerman's Bakehouse