I'd like to introduce you to Sara Molinaro. She's the principal of BAKE!, our little school for home bakers doing big things. I'm thrilled to work with her, not just because we have so much in common—same name (correct spelling too), same age, and same love for food—but because she is one of the hardest working people I have ever met.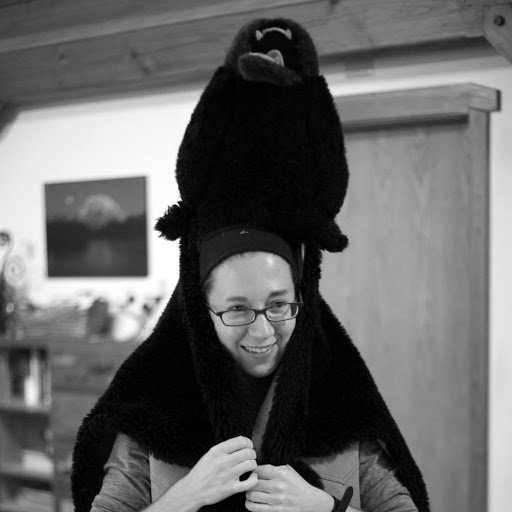 With a resume that reads like an adventurous travel blog, her path to the bakehouse has certainly been an interesting one. Summers cooking and baking at a family owned lodge in Alaska's Denali National Park. Feeding fracking workers at "Man Camps" in North Dakota and Texas. Cooking Indian dishes as a personal chef to an Indian family in New York. Making pastries at Cambridge University in England. Catering swanky parties at the Ritz Carlton, then running a homeless shelter kitchen, both in San Francisco. Teaching undergrads how to cook at a Cornell University restaurant.
She also lived in China for a year, but did not work at all during that time. "I am not good at being a lady of leisure, so I came home," she says. I told you she liked to work.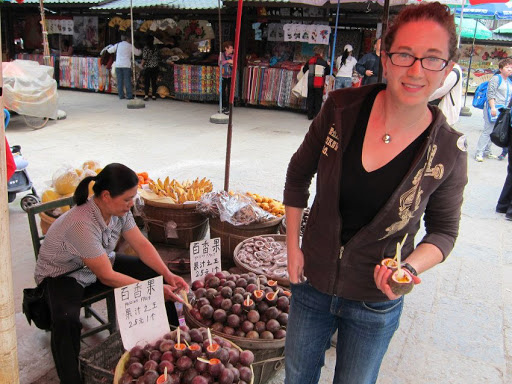 So it's probably no surprise Sara picked up, not one, but three degrees along the way, all while working and experiencing life through food. She earned a Culinary Arts Associate's Degree in Baking, a Bachelor's Degree in Psychology and a Masters of Management and Hospitality from Cornell.
So how did Sara's adventures land her in Ann Arbor? Growing up in Chicago, her mom was a foodie and so she knew of Zingerman's. Then later in life, Sara's best friend lived in Ann Arbor and they went to Zingerman's Delicatessen together on visits. "I've been a Zingerman's fan for a long time. I shipped myself cosmic cakes in China."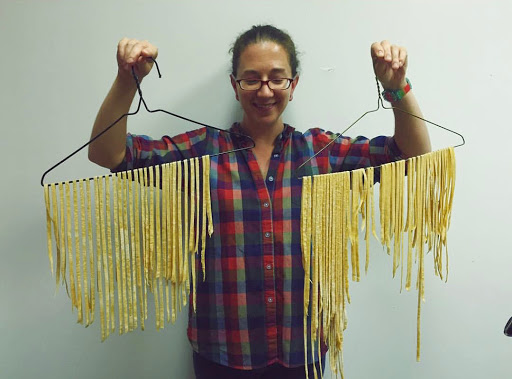 So, naturally when she saw the job opening for the BAKE! Principal at Zingerman's Bakehouse she jumped on it. But how did she know it was the right job for her, and worthy of moving from New York for, besides her love of cosmic cakes?
"I knew enough about the company and how employees and customers were treated. I liked those values and wanted to be in that kind of organization. The good food and good ingredients here were key too, of course."
Today Sara spearheads our hands-on baking school; teaching classes, developing recipes, leading the other instructors and staff, and coordinating private baking classes. She describes her approach to teaching like this "When I'm teaching I want it to seem accessible and not judgemental or arrogant, otherwise people won't learn. We all make mistakes. I like to share the time I burned something and stories like that. It puts them at ease. I got here from making mistakes and learning along the way."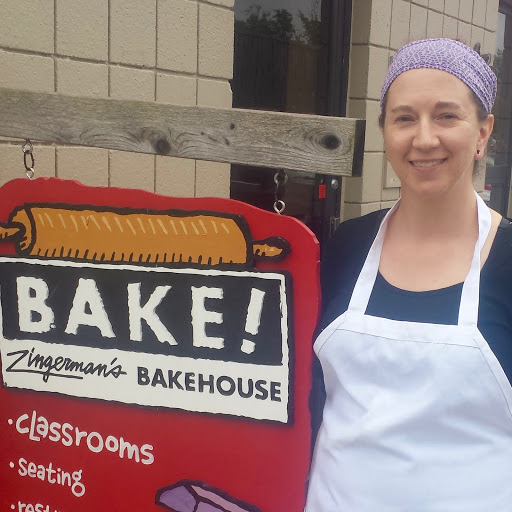 As for her reaction to fellow teachers at BAKE!, Sara shares "The depth of knowledge of staff here is vast. And they have such a desire to keep learning."
As for the students, I asked what surprised her most when she got here.
"It boggles the mind, their level of loyalty. People come back over and over again. They consider this an outlet for them and they are so happy to be here."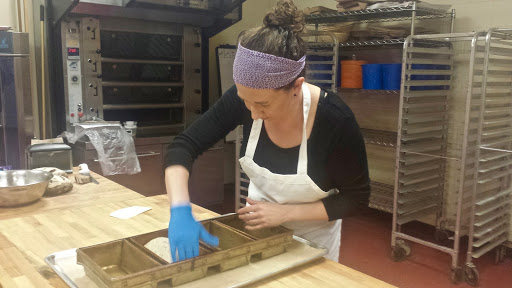 Having been here since BAKE! was born, I really wanted to hear Sara's perspective on how we got so lucky to have these loyal customers. What's her assessment of how it got that way?
"I think it comes from overall Zingerman's approach of treating people, warm and professional. And we go the extra mile with the students giving them one on one instruction time, remembering their names and the last class they took, developing a relationship with them through sharing food, and being open to talking with them between classes.
We get a lot of questions outside of class about how to apply techniques they have learned here to other recipes from other sources. To me, that means they are really learning the techniques, not just copying a recipe. Some students even make new recipes at home and bring them in for us to try. I think that's really special. Also, nothing is secret. How we teach the recipes in class is really how it's made at the Bakehouse. I think that's rare."
Get to know Sara: the lightning round
Favorite classes to teach?
Pizza: The Other American Pie. "It makes people happy, and students say they will never order pizza again.
Cinn-ful Cinnamon Rolls. "The dough is so versatile and students go home and experiment with it."
Creative Cookies. "If I could I would decorate each cookie for an hour. I can't do that as a job, but when given the time it is satisfying."
What's next?
The staff is working on new recipes and new classes for this summer and fall. Sara's really excited about her quest for "really good 100% whole grain breads that aren't a brick". The recipes she's working on are made with a "soaker"- one using flax and quinoa, the other kamut and fig.
Favorite thing to bake?
She loves baking naturally leavened breads and sourdoughs and even has two starters in her fridge at home right now. "I find it very satisfying. No yeast, just all the magic in the air." She admits she also likes "making really tall cakes."
And she cooks?
Sara loves cooking for people. This tale made her light up even more than usual, "I had a 16-person dining table in grad school! My friends would pay me ten dollars to cover ingredients and I would cook all day long. I love feeding people."
And what else is there to know?
She goes to a boxing gym four times a week and is a voracious fiction reader. "And I sleep more now that I'm older. If I could, I would just pick berries all day."
By Sara Whipple, Zingerman's Bakehouse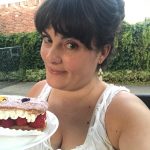 Sara grew up in metro Detroit making her own birthday cakes and dreaming of a career in baking. At age 17 her path began with the Schoolcraft College Culinary Arts program, and at 18 she got her first job in the field right here in the pastry kitchen of Zingerman's Bakehouse. That work evolved over a couple of decades to include baking, customer service, cooking, project management, copywriting, and much more. She even helped to create BAKE! and this blog! Today, Sara leads the creative team at Zingerman's Service Network, supporting the blogs, websites, copywriting, packaging, and other marketing for Zingerman's Community of Businesses. Sara remains a die-hard fan of Pecan Pie, Pavlova, Paris Brest, Patti Pockets, and other desserts that start with 'P.'