Now using 100% organic all-purpose flour!
We're super excited to announce that as of April 1st, 2017, the artisan all-purpose wheat flour we use in our baking is 100% organic. (That's a mouthful!) This is a huge change for us. We're thrilled to have made it and to let you know about it.
We use many different grains and flours at the bakery, but we use exponentially more all-purpose flour than any other ingredient which makes this switch a radical one. We began experimenting with our new flour in January, reworking our hundreds of recipes to reflect its particular properties. Yes, not all AP wheat flour is exactly the same. Our new organic flour has a different protein content, enzyme activity and absorption rate (stuff that professional bakers are concerned with) which means we need to use different amounts of it to make our breads and pastries as we all enjoy them. It's true, basic flour is a complicated ingredient. Now all of the adjustments are made and the only AP wheat flour we have in the bakery is organic. Enjoy!
Why now?
We're almost 25 years old and just like many 25-year-old humans we are energized, learning and interested in continuing to change and grow. The possibilities of the future seem limitless and using more organic ingredients is one of them.
We have considered using organic flour off and on for years. There is much that is compelling about -the most obvious being that it's better for our environment! At times the supply wasn't reliable enough so we didn't move forward. At times we were more motivated to do other work that we thought would more greatly impact the flavor of our food. It was always on the list though. Almost exactly a year ago Frank, co-managing partner and Bakehouse founder said that it was time. He felt strongly that we had to make the leap for value reasons -for our world, and that we would figure out how to manage all of the challenges that would come with the change later. With value-based decisions we often have to throw away our rational approach to the decision-making process and go with the idea "It's the right thing to do." We can re-engage with analytical thought, spreadsheets and cost calculations when figuring out how to make it work. So the team began planning and here we are today a year later with the switch completed.
Who's milling our organic AP Flour and where are they sourcing the grain?
Lindley Mills, based in central North Carolina, is our partner in this project and we couldn't have found a partner more aligned with us in terms of commitment to great food and restoring traditional methods. We have actually been working with Lindley since 1996, buying their germ-restored flour which many of us enjoy on our Pain de Montagne.
They have a mission and vision that we find completely compelling. Their stated mission is …to provide the best organic flour to our customers. Our milling approach is a blend of tradition, technology, and cutting-edge innovation. This is what sets Lindley Mills' organic flours apart from the rest, and what continues to fuel our passion for producing some of the highest-quality organic flours in the United States.
Joe Lindley has been milling since 1976. Amazingly, his mill is located at the original site of the 1755 water mill built by Pennsylvania Quaker and settler Thomas Lindley.  Today, tenth-generation Lindley's still run Lindley Mills, keeping the tradition of their family going.  
After 35 years they have developed a network of growers from all across the United States. Their ability to source the highest quality wheat from diverse geographical regions allows their organic flours to be consistent and performance-driven which means we will be able to make great breads and pastries with it every day.
What other organic ingredients do we use at the Bakehouse? Are we planning on using more?
When we choose ingredients we have many criteria to consider -flavor, availability, organic status, location, non-GMO, handling and transportation requirements and yes, cost. Flavor trumps all though!
Right now the other organic ingredients we use include many grains -germ restored flour, brown rice flour, buckwheat flour, 7-grain mix, cracked wheat flour, Pane Nero (tumminia) flour, cornmeal, and spelt flakes and a few other items like Mindo unsweetened chocolate and Majoub olive oil.  
We're now contemplating changing more of our most used ingredients -sugar, butter, and eggs to organic versions. Our most likely next step may be to switch to organic white granulated sugar. We're using local, fresh eggs, although not organic we're very happy with them and our partners in dairy for our entire history has been the local family owned Guernsey Dairy. We love our Wisconsin butter but we'll probably assess what's available in the organic world. It would be great to have full-flavored butter that happens to be organic. Perhaps it's out there now.
What else are we going to do with our 25-year-old energy and enthusiasm?
In October we'll be unveiling a recipe book we've been working on for two years and then we'll be making updates to our retail shop. Stay tuned!
-Amy Emberling, Bakehouse co-owner
—Read more about Frank's work on flour and local grains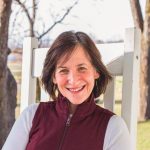 She has been an avid food lover and baker since her childhood in Nova Scotia, Canada. After high school Amy moved to Cambridge, MA and received her bachelor's degree from Harvard University. She then followed her passion for food and learned to cook and bake at L'ecole de Gastronomie Francaise at the Ritz Hotel in Paris, France as well as in Michigan restaurants. In 1999 she received her MBA from Columbia University.
Amy came to Zingerman's Bakehouse when it opened in 1992 as one of the original bakers on the staff of eight. She soon became the first manager of the bread bakery, then the manager of the pastry kitchen and in 2000 she became a partner.
Amy has been working in the food world for over 20 years and is passionate about hands-on baking, teaching about baking and business, developing businesses and people. As well as teaching at BAKE! Amy presents for ZingTrain on our business practices. A few of the Bakehouse items she is personally responsible for developing are the Old School Apple Pie, Buenos Aires Brownies, and our Gingerbread Coffeecake. In addition to developing items, Amy is a promoter of classic bakery favorites from many cultures and has brought traditional standards to the Bakehouse such as Paris Brest, Hummingbird Cake, and Maple Cream Cookies.