We miss bringing in special guests to BAKE! in-person, so, throughout this year, in addition to virtual classes and events, we've been bringing chefs, authors, and friends of the Bakehouse to your kitchens via recipes created exclusively for us.
These special guests will be creating recipes that use Bakehouse breads or freshly milled flours, or that put their own spin on one of the recipes found in our cookbook or cookbooklets.
This month, we're welcoming cookbook author Alexandra Stafford: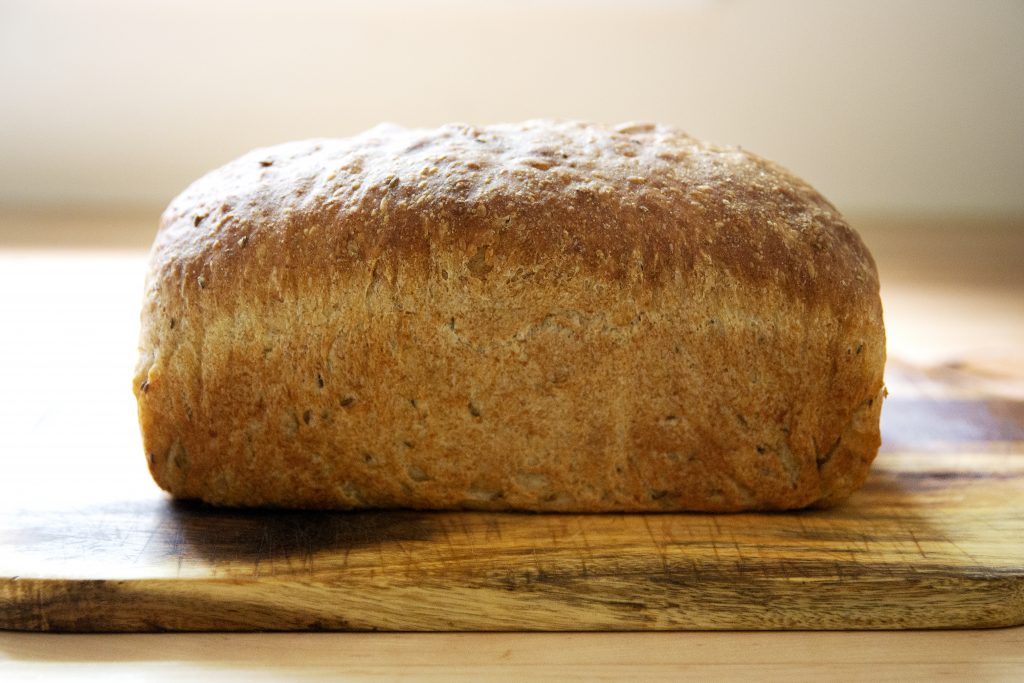 The single biggest tip I give to anyone looking to up their bread-baking game is to introduce freshly milled flours into their breads. Why? For one, swapping out one flour for another is simple (as opposed to, say, making the leap from yeast-leavened bread to sourdough). But second and more important, freshly milled flours impart incredible amounts of flavor, aroma, and color into bread. You will discern the potential of these flours immediately upon opening their storage bags, which will release sweet, earthy, wheaty fragrances into the air. If you dip your nose into a bag of commercial flour to compare, the difference will be stark—it will smell of nothing.
Get started with freshly milled flours
When introducing freshly milled flour into your bread doughs, start small—a little goes a long way. In this sandwich bread recipe, for instance, 25% of the flour is rye. This percentage gives the loaf a great tang without turning it into a brick. Once you make this recipe once, you may find yourself wanting even more rye flavor, in which case you can increase the amount, keeping in mind rye has less gluten, so the more you use, the denser your loaf may get.
I love the inclusion of a little bit of caraway seed here, but it is a strong flavor and not everybody's favorite, namely children, so I often omit it. When freshly baked, this bread is great for sandwiches, and day or days old, it makes excellent toast.
Finally, use a scale for best results. Depending on your environment and the specific flour you are using, you may need to adjust the amount of water. If you use a scale to measure, you can make precise, meaningful adjustments moving forward.
Soft Rye Sandwich (or Toasting) Bread
Ingredients
1

cup

(128 grams) Zingerman's Bakehouse freshly milled rye flour

3

cups

(384 grams) bread flour, plus more for shaping

2

teaspoons

(12 grams) salt

2

teaspoons

(8 grams) instant yeast

1

tablespoon

(7 grams) caraway seeds, optional

1 3/4

cups

(400 grams) lukewarm water

1

tablespoon

(24 grams) honey

1

tablespoon

(14 grams) olive oil

softened butter for greasing
Instructions
In a large bowl, whisk together the flours, salt, instant yeast, and caraway seeds if using. Add the lukewarm water, followed by the honey and olive oil. Using a spatula, stir to combine. Dough will be wet and sticky. Cover the bowl with a towel and set aside for 30 minutes.

Using wet hands, grab one side of the dough and pull it up and to the center — the dough may tear and it might feel very fragile. Repeat this several times re-wetting your hands as needed to prevent sticking or, if you are familiar, you can slap and fold the dough several times until it feels smoother and more elastic — the purpose of this step is simply to ensure the flour is completely absorbed by the water and also to help develop some gluten. Cover the bowl and set it aside in a warm place to rise until it doubles in volume, roughly 2 hours.

Heat the oven to 375ºF. Butter a 10x5-inch loaf pan generously with softened butter.

When dough has doubled, gently deflate it; then turn it out onto a floured work surface. Pat it into a rough rectangle, then roll it into a log. Transfer log to prepared loaf pan.

Let the dough rise until it crowns the rim of the pan, 45 minutes to an hour.

Transfer to the oven and bake for 45 minutes. Turn loaf out onto a cooling rack. Let cool for at least 20 minutes before slicing. Once completely cool, transfer to an airtight bag and store at room temperature for up to 3 days or freeze for up to 3 months.
HUNGRY FOR MORE?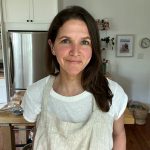 Alexandra Stafford lives in upstate New York with her husband and four children. Her cookbook, Bread Toast Crumbs, was nominated for the 2017 IACP Julia Child First Book award. Alexandra's food journey began in 2003 when she graduated from Yale and moved to Philadelphia, where she attended cooking school and worked in professional kitchens. After spending two years at Fork, first as a prep cook, ultimately as sous chef, she left the restaurant world and started her blog, Alexandra's Kitchen. Today, she updates her blog weekly with new recipes and contributes to various food websites and magazines as well.