We miss bringing in special guests to BAKE! in-person, so, throughout this year, in addition to virtual classes and events, we're bringing chefs, authors, and friends of the Bakehouse to your kitchens via recipes created exclusively for us.
These special guests will be creating recipes that use Bakehouse breads or freshly milled flours, or that put their own spin on one of the recipes found in our cookbook or cookbooklets.
We're thrilled to be kicking off this series with our January guest, Charlotte Rutledge, King Arthur Baking Company's Recipe Testing & Development Manager:
If you've enjoyed Zingerman's Bakehouse Craquelin bread before, you know that leftovers are hard to come by. But if by chance you find yourself with half a loaf lying around, this recipe is your chance to give it a second life. Soaked in orange syrup and topped with pistachio frangipane and chopped pistachios, this is one decadent version of French toast. You might even say it's worth buying two loaves just to ensure you'll have enough for this recipe!
Pistachio Orange Bostock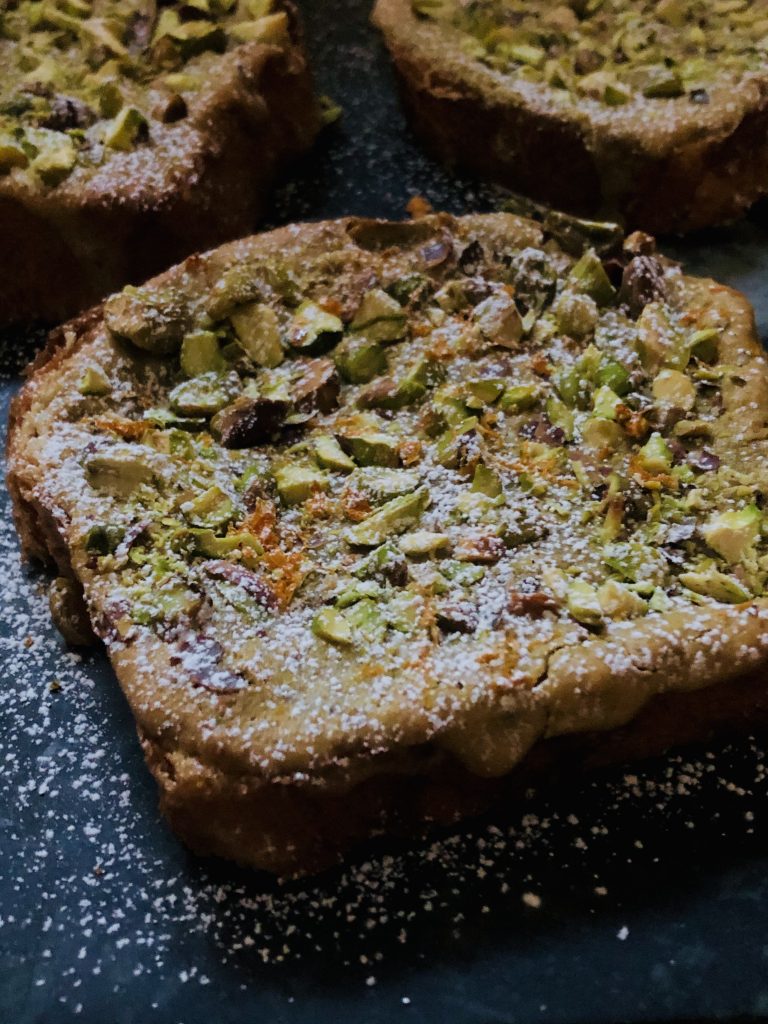 Pistachio-Orange Bostock
Ingredients
Bread
1/2

loaf

Zingerman's Bakehouse Craquelin bread
Orange Simple Syrup
1/2

cup

(99g) granulated sugar

1/2

cup

(113g) water

peel from 1/2 an orange
Pistachio Frangipane
heaping 1/3

cup

(50g) shelled unsalted pistachios, toasted at 350°F for 8 to 10 minutes

2

tablespoons

(25g) granulated sugar

1/8

teaspoon

salt

2

tablespoons

(37g) pistachio or almond paste

1

large egg

3

tablespoons

(42g) unsalted butter, softened

1/4 - 1/2

teaspoon

orange blossom water, optional
Topping
heaping 1/3

cup

(50g) shelled unsalted pistachios, coarsely chopped

zest (grated rind) from 1/2 an orange

confectioners' sugar, optional
Instructions
Preheat the oven to 350°F. Line a half sheet pan (baking sheet) with parchment.

Slice the craquelin bread into four 1" slices and place them on the prepared pan. Set aside to dry out for 30 minutes or so.

Make the simple syrup: Combine the sugar, water, and orange peel in a small saucepan. Set the pan over medium-high heat and bring the syrup to a simmer, stirring to help dissolve the sugar. Adjust the heat to keep the syrup simmering for 3 minutes.

Remove the syrup from the heat and pour it through a fine-mesh strainer into a heat-safe bowl to remove the orange peels. Set aside.

Make the pistachio frangipane: Put the toasted pistachios, sugar, and salt in the work bowl of a food processor and process until the pistachios are coarsely ground.

Add the remaining ingredients to the food processor and continue to process, scraping the bowl as necessary, until a smooth, creamy paste forms; it should be about the texture of your favorite chunky nut butter. Set aside.

Assemble the bostock: Generously brush the orange syrup onto both sides of each slice of bread; you should use up all the syrup.

Spoon or pour the pistachio frangipane onto the top of each slice of bread, dividing it evenly among the four slices. Spread the frangipane so that it covers each slice evenly.

Sprinkle the chopped pistachios and orange zest onto each slice, again, dividing the nuts and zest evenly among the slices.

Bake the bostock for 15 to 20 minutes until the frangipane has set and looks golden around the edges.

Remove the bostock from the oven and allow to cool for 15 to 20 minutes before serving. Dust lightly with confectioners' sugar, if desired.
Get your own loaves of Craquelin bread shipped straight to your door by our sister business, Zingerman's Mail Order! You're just a couple days away from a delicious batch of bostock.
With early training alongside her father, Charlotte Rutledge learned to love baking from a young age. She spent the early part of her career practicing her skills in restaurants in the U.S. and England until she landed her dream job at King Arthur Baking Company in 2011. Since then she has delighted herself in developing, writing, and curating recipes for home bakers across the country, as well as in baking at home for her own friends and growing family.