Meet a favorite oat hawker, beer lover, and turner of center of the regional grain economy
Sourcing within the state of Michigan is uniquely advantaged because agriculture in our state is so richly diverse. In fact, as a state, we are second only to California in terms of the diversity of what we grow here. Of these myriad things we grow, a lot of them are apples. Our state's noteworthy agricultural stats also include being third in the nation for volume of apple production. Given all them apples, it makes sense that, like our current whole grain rye source, Molly, I first bonded with our current oat source, Megan, over apples.
The Bakehouse had become acquainted with her several years earlier, in 2014, when she met founding partner, Frank Carollo. I personally was connected to her by Bakehouse baker and miller, Hazim Tugun, who met her in 2017 when he went to an oat field walk she was putting on that he had heard of via Instagram. This connection between Megan and the Bakehouse has been growing ever since then and serves as proof that sometimes scrolling bears fruit and serves its highest purpose as a tool that facilitates connection surrounding shared interests and goals. I tend to be a few steps behind Hazim; I just got my very own 'gram a few weeks ago and didn't meet Megan until the summer of 2018. As you now know was statistically likely, we met at an apple orchard and one that I had been to before as part of a project for an agroecology course. The orchard was Plymouth Orchards, owned by Mary Emmet and Mike Adsit, a gorgeous organic apple orchard, cider mill, and semi-experimental grain haven thanks to Megan's vision and Mike and Mary's service-oriented farming philosophy and insatiable curiosity.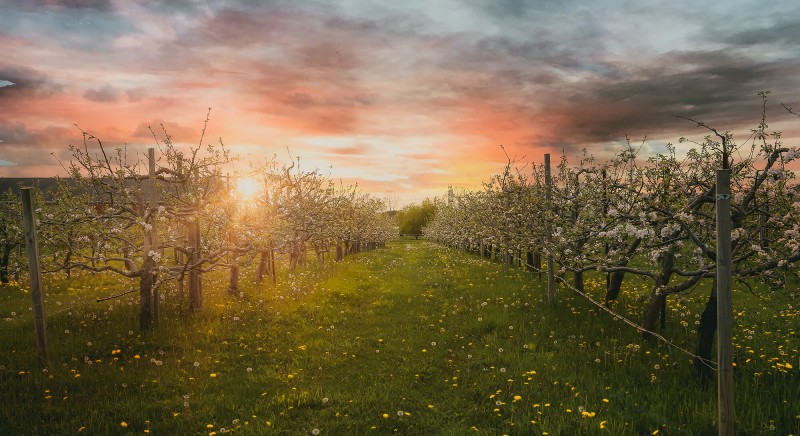 Just as many of my grain sourcing connections come back to apples, many an inquiry into Michigan grain will eventually lead back to Megan. When I began working to expand our regional, whole berry grain sourcing to feed our new stone mill last year, I reached out to many an extension agent and our conversations would all end the same way—you need to talk to Megan Goldenberg. Megan is the owner of multiple businesses, working in food systems advising for clients across the country, craft malting, grain cleaning and processing for direct to consumer markets, and grain brokering to feed these ventures and other businesses across the midwest.
In our recent blog posts and at our recent events, we've talked a lot about working to rebuild a less centralized, more regional grain economy both out of self interest—so that we can get the grains we want to work with grown in ways that meet our standards, needs, and values—and out of concern for our community who needs robust regional grain economy to achieve the kind of food sovereignty we ultimate hope all communities can experience. To do this we've been breaking away from our reliance on very centralized, industrialized flour sources. This process leaves a gap in our food supply chain that requires new connections to function. Megan has played an important role in filling that gap. Less like a link in a typical supply chain, Megan serves more like a hub, a driver of a more circular food system. To the Bakehouse, she is a source of ingredients that align with our values and a connection to ever-better grains, to the community as a whole she is this metaphorical hub that allows local businesses like ours to be part of a greater wheel. A wheel that is turning a regional food system, a simple but powerful machine transferring force and moving us all forward.
It is the depth and breadth of Megan's academic past that both led her to this role and lent her a particular capacity to spot gaps in the food system and to strategically leverage our existing structures and tools to build new things. She
earned a Bachelor of Arts degree in Chemistry, and then went on to earn a Master in Agricultural and Resource Economics degree from Colorado State University. While working on her graduate degree, Megan began her first venture, The Growing Project. The Growing Project functioned as a non-profit seeking to support a just, localized food system in Northern Colorado through education and advocacy. In 2010, she expanded her food systems development work and began the consulting firm, New Growth Associates. While continuing her work in consulting, in 2015, she and her husband, Zach, founded Macon Creek Malt House with the goal of adding value to Michigan small grains. This business both aggregates and processes grains. Processing can be as simple as cleaning and selling raw, ready to use, oats and grain berries or as involved as malting barley for beer brewers.
Processors like Macon Creek play an important role in functional local grain economies that allow niche grains to be cleaned in custom ways and with a match of scale. Malting as a process more specifically is key to elevating the craft beverage industry that Michigan is so well known for. Without processors like Megan, it can be difficult for farmers that aren't growing commodity wheat to find places to have their grains cleaned and local craft beers have to rely on more industrial malts that don't align with the rest of their craft process and philosophy. Despite this need, it can take time for end users to adjust their business models to absorb higher priced, higher quality ingredients and this lag between demand and willingness to pay meant that the malting part of her business needed to pivot. Though it remains under the name Macon Creek Malt House, Megan's business now functions more as an Upper Midwest grain hub / non-commodity grain brokerage firm.
The various manifestations of Megan's work impact us here at the Bakehouse both directly and indirectly. Directly, Megan provides us with ingredients we bake with and flours we retail in our Bakeshop. Indirectly, it supports growers that we work with and helps their farms to flourish, ensuring they'll be around to supply us long term. Since last summer, we've been using her rolled oats in our baked oatmeal, and Country Scones. The oats are certified organic, raw rather than steamed, milled fresh to order, and grown here in-state by Roger Kiger in Elsie, Michigan. More recently, we've switched to using these same oats in our Big O cookies. Not only do we believe these oats to be the most sustainable available, with the elimination of high heat processing common in industrial rolled oats, but they are also more flavorful and nutritious, too.
Less directly, Megan has provided the Bakehouse with great ingredients by connecting us to other processors across the Midwest. Namely, we met Harold Wilken, owner of Janie's Farm and The Mill at Janie's Farm in Illinois, through Megan. Our warthog wheat, used in our new fougasse and our holiday demi-baguette wreath, also came to us from Harold. You can find delicious, certified organic bread, cake, and pastry flours blended by Harold in our Bakeshop. Megan's grain-centered friendship with Harold has led to their newest business plan—expanding Harold's local grainshed to a more regional scale that includes us. This essentially means supplying freshly milled flour from Harold's mill to bakeries across southern Michigan and then back-hauling Michigan-grown grain berries to be milled by Harold at The Mill at Janie's farm in Ashkum, Illinois. The plan is elegant in its efficacy, it means the truck is full both ways, allows Harold to more consistently feed his mill, and gives Michigan bakeries access to a less centralized, industrial flour source that is freshly milled, certified organic, and sourced regionally.
As we enter our third growing season working with Megan, we feel grateful for all she does. Trailblazing is more effective and fun when done with friends and we feel happy to be sharing a path with such a determined and pioneering fellow grain lover. Come try a cookie, a scone, or some fougasse to celebrate this collaboration and taste the sweet rewards of our partnership with Megan!
By Hailey Schurr
Bakehouse Sourcer-ess
Photo credits: Plymouth Orchards (1), Megan Phillips Goldenberg (2 & 3), Antonis Achilleos