Spring has finally sprung and with Easter just around the corner, the bread bakery here at the Bakehouse is gearing up for the annual baking of our hot cross buns for the holiday weekend. Our hot cross buns are soft, yeasted rolls made with oatmeal, enriched with butter and eggs, and studded with currents, golden raisins, and candied orange and lemon peel. Baked to a golden brown, our buns are then brushed with an apricot glaze and garnished on top with the customary cross in sweet white icing. These delectable, once-a-year Easter treats are available starting Good Friday through Easter Sunday (April 2 – 4).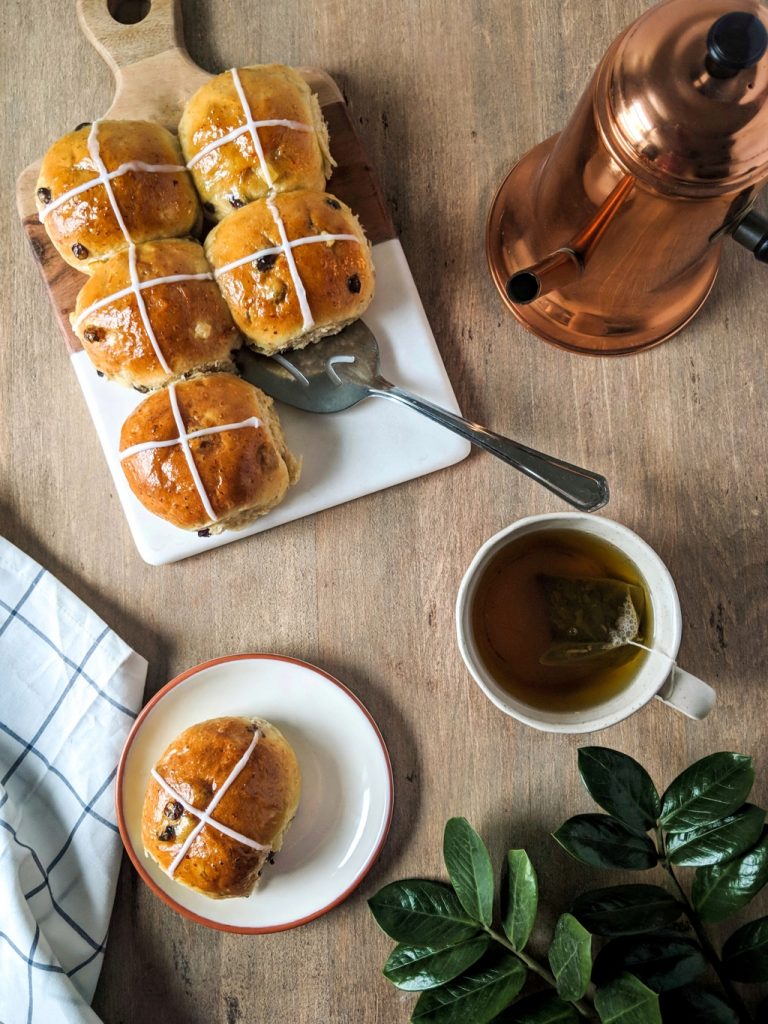 Some History Behind this Storied Easter Treat
Nowadays, most folks associate hot cross buns with the celebration of Easter, the Christian festival and holiday commemorating, as relayed in the New Testament, the resurrection of Jesus from the dead, three days after his burial in the tomb following his crucifixion by the Romans at Calgary in ca. 30 CE. Marked on top with a cross that's either scored into the dough or piped in pastry or white icing, hot cross buns have been an Easter staple for centuries, especially in the British Isles, where they are traditionally eaten on Good Friday (the Friday before Easter when Jesus died on the cross). Yet, their affiliation with the Christian holiday is only a part of their rather storied history. Indeed, the custom of marking buns or bread with a cross dates back several millennia and is shrouded in myth, folklore, superstition, and both pagan and Christian symbolism. 
A Kinship with Pagan Rites of Spring
Hot cross buns, along with brightly colored eggs and bunnies, have long been tied to the Christian observance of Easter. Yet these symbols also share some kinship with ancient pagan rituals around the Spring Equinox (also known as the Vernal or March Equinox), which likely pre-date organized Christianity. Take the pagan Saxons, an early Germanic people who inhabited large swaths of what is now modern-day England, Wales, and northern Germany. When celebrating the arrival of spring and the rebirth of nature, heralded by the Spring Equinox, the Saxons are reputed to have baked small cakes or buns marked with crosses to honor the mythical Ēostre (also known as Ôstara), the Saxon goddess of the dawn and personification of spring, fertility, and rebirth. Folklore historians posit that these "sacred" cross-marked cakes or buns to Ēostre were thought to symbolize the rebirth of the Earth after winter, the four quarters or phases of the moon that make up the lunar cycle, as well as the four seasons and the wheel of life. This tradition of marking buns or bread with a cross, like many other pagan symbols, was most likely incorporated into the celebration of the Christian holiday of Easter as Christianity spread its influence throughout Europe and the British Isles beginning in the 6th century CE. 
Cross Buns Get a Christian Baptism in the British Isles
Perhaps nowhere are hot cross buns more celebrated as an Easter tradition than in the British Isles. They've been a staple of Good Friday commemorations there since the Middle Ages and stories abound as to their origin as a Christian symbol of Jesus's death and resurrection. One dates as far back as the 12th century, when an Anglican monk is thought to have first put the sign of the cross on some buns on Good Friday, known then as the "Day of the Cross." Two centuries later, at St. Albans Abbey and Cathedral in England, the plot thickens. There, Brother Thomas Rocliffe, a 14th-century monk attached to the Abbey's refectory, with a penchant for baking, is recorded as having developed an original recipe for small, sweet buns, incised with a Christian cross, which he then began distributing to feed the local poor on Good Friday, starting in 1361. The cross buns were a huge hit in and around the Village of St. Albans and their popularity as Good Friday alms soon spread throughout the British Isles.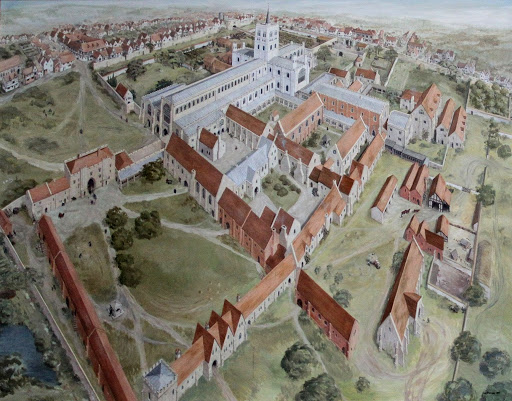 To this day, St. Albans Cathedral keeps Brother Rocliffe's original recipe for "Alban Buns," as they are now called, a closely guarded secret, only revealing that "the ingredients include flour, eggs, fresh yeast, currants and grains of paradise or cardamom," and that the "baker today stays faithful to the original 14th-century recipe with only a slight addition of some extra fruit." The buns, they further note, "are distinctive in their appearance due to their lack of a piped cross. Instead, the baker cuts the cross into the top of the bun with a knife."
British Myths and Superstitions On the Rise
By the Early Modern Period, (ca. 1500 – 1800), hot cross buns in England had become so popular and ubiquitous among the masses that Queen Elizabeth I, during the Tudor era, saw fit to regulate them by legal decree. Issued in 1592, through the London Clerk of Markets, the law prohibited the commercial production and sale of sweet buns of any kind, except for funerals, Christmas, and the Friday before Easter, i.e. Good Friday. With commercial bakeries on the proverbial hot seat, fearful of losing precious revenue should they transgress the Queen's edict, the customary baking of hot cross buns moved underground into domestic kitchens. Now made in secret, in the privacy of the home, the buns soon became shrouded in myth and household superstition as they were invested with medicinal properties and magical powers. Food historian, Alecia Simmonds, writing for Gourmet Traveller, sums up nicely what hot cross buns came to signify in the British Isles beyond their Christian symbolism: 
If hung from the rafters on Good Friday, for instance, they would resist decay, it was thought, and people would nibble on them throughout the year for their supposed restorative powers. The buns would rid the house of bad spirits, protect it from fire and safeguard ships against shipwreck. In Ireland people would share hot cross buns with their best friends on Good Friday, reciting the lines "Half for you and half for me, between us two, good luck shall be" to guarantee their friendship for the coming year.
Hot Cross Buns in London Town
Perhaps the most influential chapter in the hot cross bun story, to which we feel the most connected today, unfolds in London, England during the Georgian era in the 18th and 19th centuries, where the bun's popularity as a Good Friday indulgence practically knew no bounds. With Queen Elizabeth's late 16th-century sweet bun law long since rescinded, commercial bakeries, aided by street criers and peddlers, were back in the business of satisfying the overwhelming demand for hot cross buns that Londoners of the working classes had never stopped clamoring for.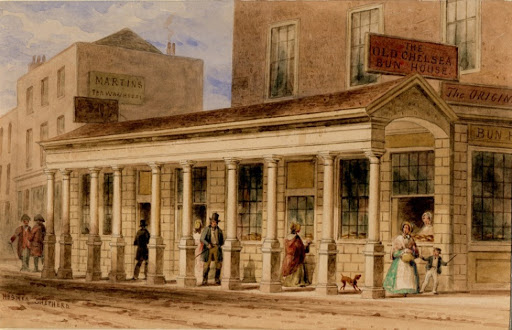 Take the Old Chelsea Bun House, established by the Hand family around 1700 and in operation until 1839. Situated on what was then Jew's Row, near Grosvenor Row, by the Ranelagh Pleasure Gardens, the Bun House did a booming business in hot cross buns on Good Friday, attracting tens, if not hundreds, of thousands of eager customers. As one historian notes, "The bun house would open for business as early as three or four in the morning and the crowds would press on it so fiercely that buns would only be sold through openings in the shutters. Constables were required to keep good order and, in 1792, the crowd was so great that Mrs. Hand made a public announcement that there would be no sales of hot cross buns in the following year." The announcement read:
Royal Bun House, Chelsea, Good Friday

No Cross Buns.

Mrs. Hand respectfully informs her friends and the public, that in consequence of the great concourse of people which assembled before her house at a very early hour, on the morning of Good Friday last, by which her neighbours (with whom she has always lived in friendship and repute) have been much alarmed and annoyed; it having also been intimated, that to encourage or countenance a tumultuous assembly at this particular period might be attended with consequences more serious than have hitherto been apprehended; desirous, therefore, of testifying her regard and obedience to those laws by which she is happily protected, she is determined, though much to her loss, not to sell Cross Buns on that day to any person whatever, but Chelsea buns as usual.
However, Mrs. Hand's conscientious sales ban was not permanent and the bun house, in later years, continued to sell hundreds of thousands of hot cross buns on Good Friday. In 1839, in its last year of operation, the Chelsea Bun House is recorded as having sold upward of 240,000 hot cross buns on Good Friday.
London Street Cries and Nursery Rhymes
It was also during the Georgian era in London, in the 18th century, when the Good Friday treats came into their own as "hot cross buns;" first in a street cry, then in a nursery rhyme, followed eventually by a song. The first mention of "hot cross buns" in a street cry is recorded in a passage from Poor Robin's Almanac from 1733 that reads: 
Good Friday comes this month, the old woman runs, with one or two a penny hot cross buns. 
By the 1760s, the street cry had morphed into a nursery rhyme as a round. Published in the London Chronicle in 1767, it went like this: 
One a penny, two a penny, hot cross-buns;

If you've no daughters, give them to your sons;

And if you've no kind of pretty little elves,

Why then good faith, e'en eat them all yourselves.
 And once the street cry had made the transition to nursery use, it then became a song used in music classes for young children trying to master a new instrument, which continues as such to this day.
So there you have it! The story is big and Good Friday is nearly here! Experience what all the hot-cross-bun hubbub is all about—come to the Bakeshop for a taste or order up a dozen or so to enjoy this Easter weekend.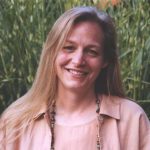 After a long, established career as a Ph.D. art history scholar and art museum curator, Lee, a Michigan native, came to the Bakehouse in 2017 eager to pursue her passion for artisanal baking and to apply her love of history, research, writing, and editing in a new exciting arena. Her first turn at the Bakehouse was as a day pastry baker. She then moved on to retail sales in the Bakeshop, followed by joining the Marketing Team and becoming the Bakehouse's designated culinary historian. In addition to her retail sales and marketing work, she's a member of the Bakehouse's Grain Commission, co-author and editor of the Bakehouse's series of cookbooklets, and a regular contributor to the BAKE! Blog and Zingerman's Newsletter, where she explores the culinary, cultural, and social history and evolution of the Bakehouse's artisan baked goods.