Our standard all-purpose wheat flour here at Zingerman's Bakehouse is amazing stuff. It's organic, traceable (not only can our supplier tell us what American farms the wheat comes from, we've even visited one of them) and fresh (fresher than what you find most stores or commercial bakeries because we get a weekly delivery straight from the mill and bake with it soon after). It's still a great choice for much of what we're baking.
At the same time, we also want to feature freshly milled whole grain flours, much of which is ground right here on our very own stone mill. You'll find freshly milled whole grains in many of the new items we're developing. We've also been experimenting with adding freshly milled grains into the classic breads and pastries we've been making for most of our history. In those cases, after substantial testing, we will then sometimes make the switch when the end result has better flavor and texture than it had before.
This has been a great flavorful adventure so far and we're looking forward to even more learning, creativity, innovation, and fun.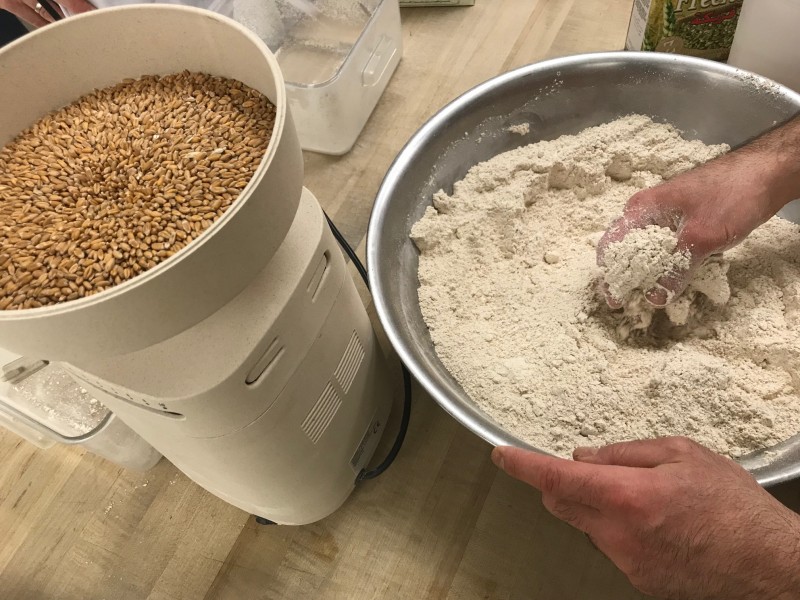 7 Reasons We Like Freshly Milled Whole Grains
1. FUN & Flavor Is ALWAYS First
We're focused on freshly milled flour for many reasons, but having fun and boosting flavor are at the top of the list. We want to make food that tastes great and enjoy doing it! Freshly milled flour results in more flavorful, nuanced breads and pastries, with more intense aromas (which is important, as smell plays a dominant role in our perception of flavors!) and even more intense colors. Also, since the oils of the grain's germ (more on this later) are included in the fresh flour, the resulting breads and pastries are often relatively more tender. (Think about how the addition of a fat, like oil or butter can make for more tender baked goods.) Milling our own flours also gives us an opportunity to play with our food, so to speak. We can create new culinary experiences with the wide spectrum of grains that are out there. We embrace baking with a sense of adventure, while seeking bigger flavors!
2. Freshness Is Vital
This one is pretty self-explanatory…but we're going to talk about it anyway! An easy comparison is coffee: Would you rather have a cup of coffee made from freshly ground beans or one from beans ground months ago? Fresh, right? We believe the same goes for flour—fresh is better. And freshness doesn't just apply to the flour, when properly made, breads and pastries made with freshly milled flours will stay fresh longer thanks to the natural oils present in the flour.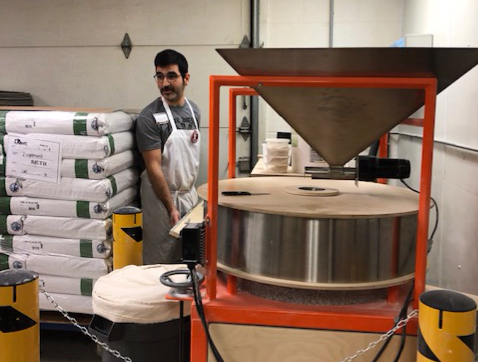 3. Freshly Milled Flour Is Chock-full of Nutrients
First, a brief grain anatomy overview. When we receive grains ready for milling, there are 3 basic parts to know about: the bran, the germ, and the endosperm. The bran is high in fiber, has a good amount of proteins, and enzymes that help with digestion. The germ is the smallest part of the kernel, but it contains the highest density of nutrients—mostly fatty acids and a lot of vitamin E. The endosperm is the largest part of the kernel, it's primarily starch and serves as the food for the plant—this is the only part you get with commercial white flour.
Compare that to stone-ground flour, which crushes the whole grain kernel—the bran, the germ, and the endosperm—releasing all of the nutritious vitamins, minerals, and oils into the flour. This is more complete and as nature designed it—a whole food. We can use that flour as is (whole grain flour), or we can sift out some of the bran (high-extraction or 'bolted' flour) to varying degrees, which is somewhere between a whole grain flour and a white flour. The beauty of freshly stone-milled flour is that even if some of the bran is sifted out for a high-extraction flour, the oils of the germ have still been rubbed into the white, starchy portion of the flour, resulting in a relatively more flavorful and nutritious "whitish" flour, that still performs well and tastes delicious.
Psst: It's no coincidence that the first point of our 2023 vision for the bakery is: "We are bringing more flavor, freshness, and nutrition to flours—milling our own grains."
4. Dedicated to Great Ingredients
We always want to use great ingredients—they provide the best flavor. We also want to know as much about our ingredients as possible: where they're coming from, how they were grown or produced, and who is doing the growing or producing. And whenever possible, we opt for locally-sourced, sustainably-grown, and organic ingredients.
5. Less Is Often More
We're focusing on food waste reduction in our bakery in novel and unexpected ways. Not removing and wasting (the most flavorful and nutritious) part of the grains we use is a nice added bonus for doing something we already believe has a lot of value! You might say it's like not peeling the grains.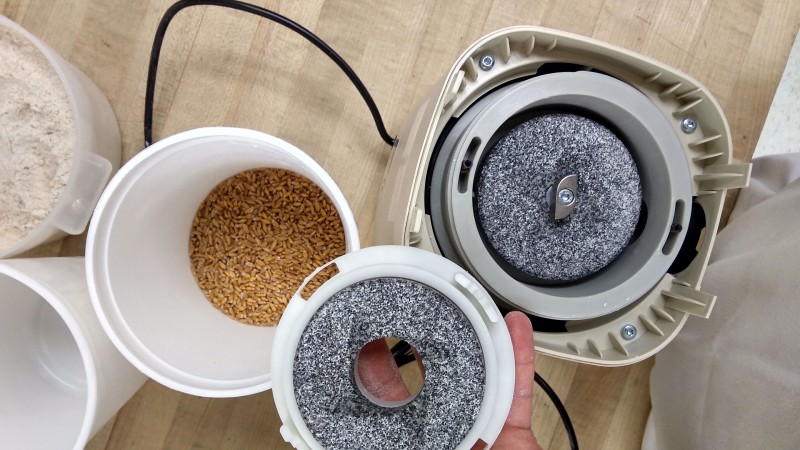 6. Tied To Traditional Methods
We believe in preserving traditional baking methods and recipes. Stone milling our own flour, right before we're going to use it, is bringing back an old tradition to our baking. Before the middle ages in western countries and still today in some parts of the world, people mill(ed) all of their grain at home, by hand with simple grinding stones. Then milling became industrialized and stone mills became an important part of communities. Families and farmers would bring in their grain to the local mill to have it milled. We look forward to supporting this tradition by creating products made with freshly-milled flour. We also offer home mills, grain berries, and freshly-milled flours in our Bakeshop.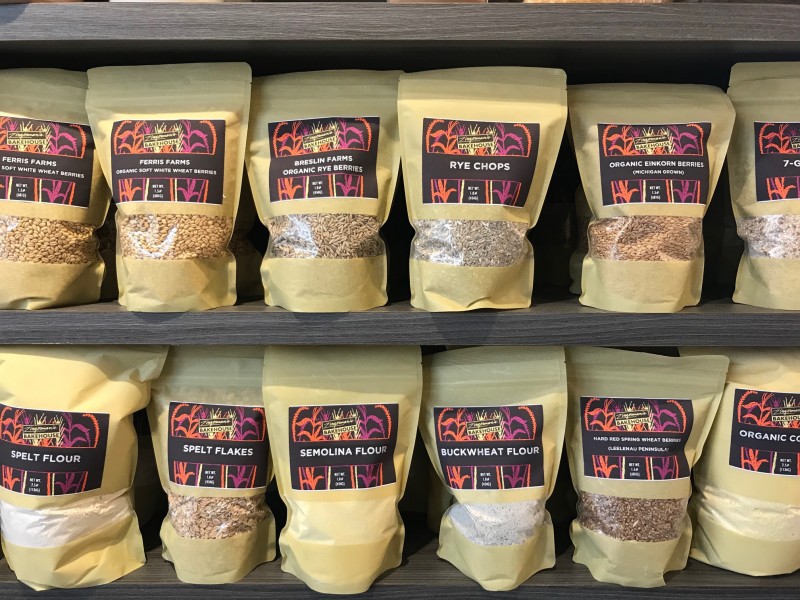 7.   Connecting To Community
Food brings people together. Sourcing local whole grains to mill and bake with brought us even closer to our community. We have been introduced to many other seekers of great food and keepers of tradition like Megan Goldenberg from Macon Creek Malthouse, The Luckhardt family of farmers, the Wilken family at Janie's Mill, Bill Koucky of Grand Traverse Culinary Flours, Michigan State University Extension, Nature Nurture, The Andersons, Molly Breslin of Breslin Farms, and many more. In our own small way, we can improve the local food system around us and spread that joy to others.
Milling is giving us something new to share with home bakers who are already enjoying our baking classes and cookbook recipes. We're learning right alongside them about the benefits of whole grains as we invite home milling experts and other speakers from our around the country. We also offer our freshly milled flour for sale for bakers to use at home. After all, in ancient times, milling was the first home activity to be centralized, followed by baking. We love bringing back old traditions and feel honored to mill a little and bake a lot for our community.
—The Zingerman's Bakehouse Grain Commission
Want freshly milled flours in your life?
This post was originally published on February 20th, 2019, and was republished to share our new video with our mills.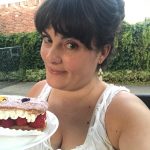 Sara grew up in metro Detroit making her own birthday cakes and dreaming of a career in baking. At age 17 her path began with the Schoolcraft College Culinary Arts program, and at 18 she got her first job in the field right here in the pastry kitchen of Zingerman's Bakehouse. That work evolved over a couple of decades to include baking, customer service, cooking, project management, copywriting, and much more. She even helped to create BAKE! and this blog! Today, Sara leads the creative team at Zingerman's Service Network, supporting the blogs, websites, copywriting, packaging, and other marketing for Zingerman's Community of Businesses. Sara remains a die-hard fan of Pecan Pie, Pavlova, Paris Brest, Patti Pockets, and other desserts that start with 'P.'