Meet Stephanie Gasinski, one of our dedicated and creative cake designers. She's been part of the Bakehouse team for 12 years, but still remembers the details of her first day of work vividly. It was a Sunday in 2005, happened to be Mother's Day actually. She arrived at 4 am to shape and bake bread and was welcomed from the start. "I liked the training. The expectations were clear and that helped me a lot. And I liked the people. They were great people, like an instant family."
Stephanie's path to the Zingerman's was one of determination and luck. Or maybe some would call it fate. It began after graduating culinary school, while working at another bakery and then a short stint as a restaurant pastry chef. She didn't know what was next for her, but knew she wanted to bake. So she boldly made a list of bakeries to walk in and ask if they were hiring. Zingerman's Bakehouse was furthest away from her home, so the plan was to start there and work her way back.
"I got lost. I came in the back door looking very confused. Todd was cleaning, but kindly took me to Amy the bread manager. I asked if they were hiring and got an interview and tour on the spot. I felt so accomplished with my first day of job hunting I went home! A couple days later I did a trial shift with Frank and was hired." Just like that the journey began.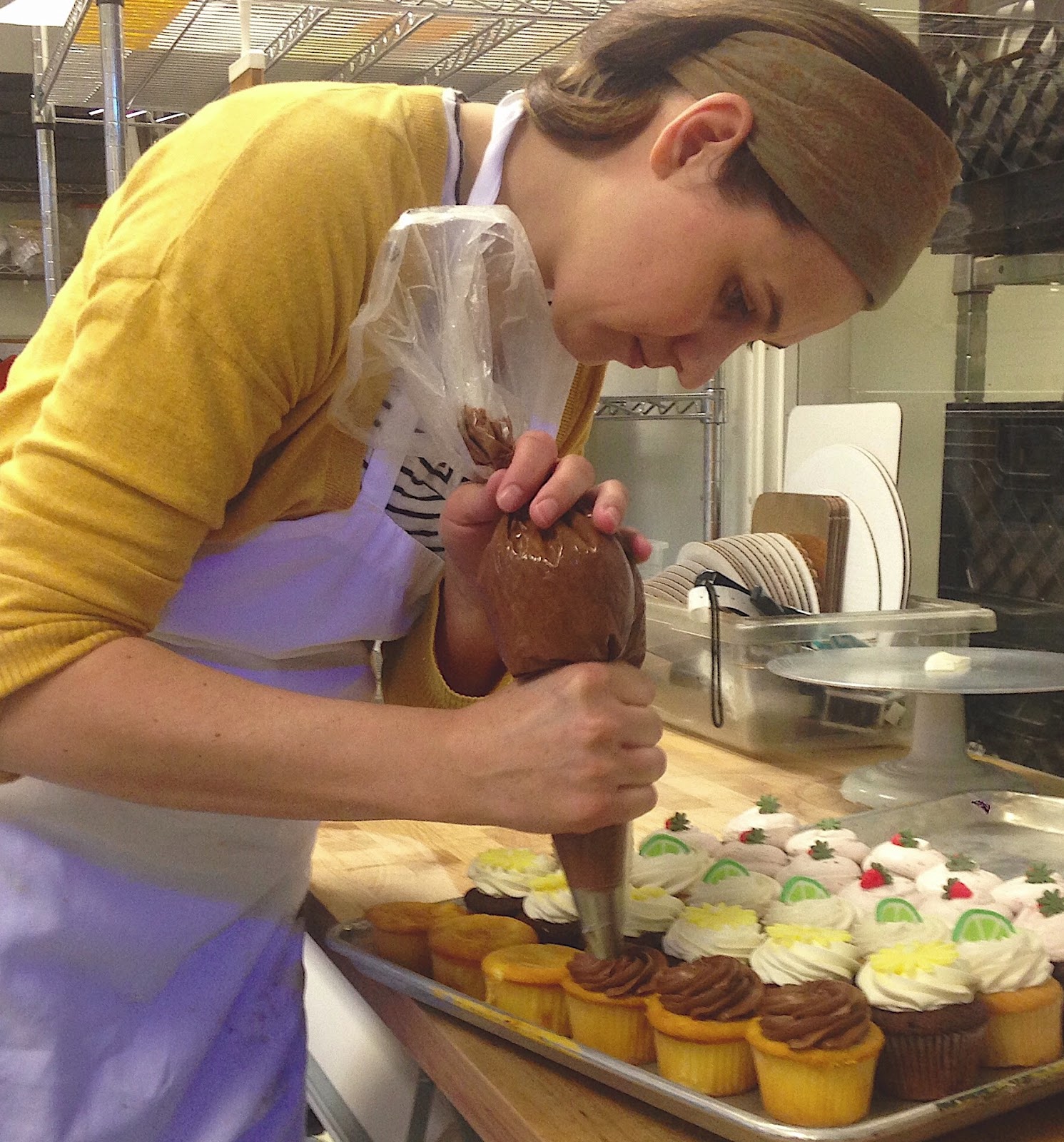 After a year of getting up early to make bread, she jumped at an opening in the cake studio. "I was excited to come in at 7 am instead of 4 am. I was 20 years old and stupid, so thought I could stay up late and go to work on two hours sleep. After a year I learned that is not an ok thing to do." She had some experience as a torte decorator at a previous job, but admits she never set out to be the cake designer she is today.
"I liked the new atmosphere of the cake studio. It was just four people then and the pace was slower. Not as a much of a strict time schedule to follow like with bread. The work was more creative"
Stephanie shared with me that she has learned so much over the last 11 years, both on the job and from outside training she attended with her fellow Zingerman's Bakehouse cake decorators. "Being a place to learn set us apart," she feels.
They traveled to the Wilton School in Illinois to learn gum paste flowers from well-known decorator Colette Peters and other local classes on sketching cakes, gum paste flowers, building structures for gravity-defying cakes. Are you wondering what cake sketching is, like I did? That's a service we offer in our custom cake consultations to start the design process. The designer will draw your cake with paper and colored pencils.
In 2012 Stephanie joined fellow Bakehouse managers and owners on a research trip to Hungary. They saw first hand how Hungarian food is made and where it came from, tasting how it should taste. When they returned Stephanie led the development of our versions of traditional Hungarian tortes. She recounts "It wasn't easy. Getting the caramel exactly right for the Dobos Torta, in color and thickness alone, took at least six batches."
So what does this buttercream and fondant veteran take note of when pausing to look back on all those years of making cakes?
"What I love most is getting to be a part of people's occasions in their life. There have been some families where we made the cake for every event year after year…the wedding shower, the wedding, the baby shower, the 1st birthday, and so on. That feels really special.
I also like the whole process of creating the cake. When you sit down with the customer and you both get excited about the design. Then when you see the finished cake when it is placed on the table at the event in the environment."
And what changes in trends has she noticed over the years?
"When I started out topsy-turvy, whimsical "mad hatter" cakes were very popular. Then it was back to traditional designs with scrollwork and quilting. Today it's all about rustic, simple, natural cakes due to the popularity of outdoor and barn weddings. Our buttermilk cake with raspberry buttercream has been a staple the whole time."
Stephanie's has honed her decorating skills over the last decade learning a variety of techniques, but her specialty is hand-made flowers. "And I'm known for my piping and scrollwork". She admits she doesn't have patience for any kind of decorating that requires a ruler, leaving that work to the rest of the team.
All the Zingerman's Bakehouse cake designers recently finished their annual project of creating new display cakes for our cake consultation room. The displays provide inspiration to customers coming in to design their dream cake. (Stop into the Bakehouse see them in person!) The staff all put their heart into coming up with their masterpiece and Stephanie is certainly proud of hers.
The first is a modern four-tiered hexagon shaped cake that's hand-painted with gold geometric shapes on the bottom and an emerald green watercolor effect on the top. Then it was finished with hand-formed wafer paper flowers dusted in pink.
The second is a more polished take on the natural cakes that are on trend. It's four round tiers covered in pristine white fondant, adorned with a large spray of hand-made gum paste flowers.
So, I was wondering, does a cake decorator make her own cakes at home?
This one certainly does, with the exception of her wedding cake. She was understandably a little busy so she entrusted a coworker to do the honors. It was a classic all-white number with silver accents and, what else, scroll work. Inside she chose three stellar flavors: almond pound cake with cherry buttercream, buttermilk cake with lemon curd and hummingbird cake with vanilla buttercream (her husband Joe's favorite). She couldn't resist making a groom's cake though. A replica of Joe Louis Arena!
Today Stephanie's focus is a little less on work and more on her son Harrison. She decked out a dessert table for his 1st birthday, including cookies, brownies, a "smash cake" for the birthday boy and a two-tiered cake exploding with superhero fun. It was the centerpiece of the party, as will probably be the case for Harrison's parties for years to come. After all, for most of us (and definitely when your mom is a cake designer) cake is a part of life!
By Sara Whipple, Zingerman's Bakehouse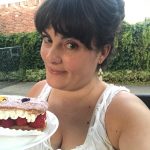 Sara grew up in metro Detroit making her own birthday cakes and dreaming of a career in baking. At age 17 her path began with the Schoolcraft College Culinary Arts program, and at 18 she got her first job in the field right here in the pastry kitchen of Zingerman's Bakehouse. That work evolved over a couple of decades to include baking, customer service, cooking, project management, copywriting, and much more. She even helped to create BAKE! and this blog! Today, Sara leads the creative team at Zingerman's Service Network, supporting the blogs, websites, copywriting, packaging, and other marketing for Zingerman's Community of Businesses. Sara remains a die-hard fan of Pecan Pie, Pavlova, Paris Brest, Patti Pockets, and other desserts that start with 'P.'