Every holiday season we have dozens of BAKE! classes for Fancy Schmancy Holiday Cookies (FSHC)—they are a special place for students to come together to prepare for celebrations with their friends and families. And, each year, we have fun coming up with a line-up of new, distinctive cookies that are worthy of sharing at all of your holiday gatherings. This year, the cookie line-up will be extra special, because we'll be including one of YOUR recipes.
What we're looking for:
A fancy, schmancy cookie recipe (of course).

Originality, both in terms of your recipe and considering what we've made before (check out the list of past FSHC below). Recipes must be your own. A recipe that's been in the family for generations is fair game, and it's also okay if you were inspired by another cookie, just tell us about how you changed it. With that in mind…

A good story. Tell us about your cookie! Has your family been making this for as long as anyone can remember? Did you find a recipe that you liked, but didn't love, so you tweaked it to become something so magical that your family now asks for it every year? Help us fall in love with this cookie before we even taste it.
What we'll be considering:
The overall appeal of the cookie: How it looks and tastes (of course).

Organization: Is the recipe written in a way that is clear, understandable, and easy to follow?

Preparation: Will this cookie demonstrate a new or unique technique? Does it require special equipment? We will be keeping in mind if something will make a recipe more challenging to teach in a classroom setting and stovetop cooking is discouraged (things like melting chocolate are fine, as they can be done in other ways).

Storage: How long do the cookies keep? Will they freeze well? Again, this is not a requirement, but we have Fancy Schmancy Holiday Cookie classes starting at the end of November, and when possible, we like options that they can freeze for the holidays.

The yield: Our sweet spot is 2 dozen.
How to enter:
Each person may submit one recipe. It must be submitted by April 16th, either via email to: [email protected] or in person at our Shop. A photo of the baked cookie is appreciated, but not required.
In submitting a recipe to this contest, you acknowledge that we have the right to use your recipe (and you, of course, still have the right to do with your recipe what you wish!). We may gently edit for clarity or to streamline technique, but promise to try our best to preserve your voice, and we will always credit you as the author of the recipe.
For the following few weeks, we'll be testing submissions and narrowing down to our one lucky winner. We'll announce the winning recipe on May 15th, which will be taught in dozens of FSHC classes this year to hundreds of BAKE! students. The winner's name will be included in the recipe's title (think Cousin Eddie's Eggnog Cookies, George Bailey's Angel Wings, Buddy's Maple Syrup Mountains… you get the idea). The winner will get two free spots (for themself and a friend) in a Fancy Schmancy Holiday Cookie class of their choosing.
Fancy Schmancy Holiday Cookies from years past
2018
Buckwheat Sablé
Passionfruit Einkorn Bars
Merry Masala Cookies
Sarah Bs (chocolate rum almond)
2017
Cocoa Caramel Bites
Pistachio Cherry Slices
Snowflake Puffs
Viennese Almond Punch Cookies
2016
Mint Chocolate Whoopie Pies
Coconut Brandy Snaps
Chocolate Walnut Acorns
Cranberry Orange Almond Bars
2015
Almond Linzer Cookies with Apricot Jam
Red Chili Chocolate Cookies
Baci Di Dama (chocolate hazelnut sandwiches)
Jolly Eggnog Thumbprints
2014
Chocolate Thumbprints with Raspberry Jam
Orange Spritz
Chocolate-Dipped Espresso Shortbread
Pfeffernüsse Spice Cookies
2013
Dark Chocolate Mint Ganache Sandwiches
White Chocolate Lemon Sugar Cookies
Transylvanian Walnut Rolls
2012
Cardamom Crescents
French Almond Macarons
Cherry Pistachio Nougat
2011
Chocolate Mint Thumbprints
Gingerbread People
Pinwheels
Nutty Meringue Kisses
2010
Chocolate Dipped Orange Spritz
German Spiced Ginger
Pecan Turtles
Chocolate Cherry Sandwiches
2009
Raspberry Linzer
German Spice
Chocolate Coconut Macaroons
Lime Shortbread
2008
Chocolate Coconut Macaroons
Pfeffernüsse
Russian Tea Cookies
Cut Outs
2007
Pfeffernüsse
Weihnachtsekekse
Spritz
Florentines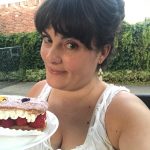 Sara grew up in metro Detroit making her own birthday cakes and dreaming of a career in baking. At age 17 her path began with the Schoolcraft College Culinary Arts program, and at 18 she got her first job in the field right here in the pastry kitchen of Zingerman's Bakehouse. That work evolved over a couple of decades to include baking, customer service, cooking, project management, copywriting, and much more. She even helped to create BAKE! and this blog! Today, Sara leads the creative team at Zingerman's Service Network, supporting the blogs, websites, copywriting, packaging, and other marketing for Zingerman's Community of Businesses. Sara remains a die-hard fan of Pecan Pie, Pavlova, Paris Brest, Patti Pockets, and other desserts that start with 'P.'