Ready to hop into the kitchen and fire up the oven? Every beginning baker needs a well-stocked arsenal of tools to create cookies, croissants, pies, and pastries. To help you build your collection, we assembled a punch list of must-have essential tools for those brand new to baking. There are tons and tons of cool gadgets out there to create a baker's dream kitchen, but we think this is all you need when you're just starting out.
Keep in mind that we're making some assumptions here. We're guessing that you already have an oven in your kitchen at home and a few cooking basics like a large mixing bowl, a wooden spoon, a wire whisk, a sharp knife, measuring spoons and a couple of sheet pans. If not, start there!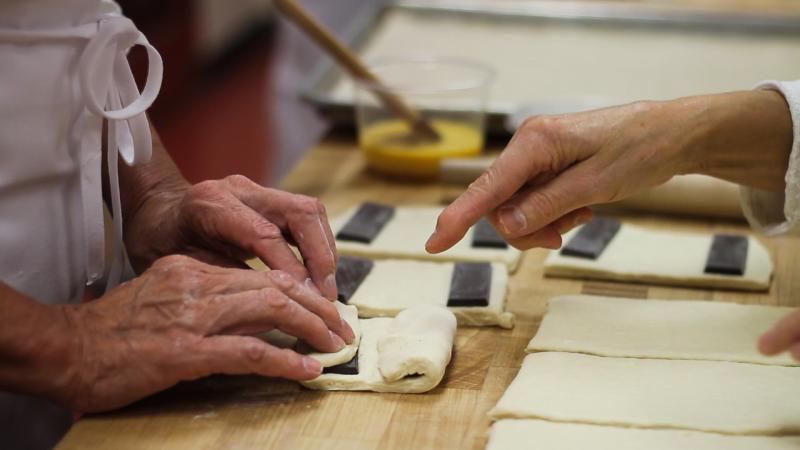 Digital Scale
We are firm believers in measuring by weight rather than volume. (Read about our thoughts on the matter here!) Recipes in our cookbook and at BAKE!, our hands-on baking school, are listed in both weight and volume. To ensure maximum accuracy and consistency in your baking, we recommend ditching the measuring cups and making the switch to a kitchen scale. Look for a simple digital scale in your price range, making sure it has settings for multiple units of weight, including grams, ounces, and pounds.
Mixer
Most recipes can be mixed by hand with a whisk or wooden spoon, but sometimes it's a workout! So a stand mixer is a solid investment and something you can use nearly every time you bake. Baking on a budget? Pick up a hand mixer to start. Your upper arms will thank you.
Plastic Scraper
A silicone spatula or bowl scraper is an inexpensive and useful tool when it comes to bowls of batter or dough. This little spatula hugs the curves of the mixing bowl when you are scraping down the sides and bottom in between additions, to ensure your precious ingredients are properly incorporated. No more dry pockets of flour at the bottom of the bowl!
Dough Knife
Like the rounded plastic version mentioned above, a straight-edged metal dough knife or bench scraper is a low cost and high-value tool. Professional bakers use them to easily cut or divide doughs and to clean work surfaces. Use 'em to scrape up dry dough or batter spills from your countertop.
Parchment Paper
This is a handy convenience that really saves on time and clean up in a baker's kitchen. Parchment paper is a disposable, nonstick, oven-proof surface for your sheet trays and baking pans that makes clean up a breeze.
Rolling Pin
A rolling pin is a necessity for rolling out pie dough, cut-out cookies, puff pastry, and more. Our pick is a traditional French wooden rolling pin with tapered ends. They are a lightweight alternative to pins with rotating handles, and easier to control for a beginning baker.
Portion Scoop
Using a scoop to dole out batters and doughs can ensure everything in the batch is the same size, meaning even baking across the board (er, baking sheet). You can certainly eyeball it, but this is a pro tip for uniformity that is easy to add to your toolbox.
Since 2006, we've shared helpful tips and valuable techniques for successful home baking at BAKE!, the hands-on teaching bakery at Zingerman's Bakehouse in Ann Arbor.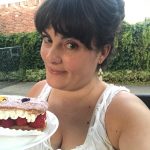 Sara grew up in metro Detroit making her own birthday cakes and dreaming of a career in baking. At age 17 her path began with the Schoolcraft College Culinary Arts program, and at 18 she got her first job in the field right here in the pastry kitchen of Zingerman's Bakehouse. That work evolved over a couple of decades to include baking, customer service, cooking, project management, copywriting, and much more. She even helped to create BAKE! and this blog! Today, Sara leads the creative team at Zingerman's Service Network, supporting the blogs, websites, copywriting, packaging, and other marketing for Zingerman's Community of Businesses. Sara remains a die-hard fan of Pecan Pie, Pavlova, Paris Brest, Patti Pockets, and other desserts that start with 'P.'