Coming to Ann Arbor for the first time!
Amy Halloran, author of The New Bread Basket, teacher, cook, and renowned flour ambassador, shares her knowledge with us on local grain economies and teaches us how to use sourdough starter in simple quick recipes.
You can meet Amy Halloran when she comes to BAKE! for a talk on regional grain economies and a demonstration class making sourdough tortillas and English muffins.  We sat down with Amy to get the scoop on her upcoming visit, her first time to Ann Arbor and Zingerman's.
What was the catalyst for your career in food writing?
I was inspired when I was running a local farmers market in New York. I felt compelled to tell the stories of food—not in mouthwatering words, but in the details that most of us can't imagine. We live removed from the realities of farming. I want to illustrate the work it takes to eat.
What is a regional grain economy and why do we need them?
Regional grains are the local food systems of our bread and beer, and for the other animals that eat locally, too—like chickens and cows! Grain growing and processing got centralized as America expanded west and took over grasslands to make the bread baskets we still rely upon.
If we can create markets for farmers to feed people and other animals nearby, farmers have greater control over their economies and choices. Right now, American farmers are very tied to the dominant corn and soy system. Developing regional markets and crops can help growers step out of the constraints of commodity production and into crops and farm plans that are more ecologically diverse, and hopefully, more economically resilient.
How do you create or develop a regional grain economy?
Creating or strengthening your local grain economy all depends on where you are and your conspirators! These projects take the shape of people who want something new to happen, which could be farmers, community members, or an organization that supports regional agriculture. For example, GrowNYC, which has really developed the grain shed in the Northeast because of its mission to support the agriculture surrounding New York City. (More on this at another BAKE! special event with June Russell from GrowNYC.)
Who should attend your local grain economy talk?
Anyone who is curious about flour and bread or local farming should come and listen to my Creating Regional Grain Economies talk. They'll hear all about the amazing people who are creating change in our most basic foods. It's important work worth learning about.
Who should attend your tortilla and english muffin class?
My Sourdough Tortillas and English Muffins class is for the sourdough curious, as well as seasoned sourdough bakers. I've created this class to help combat the idea that sourdough is tricky and time-consuming; it is really easy to make these things, and a great way to get to know how natural leavening works without trying to figure out how natural leavening works in loaves of bread. These recipes are griddled breads, and they are wicked easy, tasty, and fun.
I created a goofy yet serious pledge to draw attention to the importance of small mills. I was noticing a cultural clamoring for new grains, and I knew how difficult it was to trace a loaf of bread all the way back to the ground. I wanted to help people see that if they want another bread, then mills are the tool, like farmers markets, to create connections between eaters and the people who feed us.
Get Inspired
While traveling to share her book, The New Bread Basket, Amy has been spreading inspiration to food lovers and bakers and is inspired by readers' reactions: "My book has allowed me to broadcast the stories of people who are changing our connections to grains. I never thought I'd be a flour activist! But it's so wonderful to be spiderwebbed into the energy of this interest in new bread and new grains."
Catch the inspiration yourself and maybe spark your path to becoming a Flour Ambassador! Check out one of these BAKE! special events or get your copy of The New Bread Basket.
By Sara Hudson, Marketing Coordinator for Zingerman's Community of Businesses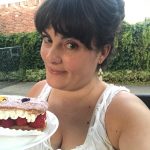 Sara grew up in metro Detroit making her own birthday cakes and dreaming of a career in baking. At age 17 her path began with the Schoolcraft College Culinary Arts program, and at 18 she got her first job in the field right here in the pastry kitchen of Zingerman's Bakehouse. That work evolved over a couple of decades to include baking, customer service, cooking, project management, copywriting, and much more. She even helped to create BAKE! and this blog! Today, Sara leads the creative team at Zingerman's Service Network, supporting the blogs, websites, copywriting, packaging, and other marketing for Zingerman's Community of Businesses. Sara remains a die-hard fan of Pecan Pie, Pavlova, Paris Brest, Patti Pockets, and other desserts that start with 'P.'