The all-new Parmesan Pepper Bread.
We've upgraded the star ingredients in our Parmesan Pepper Bread to Roncadella Parmigiano Reggiano® & Zingerman's Five Star Black Pepper. And you really can taste the difference!
An Upgrade To A Classic
We think our Parmesan Pepper Bread was already a winner. We've been baking it for more than two decades. It's a loaf so popular, at one point we began making it every day to meet demand. Some people just gotta have it. And no wonder, it packs a flavor punch inside that crust. The naturally leavened bread made with organic flour, the savory Parmesan cheese and the bursts of cracked black pepper—it was never just another loaf of bread.
Well, if you know Zingerman's Bakehouse, you know we never rest. We're always looking for the best ingredients we can find. Two relationships we have forged in the food world have resulted in two unique opportunities to dramatically improve the flavor of this already spectacular bread. It will take your taste buds to the stratosphere! Parmesan Pepper Bread was always something to behold, now it's nothing short of a culinary event!

Zingerman's Five Star Black Pepper
First, there's the Zingerman's Five Star Black Pepper blend from Montreal's Épices de Cru, also known as the Spicetrekkers. They travel the world to find rare, high-quality, full-flavored spices like the cardamom in our crumb cake and now the pepper in our bread. Together we chose a pepper so good, we put the Zingerman's name on it. It's a blend of five peppercorns that includes:
Tellicherry Reserve – Épices de Cru's most aromatic black pepper offering. The aroma reminds of burnished old wood, of eucalyptus, of walking through the woods in northern California. The flavor is wine-like with a richness and well-rounded heat.

Mlamala – Grown at above 700 meters under full-on southern Indian sun in the Cardamom Hills. Its unique flavor brings lots of low notes, and a long-loving heat.

Rajakumari – Fittingly, the name means "princess" in the local Malayalam dialect. Hardly ever seen outside of India, the fully ripened, densely textured, intensely flavored pepper is an elegant addition to the blend.

Tellicherry EB – Extra-large, fully ripened, peppercorns from the Wayanad region that bring long, slow heat, and big flavor.

Shimoga – A lively black pepper from the Shimoga district in the Indian state of Karnakata. Where Tellichery goes big, wide and deep, Shimoga is focused, narrow, intense with an almost electric set of high notes, and sensual spicy warmth.

This pepper blend has a lively flavor that builds in your mouth. The aroma is piney with a bit of eucalyptus, aromatic, floral, even a touch of juniper. You can find it spicing things up all over the Zingerman's Community of businesses. At the Bakehouse we'll be taking the extra step of cracking it ourselves in small batches in order to maintain the oils in the pepper, for maximum flavor when it gets to you. We run the whole peppercorns through a grinder and then sift them through three gages of mesh to get it just the right size.
Roncadella Co-op Parmigiano Reggiano
Second, there's the chunks of cheese, true Parmigiano Reggiano from Parma, Italy. (There's 3 ounces in every loaf, so it's important!) They care so much about their cheese, they uphold strict standards in order to earn the Parmigiano Reggiano name and the literal stamp of approval from the Consorzio. And there isn't just one Parmigiano Reggiano. They come from different dairies and are aged for varying amounts of time, which both change their flavor profile.
Just like there are varieties of olive oil, there are a whole range of Parms. Two of our partners, Ari and Grace, flew to Italy to taste and select batches of Parmigiano Reggiano for different uses at Zingerman's—we really do go the extra mile for full flavor! The lucky cheese chosen to star in our beloved Parmesan Pepper Bread is initially the Roncadella Parmigiano Reggiano, aged 12 months. (Due to limited availability of these cheeses we'll likely have the opportunity to try baking this bread using other Parmigiano Reggianos from other dairies in the future.)
The Roncadella co-op, located in a small village in Reggio-Emilia, is the only Parmigiano Reggiano dairy with a woman master cheesemaker! But that's not why we chose this variety for our bread. Just listen to the experts describe the flavor: "Perfume-rich and complex. I can smell fruit (which is quite rare to find), broth and caramel. The taste is rich, perfectly balanced and persistent, with a long-lasting finish."
You Really Can Taste The Difference
The new loaf has even more depth of flavor with notes of rich browned butter in the cheese and floral brightness in the pepper. The flavor and integrity of the dough has been elevated as well. All of the cheese in the loaf is now in the form of chunks. In the prior recipe, half the cheese was grated and the other half cubed. This change has improved the texture of the crumb and really brings out the cheese (crumb is the term for the inside of the bread). Overall we think it's a 3-prong improvement in what was already one of our favorite and most popular specialty breads. All this flavor comes at a premium price, but we know it's worth it. We hope you agree. Ask us for a taste!
-Written by Sara Whipple, Photos by Kelly Zelna, Zingerman's Bakehouse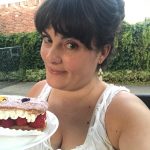 Sara grew up in metro Detroit making her own birthday cakes and dreaming of a career in baking. At age 17 her path began with the Schoolcraft College Culinary Arts program, and at 18 she got her first job in the field right here in the pastry kitchen of Zingerman's Bakehouse. That work evolved over a couple of decades to include baking, customer service, cooking, project management, copywriting, and much more. She even helped to create BAKE! and this blog! Today, Sara leads the creative team at Zingerman's Service Network, supporting the blogs, websites, copywriting, packaging, and other marketing for Zingerman's Community of Businesses. Sara remains a die-hard fan of Pecan Pie, Pavlova, Paris Brest, Patti Pockets, and other desserts that start with 'P.'