After 15 years of teaching, Zingerman's BAKE! is now bringing our beloved in-person baking and cooking classes online. Join us for hands-on, live, virtual classes that feature everything we're known for at BAKE!: small class sizes, one on one teaching, expert baking tips, and really great recipes. We're taking that rich learning experience from our Ann Arbor kitchen to yours, which through the magic of technology could be anywhere!
As one of our instructors Meg Panchame shared, "A highlight of the virtual classes is the fact that it brings together people from all over the country and the globe—Massachusetts to California, Israel to Canada, and beyond. They enjoy a few hours of fun, creativity, normalcy, and comfort."

One perk of baking virtually we've found is an added level of learning. We're teaching the same recipes we would in-person, but the students are handling their own measurements and preparations, using their own tools. This translates to added practice and more confidence in their home kitchen after class.

BAKE! student June says "This was my second virtual class and it was awesome! It is wonderful to be taking the classes at home since we have to do all of the measuring, use our own equipment, and "make it work" within the confines of our own kitchen."
Baking with people virtually in their homes can also add some unexpected humor, Meg recalls. "We were baking with a woman from New York, and all of a sudden her shirtless husband walked across the background in her kitchen! Another time, a pizza class student had ordered cornmeal online and didn't realize it was blue cornmeal. She turned off her video during part of the class and confessed later she was embarrassed by her blue pizza!"

Virtual BAKE! classes are for anyone, novice or hobbyist in the kitchen, looking to learn a new skill or practice their craft.
It is also an easy way to catch a break from the day to day and try new things, without leaving your house. Meg says "It's an opportunity to be creative, nourish your family and your soul, and meet new people. Also, transplanted
Michigan alumni and Zingerman's fans think it's a nice way to connect with Ann Arbor from afar."
The growing online baking and cooking class schedule includes options for kids, teens or adults, and choices of hands-on participation or demonstration viewing. Don't miss occasional one time appearances from guest instructors, including local chefs and nationally known cookbook authors.

Private virtual classes for groups of friends and family are also available.
A recent highlight included a private cookie decorating class for a dozen 13-year-olds. They were distantly celebrating a birthday and the end of their virtual school year. The mother of the birthday girl delivered a cute package of cookie cutters, food coloring, and pastry bags to each participant's house before class. It was fun for
us to hear them laughing and see how creative they were with decorating their cookies.
Ready to BAKE! with us, but don't know where to start? We can help.
You can't go wrong with any of our virtual classes, but we'd recommend some of our most popular: pizza, pasta, bagels, brownies, pies, and scones. Whatever you choose, we guarantee a great experience. We're only sorry we can't be there to do the dishes.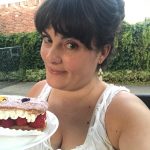 Sara grew up in metro Detroit making her own birthday cakes and dreaming of a career in baking. At age 17 her path began with the Schoolcraft College Culinary Arts program, and at 18 she got her first job in the field right here in the pastry kitchen of Zingerman's Bakehouse. That work evolved over a couple of decades to include baking, customer service, cooking, project management, copywriting, and much more. She even helped to create BAKE! and this blog! Today, Sara leads the creative team at Zingerman's Service Network, supporting the blogs, websites, copywriting, packaging, and other marketing for Zingerman's Community of Businesses. Sara remains a die-hard fan of Pecan Pie, Pavlova, Paris Brest, Patti Pockets, and other desserts that start with 'P.'