When our current reality began, shops and restaurants found themselves restricted or closed, and grocery stores were overwhelmed and out of stock, the questions came rolling in on Zingerman's social media. Many people wanted to know where they could get one thing:

BREAD
We're very grateful to report that during this challenging time for the Zingerman's community of businesses, Zingerman's Mail Order has been quite busy shipping artisan food across the country. Consistently, most of the top 10 selling items are:

BREAD
In Zingerman's staff meetings, which are without their usual food delights these days because they're mostly virtual, always start with an ice breaker question. Something to get everyone's voice in the room. A recent question was what's your go-to quarantine food. The most common answer was, you guessed it:

BREAD
After decades in business and riding the waves of low carb or gluten-free trends, Bakehouse co-founder Frank Carollo jokingly says, "It's about time." The popularity of bread during this challenging time makes sense to us. It's a comfort food, familiar flavor, part of tradition, and has so many uses at every meal of the day. And most of all, it is something we share with others. We break bread together.
Thankfully for us, since baking bread is a big part of our life's work, bread is still an important fixture in many people's dining rooms and kitchens. And we can hope it's bringing small joys to everyone it reaches right now. 
A Classic Comfort Food
The New York Times recently said "Comfort foods, and the old ways of making them, bring solace when you really need it." The Wall Street Journal's recent piece "Why We Crave Bread—and Where to Get It" said "Restaurants and bars
across the U.S. have gone dark, or are limited to takeout and delivery. But bakeries, which have traditionally operated on a takeaway model, remain the lifeblood of neighborhoods—especially amid reported shortages of yeast and flour on grocery store shelves. Bakers offer a measure of psychological continuity and physical comfort in uncertain times. This relationship between baker and bread buyer has not been so apparent for at least a generation."

Being a neighborhood bakery that connects with its community is part of the mission that drives us. We wanted to hear from our community of bread lovers; our staff who bake, serve and deliver our bread, those who take our baking classes and make it at home, those who drive across town to pick up their weekly loaves, and bread fans in other states who seek us out. We are so thankful for each of you. So we asked, what does bread mean to you? And the answers warmed our hearts and souls.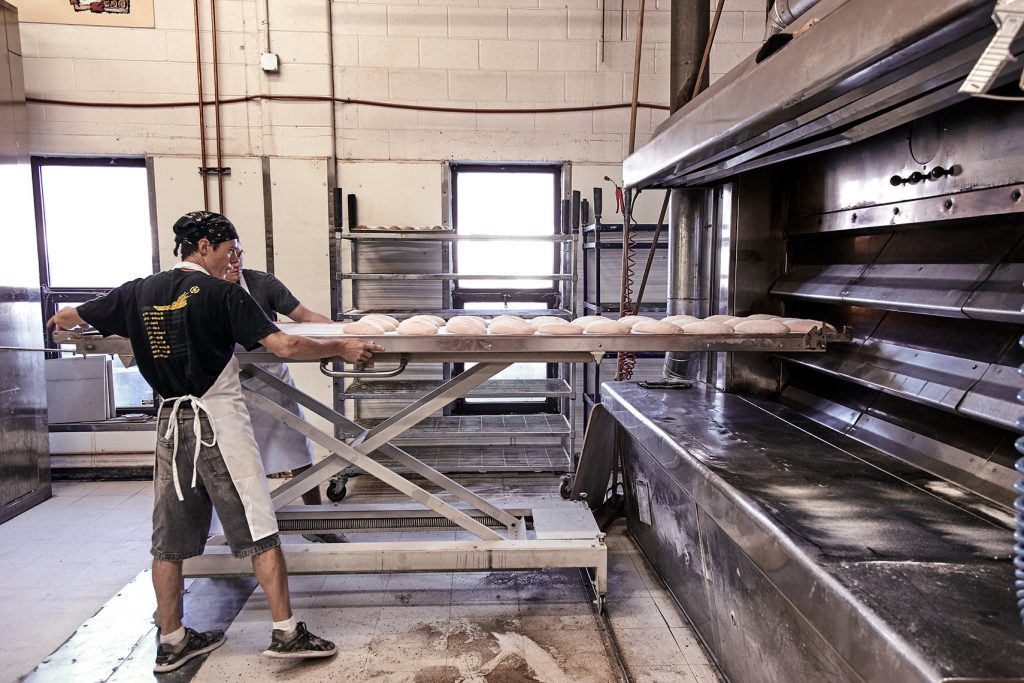 What does bread mean to you?
Everything, really… It is sustenance, it is flavor and pleasure, it is what you eat with your family with a serving of olives, it is what you take to the sea with your dad to feed the fish and yourself, it is what the last drop of sauce on your plate is for, it is memories, it is grains in the most nutritious form, it is what you share with your neighbor and friend, it is the source of aromas that sweep you off your feet, it is an addictive poetic challenge for the hands who make it.

—Hazim, Zingerman's bakehouse
When I think of great bread, it conjures memories of warmth, gathering around a table with loved ones, breaking bread together.
—Melaina, Zingerman's Community Giving
Bread is a constant. It's a snack, a day's work. Since I have been an adult, bread has been a central food and thought. Personally, bread has been present during really hard times, it has been there in moments I experienced redemption, as well as excitement and great hope for the future. It's a little cheesy, but as the son of a baker, bread has really owned prime real estate in my entire experience. Now I share bread with my son, another son of a baker, and he loves it!
—Jake, Zingerman's Bakehouse
Bread means a small yet delicious pleasure and it is always better when shared!

—Katie, ZingTrain
I am a geek for good bread and I have been trying to replicate the sourdough challah that was sold in the deli when I worked retail. Baking soothes my soul.
—Aaron, Zingerman's Alumni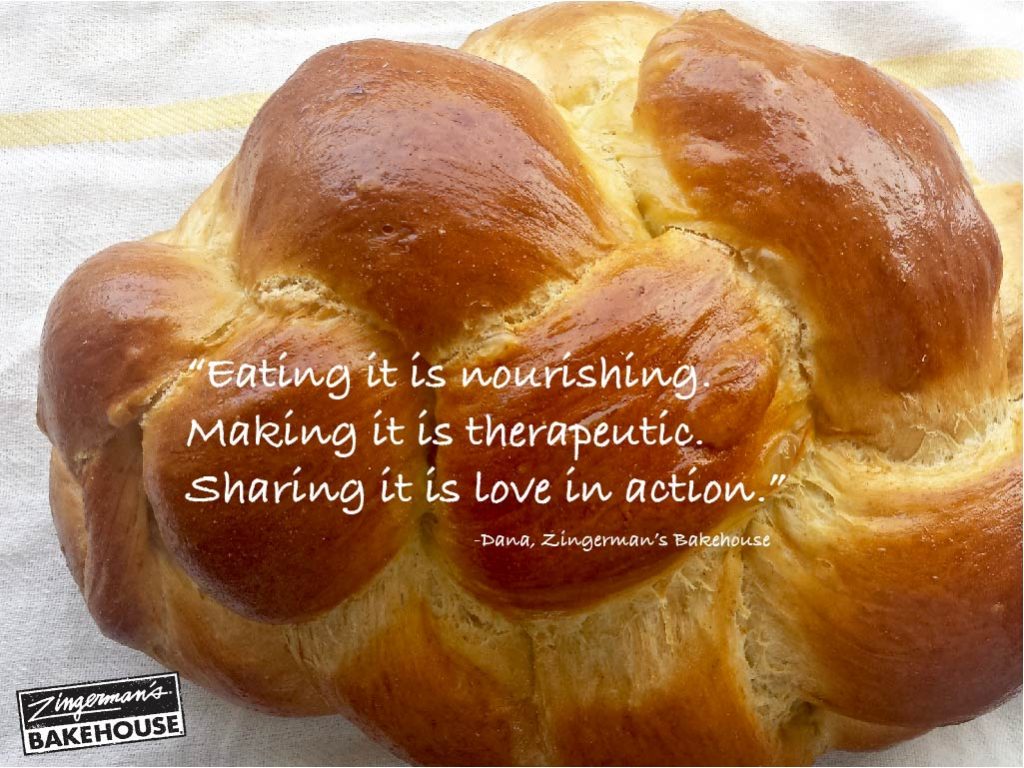 Bread means livelihood to me. Zingerman's bread and the substance it provides has supported keeping me and my family nourished for many years. Bread (through Zingerman's Bakehouse) has also financially kept me thriving for the nearly two decades I've worked there. I couldn't imagine my life without Zingerman's bread.
-Nina, Zingerman's Bakehouse
Flour, yeast, salt, water – MAGIC!

—Nicole, Zingerman's Service Network

For me bread is simple and yet totally complex….it can be a challenge but also accessible for everyone. Bread, over the past many years, has gotten me back to baking and learning in my own kitchen.  When I decided to tackle sourdough a few years ago it solidified the notion that time is an ingredient—this is something we talk about a lot at Zingerman's but when you try it on your own it's striking how real this statement is.
-Kristie, Zingerman's Food Tours
Bread is life. The full circle of existing; basic ingredients gathered together with care and time, dedication, and effort. Flavor development with bacteria feeding on grains and sugars producing lift, rise, and gas. Those beautiful air pockets within the loaf, created when well-proofed dough is placed in a hot oven. The baking and slow caramelization, adding a depth of flavor while the bacteria dies, this process creates nourishment and happiness for those who enjoy it.
—Michael, Zingerman's Bakehouse
Pure Joy. Few things make me happier than sharing fresh baked bread with friends and students.

—Sara, Zingerman's BAKE!
Warm toasty vibes!
—Patrick, Zingerman's Service Network
Heavenly carbohydrates!
—Victoria, Zingerman's Deli

The smell alone is irresistible. Something about the taste and smell takes me back to childhood.
—Nancy, Zingerman's Catering
Bread is the most remarkable thing. Three simple ingredients can create food that has been a daily staple for all of mankind. Those same three ingredients can create an endless variety of flavors, styles, traditions and memories. I love that something so simple can be so complex!

—Jaison, Zingerman's Bakehouse
Bread is sustenance. Nourishment. Comfort. Indulgence. Memories. All wrapped into one experience.
—Pattie, Zingerman's Mail Order
Carb-y Comfort
—Rachel, Zingerman's Cornman Farms
Even more so in these unsure times, bread is definitely a source of comfort. There is a reason it is such a staple of life in many cultures.

—Russel, Zingerman's Service Network
Bread is a beautiful thing. Planning my purchase at the Bakehouse as close to the arrival time to feel the warmth of the bread emanating into me as I carry it wrapped in my arms makes the entire rest of my day better. It is my children asking me to bring a certain loaf home that evening. The glee with which it is taken from my hands as I arrive in the door and the hope that there will still be some available by the time we get to dinner.
—Timo, ZingTrain
Making bread is the thing I do for a living. It is a basic item needed for survival. It doesn't need to be fancy or special. An essential food for existence.
—Amy, Zingerman's Bakehouse
Bread is why I joined the Zingerman's family. Many people think of the deli when they think of Zingerman's. For me, my first thought is the Sesame Semolina and the surety that this was the company I wanted to work for. The reason I made the move to Ann Arbor some 12 years ago was my first food experience of Zingerman's and the Bakehouse bread.

-Kieron, Zingerman's Cornman Farms
The words no-carb diet fill me with horror. I love bread!
—Christine, Zingerman's Deli
Get Some for yourself

Zingerman's Bakehouse—In-store or curbside pick up, 7 am-7 pm, 7 days a week. 
Zingerman's Delicatessen—Pick up or delivery.
Zingerman's Roadhouse—Drive-thru or delivery.
Zingerman's Mail Order—Shipped to your door.
Or find a store near you, like Plum Market, Simply Fresh, Holiday Market, Colony's Quality Meats, Nino Salvaggio's, and some Kroger stores.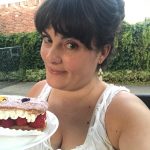 Sara grew up in metro Detroit making her own birthday cakes and dreaming of a career in baking. At age 17 her path began with the Schoolcraft College Culinary Arts program, and at 18 she got her first job in the field right here in the pastry kitchen of Zingerman's Bakehouse. That work evolved over a couple of decades to include baking, customer service, cooking, project management, copywriting, and much more. She even helped to create BAKE! and this blog! Today, Sara leads the creative team at Zingerman's Service Network, supporting the blogs, websites, copywriting, packaging, and other marketing for Zingerman's Community of Businesses. Sara remains a die-hard fan of Pecan Pie, Pavlova, Paris Brest, Patti Pockets, and other desserts that start with 'P.'