In the summer, we know that the pastry kitchen is getting close to the end of their day when we see the Sweet Cream Drop Biscuits being made. The day bakers mix and portion them and the night bakers do the final baking hours later, so that they are as fresh as possible for morning delivery.
We make lots of complicated breads and pastries, but sometimes it's the simplest items that we crave the most. These biscuits are basic and relatively straightforward to make, a favorite of our summer menu. People eat them plain for breakfast or an afternoon snack and use them to make strawberry shortcake for a dinner dessert. Flavorful cream and butter are the shining ingredients in this recipe, so feel free to indulge in the best you can find.
Tender homemade biscuits are the perfect partner for farmers market fresh berries or stone fruits, topped with whipped cream. Here's our recipe!
Sweet Cream Drop Biscuits


Makes 12 biscuits
All-purpose flour                  3 cups plus 2 Tbsp          440g
Granulated sugar                 1/4 cup                          55g
Baking powder                     2 Tbsp                           28 g
Sea salt                              1/2 tsp                           3 g
Unsalted butter, cold            1/2 cup plus 2 Tbsp        145g
Whole milk, cold                  1 cup                             235g
Heavy cream, cold               1 cup                             245g
Demerara sugar for sprinkling tops
1. Preheat the oven 375ºF (190ºC)
2. In a large mixing bowl, combine the flour, sugar, baking powder, and salt. Mix with a wooden spoon to combine evenly.
3. Dice the cold butter into 1/2-in (1.5-cm) pieces and add to the dry ingredients. Using your fingers or a pastry blender, work the butter into the flour mixture until it's reduced to pea-sized pieces. It also helps to pick up the mixture and rub it together between your palms. This step is important for creating tender biscuits. The butter coats the grains of flour, making it less possible to form long gluten strands that would give the biscuits a chewy rather than tender texture.
4. Make a  well in the center of the ingredients, and pour in the milk and heavy cream. Use a fork to gently mix the wet and dry ingredients together until homogenous. Let the mixture sit in the bowl for 15 minutes. This will allow the dry ingredient to fully absorb the wet ingredients without overmixing.
5. Using a 2-oz (59-ml) portioner or a 1/4-cup measure, drop level scoops of biscuit batter onto a sheet tray lined with parchment paper. Leave at least 3 in (7.5 cm) between the biscuits to allow for spreading during baking. Sprinkle Demerara sugar on the tops of the biscuits.
6. Bake the biscuits for 13 to 15 minutes or until golden brown on the bottom and edges. Let cool to room temperature before serving.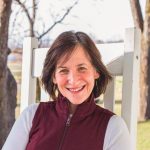 She has been an avid food lover and baker since her childhood in Nova Scotia, Canada. After high school Amy moved to Cambridge, MA and received her bachelor's degree from Harvard University. She then followed her passion for food and learned to cook and bake at L'ecole de Gastronomie Francaise at the Ritz Hotel in Paris, France as well as in Michigan restaurants. In 1999 she received her MBA from Columbia University.
Amy came to Zingerman's Bakehouse when it opened in 1992 as one of the original bakers on the staff of eight. She soon became the first manager of the bread bakery, then the manager of the pastry kitchen and in 2000 she became a partner.
Amy has been working in the food world for over 20 years and is passionate about hands-on baking, teaching about baking and business, developing businesses and people. As well as teaching at BAKE! Amy presents for ZingTrain on our business practices. A few of the Bakehouse items she is personally responsible for developing are the Old School Apple Pie, Buenos Aires Brownies, and our Gingerbread Coffeecake. In addition to developing items, Amy is a promoter of classic bakery favorites from many cultures and has brought traditional standards to the Bakehouse such as Paris Brest, Hummingbird Cake, and Maple Cream Cookies.