These country scones, with their oats, nuts, and milk rather than cream, at least approach being "healthy." We love the way they taste, but they are also a concession to our customers who want something they can feel better about eating for breakfast. They can be even "healthier" if you switch out some of the white flour for whole wheat flour. It's possible to swap as much as half the white flour for whole wheat flour without adjusting the other ingredients. If you use more than that, you will want to increase the milk quantity, because the whole wheat absorbs more liquid than white flour.
Country Scones
Makes 12 scones
| Ingredients | | |
| --- | --- | --- |
| Pecans, chopped | ¾ cup | 90 g |
| All-purpose flour | 2 cups plus 2 Tbsp | 305 g |
| Granulated sugar | ¾ cup | 150 g |
| Old-fashioned rolled oats | 1½ cup plus 1 Tbsp | 190 g |
| Baking powder | 1 Tbsp | 14 g |
| Baking soda | ½ tsp | |
| Flame raisins | ⅔ cup | 90 g |
| Sea salt | 1 tsp | |
| Large egg | 1 | |
| Unsalted butter, melted | ¾ cup plus 2 Tbsp | 190 g |
| Whole milk | ½ cup | 110 g |
| Vanilla extract | 1 tsp | |
| Egg Wash | | |
| Large egg | 1 | |
| Egg yolk | 1 | |
| Water | 1 Tbsp | |
| Cinnamon Sugar | | |
| Ground cinnamon | 1 Tbsp | |
| Granulated sugar | ½ cup plus 2 Tbsp | 130 g |
Instructions
Heat the oven to 325°F [165°C]. Toast the pecans on a sheet tray for 12 minutes, until toasty brown. Start checking after 8 minutes.
In a large bowl, combine the flour, sugar, oats, baking powder, baking soda, pecans, raisins, and salt. Stir to mix evenly.
In a small bowl, lightly beat the egg and then add to the dry ingredients, along with the butter, milk, and vanilla. Mix until completely homogeneous.
This is a very wet and sticky batter. Using a 2-oz [59-ml] portioner or a ¼ cup measure, scoop the scones onto a sheet tray with at least 2 in [5 cm] between them. Place a little flour on your hands and gently flatten the scones into disks 2 in [5 cm] thick. Chill the scones for at least 30 minutes. This will help them attain more loft as they bake.
Preheat the oven to 375°F [190°C]. Make the egg wash by beating together the egg, egg yolk, and water in a small bowl. In a separate small bowl, combine the cinnamon and sugar.
Using a pastry brush, apply egg wash to the top of each scone and then generously sprinkle with cinnamon sugar. Bake for 15 minutes, or until a nice golden color. Cool on a wire rack.
Excerpted from our cookbook, Zingerman's Bakehouse (Chronicle Books, 2017)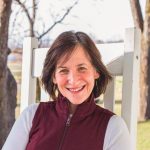 She has been an avid food lover and baker since her childhood in Nova Scotia, Canada. After high school Amy moved to Cambridge, MA and received her bachelor's degree from Harvard University. She then followed her passion for food and learned to cook and bake at L'ecole de Gastronomie Francaise at the Ritz Hotel in Paris, France as well as in Michigan restaurants. In 1999 she received her MBA from Columbia University.
Amy came to Zingerman's Bakehouse when it opened in 1992 as one of the original bakers on the staff of eight. She soon became the first manager of the bread bakery, then the manager of the pastry kitchen and in 2000 she became a partner.
Amy has been working in the food world for over 20 years and is passionate about hands-on baking, teaching about baking and business, developing businesses and people. As well as teaching at BAKE! Amy presents for ZingTrain on our business practices. A few of the Bakehouse items she is personally responsible for developing are the Old School Apple Pie, Buenos Aires Brownies, and our Gingerbread Coffeecake. In addition to developing items, Amy is a promoter of classic bakery favorites from many cultures and has brought traditional standards to the Bakehouse such as Paris Brest, Hummingbird Cake, and Maple Cream Cookies.