One of our cake designers, Alyce Machcinski, recently won the 2021 Chunky CHIPS AHOY! Recipe Contest with her creation of a Chunky CHIPS AHOY! Cookie Butter Cheesecake! We're excited to be able to tell you all about it and share some of her answers to their Q&A with her:
how Did you land on a Cookie Butter Cheesecake with Chunky CHIPS AHOY! Cookie Pieces?
I saw the contest online and had it in the back of my mind for a few weeks before the idea came to me. Growing up I loved the CHIP AHOY! commercials set to Sing! Sing! Sing! and always wanted my parents to buy them, so I knew it would be fun to use them. My mom used to make a super delicious, creamy cheesecake that I was craving and decided to make on one of my days off, but I was feeling inspired to mix up the flavor profile with something a little different. I had also been thinking about playing with a non-traditional cookie butter for a few months but hadn't decided what I wanted that to look like.
I looked at the CHIPS AHOY! package I had picked up for the contest and the whole thing started to take form in my mind.  I knew for sure that using the cookies for a crisp crust was essential. I played around with the idea of doing a cookie butter swirl through a vanilla cheesecake base, but eventually decided the cookie butter was too tasty for just a swirl and modified my base to flavor the batter. I swirled a ganache through the batter to echo the chocolate chips and had to garnish with more of the crispy cookies to add that crunch.
Tell us a little bit about yourself and your journey to becoming a cake designer and decorator? How do those experiences influence your work today?
I have a rich culinary history on both sides of my family and grew up with scratch cooking and baking. My mom's family had a catering company in southwest Michigan (my parents actually met working for her parents) and my babcia (Polish grandmother)
was an amazing cook and baker. Every holiday we had a crazy array of desserts—cookies, royal icing-decorated sugar cookies, pastries, cakes, pies, cheesecakes—you name it. My mom was always trying out new recipes, so between her and my Polish family, I was exposed to a lot of different flavors and types of treats during my childhood. 
My mom always made me and my brother over-the-top themed birthday cakes from a young age, so elaborate cakes were a normal part of my life. I started officially working events at the family business as soon as I was old enough, though I loved visiting my grandparents at work any time that I could growing up. In high school, I started baking and decorating cakes for events, but had been baking with my family since I could remember.  Both of my parents had some cake decorating experience so they both had tips for me along the way.
I have always been artistic and creative. I spent a lot of time with art, dance, and music growing up which has given me a lot of technical and cultural references to pull from when I am designing and decorating. I actually started to pursue a career in music performance, but ended up being drawn back to the culinary industry. When I decided to pursue a path in the culinary field, I knew immediately that I wanted to decorate cakes. It might seem wildly different, but it fulfills a lot of the same artistic creativity and the satisfaction that comes from others enjoying what I have created.
From there, I took classes at Washtenaw Community College to help refine some of my skills and fundamentals.  I worked in a few culinary jobs around Ann Arbor before ending up at Zingerman's decorating cakes. 
What are some of the unexpected or non-traditional places and ways you find inspiration?
Of course, it can be inspiring looking at other cakes and pastries, but I often look outside of the culinary world for aesthetic inspiration. I love looking at textures and colors in traditional art styles, textiles, stationery, decor, and architecture. I also really enjoy gardening and flowers and have spent a lot of time closely looking at different types of flowers and even taking them apart to see how they are formed in nature. I've even found inspiration for decorating techniques working on home improvement projects. 
Which types of elements come into play when you're creating a cake?
It all starts with the design. I like to design cakes that are personalized to the guest
that fits cohesively into the aesthetic of the event. I always ask for details of the decor, flowers, colors, invitations, attire, aesthetic, overall vibe, before I ask to see inspiration pictures of cakes that they've seen. I put together a sketch while we talk so the guest has a way to visualize what it will end up looking like. 
When working on a cake for display, I pick an element or two that I want to play with and use as parameters like painting, texture, color, specific florals, working without flowers, etc. but still envision the event that the cake would fit into. 
I am really lucky to be part of an amazing team of decorators at Zingerman's Bakehouse. We typically work together to create our cakes. We all have cakes that are ours, but I also love the cakes where all of us have a direct contribution. Collaborating with others and bouncing ideas off of each other pushes us all to grow and be better! 
The flavor is just as important as how the cake looks. We typically give each of our guests a sampling of some of our favorite and most popular flavor combinations, but encourage mixing and matching and special filling requests in our custom cakes. 
What are your favorite types of ingredients to work with? 
Quality ingredients with full flavor are really important to me. Even if I'm working with a subtle flavor, it has to be impactful. Anything that hits a nostalgic note is exciting too whether it's recreating family recipes or working with something like store-bought cookies (like CHIPS AHOY!) which were an exciting treat growing up.
What is a piece of work you are most proud of? We'd love to know the inspiration behind it and see the final cake! 
It's so hard to choose just one cake that I am proud of! 
One of my favorite cakes I made this year was for my cousin this June. She let me have a lot of creative freedom with the design. The wedding colors were shades of purple and silver. She shared some overall inspiration for her decorations and that she liked the watercolor look and lots of flowers. Lush florals and painting are right in my wheelhouse, so I had a pretty clear vision for a couple of designs and put together a few sketches to help narrow down the final design. 
I wanted to create a soft backdrop for the florals with the watercolor on the cake. The wash of watercolor, layered with silver speckling and touch of texture from the impasto-inspired palette knife painting created a soft, romantic feel that was really completed by the handmade gumpaste flowers. I incorporated flowers I knew would be in the bouquets…picasso calla lilies, chrysanthemums, and scabiosa… as well as the bride's favorite—peonies. I chose to place them in two organic arrangements that framed the painting on the cake itself. The extra-tall middle and bottom tier created the needed negative space between the flowers to allow for the painted texture without the details becoming overwhelming. I designed the overall scale of the cake to allow for big, loose flower arrangements that wouldn't overrun the cake itself. (That middle tier was 10 inches tall!)
How do you stay engaged in this industry and on top of trends, popular ingredients, flavors, etc.?
One of the reasons I enjoy setting up cakes on site is the opportunity to see all of the event details brought together. Really paying attention to the rest of the decor helps me stay on top of overall event trends. I also always take opportunities to participate in photoshoots when they come up because they are a great way to engage and collaborate with other vendors on trend-forward designs. I follow a number of really inspiring cake decorators, event planners, chefs, and photographers from around the world on Instagram as well. 
Great flavors made with great ingredients are always going to be popular. I focus a lot on making interesting versions of classic flavors combinations. Outside of work, I cook and bake at home with my husband who is a chef and a few of our close friends who like to help us with (and eat) our creations. When I work on a new flavor combination, it's not uncommon for me to draw inspiration from classic cocktails to balance sweet, acidic, bitter, and aromatic flavors.
Do you have Any tips or words of wisdom for aspiring chefs and those looking to build their skillset as a cake designer or decorator?
Photo credit: Angelica Marie Photography

Definitely work on the fundamentals, like getting really clean icing, level cakes, and crisp fondant. Those details will help elevate the rest of your work and neglecting them can ruin otherwise beautiful decorative details.

Use quality cake and icings. Your cakes should taste as good as they look, if not better.
I have found exploring other artistic endeavors like drawing, painting, pottery, and gardening to be incredibly useful in my career.
It's okay to strive for perfection, but it's important to loosen up and embrace the perfection of the imperfect; the beauty of the temporary. Remember to take a couple of steps back and look at what you are working on as a whole every once in a while. Sometimes when you are working on details all you can see are flaws, but in reality, it looks great when you take a step back. If you are getting frustrated, take a break for a couple of minutes, walk away, maybe get a snack. More often than not, whatever you were working on will look so much better.
Find other people to work and collaborate with. A good work relationship and having someone to bounce ideas back and forth with can really push your creativity and skills.
Hungry for more?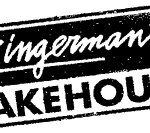 Opened in 1992, Zingerman's Bakehouse brings traditionally baked breads and pastries to food lovers in Ann Arbor and across southern and central Michigan. We also reach Zingerman's customers around the country through Zingerman's Mail Order. Founded by Frank Carollo and now run by Amy Emberling (an original Bakehouse staffer), the Bakehouse also has an onsite Bakeshop, which sells baked goods to retail customers as well as BAKE!, a teaching kitchen designed for home bakers of all different skill levels, from those who have never touched a measuring spoon in their life to those who feel pretty accomplished and want to learn more. We host action-filled, fun and informative bread and pastry baking classes.