I've loved cheesecake for as long as I can remember. And I've long believed that the Bakehouse's version is amazing. It's also a bit of a "secret" specialty—it's understandable I guess, since there are so many other marvelous options to choose from on our bakery shelves. But having tasted a lot of cheesecakes around the world, I will say with confidence the Bakehouse's is something special. This spring, the pastry crew have crafted a new twist. They've added a spring rhubarb to the mix by making a compote, spreading some across the bottom crust, and then swirling more still into the cheesecake batter to end up with something truly terrific. Temptingly tart and rich from the cream cheese, which contrasts beautifully with the butteriness of the pastry crust.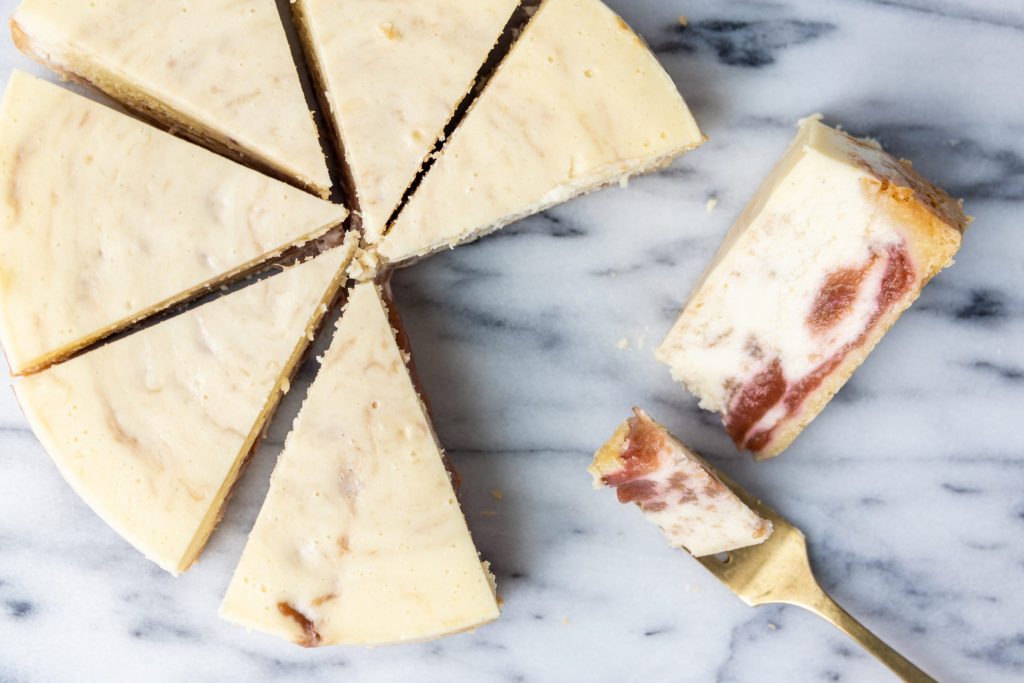 Brad Hedeman at Mail Order, who's worked here for like 27 years now writes:
To this Michigan boy, nothing says "spring is here" like the broad leaves of rhubarb sprouting up in gardens and forest edges all over the place. Rhubarb is one of those love it or leave it foods that typically shows up in crumbles and crisps with a sweet counterpart like strawberries. But in this case, the rhubarb is the perfect foil to the smooth, rich, sweet flavors you normally experience with cheesecake. The brightness and slightly tart notes cause your taste buds to punch through the buttery richness of the cheesecake so that you don't just taste the creaminess, you taste and experience all the flavors for all the feels. The master bakers at Zingerman's Bakehouse start with hand-ladled cream cheese from Zingerman's Creamery, the same base we use for our classic cheesecake… Each bite comes from a fresh, bright burst of rhubarb to balance the decadence of the cheesecake. Folks will be sneaking bites of this dessert for as long as it lasts. At least that's what happened in my house. I woke up the next morning to find four forks in the fridge, but no more cheesecake. It's that good.
While it's great every day, the Rhubarb Cheesecake is especially appropriate for celebrating the Jewish holiday of Shavuot, which marks the giving of the Ten Commandments at Mount Sinai. It starts on Sunday evening, May 16, and ends on Tuesday. Dairy foods are traditional as part of Shavuot meals, which is exactly what Amy had in mind when she first started working on this new offering last year. I think it's terrific, and the staff in the shop can't stop talking about how much they like it! Swing by the Bakeshop or the Deli and pick up a slice or a whole cheesecake, or two. Or let us ship one to your sister in Santa Fe!
HUNGRY FOR MORE?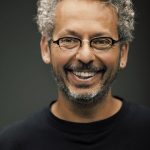 In 1982, Ari Weinzweig, along with his partner Paul Saginaw, founded Zingerman's Delicatessen with a $20,000 bank loan, a Russian History degree from the University of Michigan, 4 years of experience washing dishes, cooking and managing in restaurant kitchens and chutzpah from his hometown of Chicago. They opened the doors with 2 employees and a small selection of specialty foods and exceptional sandwiches.
Today, Zingerman's Delicatessen is a nationally renowned food icon and the Zingerman's Community of Businesses has grown to 10 businesses with over 750 employees and over $55 million in annual revenue. Aside from the Delicatessen, these businesses include Zingerman's Bakehouse, Coffee Company, Creamery, Roadhouse, Mail Order, ZingTrain, Candy Manufactory, Cornman Farms and a Korean restaurant that is scheduled to open in 2016. No two businesses in the Zingerman's Community of Businesses are alike but they all share the same Vision and Guiding Principles and deliver "The Zingerman's Experience" with passion and commitment.
Besides being the Co-Founding Partner and being actively engaged in some aspect of the day-to-day operations and governance of nearly every business in the Zingerman's Community, Ari Weinzweig is also a prolific writer. His most recent publications are the first 4 of his 6 book series Zingerman's Guide to Good Leading Series: A Lapsed Anarchist's Approach to Building a Great Business (Part 1), Being a Better Leader (Part 2), Managing Ourselves (Part 3) and the newly-released Part 4, The Power of Beliefs in Business. Earlier books include the Zingerman's Guides to Giving Great Service, Better Bacon, Good Eating, Good Olive Oil, Good Vinegar and Good Parmigiano-Reggiano.
Ari regularly travels across the country (and world) on behalf of ZingTrain, teaching organizations and businesses about Zingerman's approach to business. He is a sought-after Keynote speaker, having delivered keynotes for Inc. 500, Microsoft Expo Spring Conference, Great Game of Business Gathering of Games, Positive Business Conference at the University of Michigan Ross School of Business, American Society for Quality (ASQ), and the American Cheese Society. Most recently, Ari and Paul Saginaw were invited to address an audience of 50,000 for the University of Michigan 2015 Spring Commencement.
One of Zingerman's Guiding Principles is being an active part of the community and in 1988, Zingerman's was instrumental in the founding of Food Gatherers, a food rescue program that delivers over 5 million pounds of food each year to the hungry residents of Washtenaw county. Every year Zingerman's donates 10% of its previous years profits to local community organizations and non-profits. Ari has served on the board of The Ark, the longest continuously operating folk music venue in America.
Over the decades, the Zingerman's founding partners have consistently been the recipients of public recognition from a variety of diverse organizations. In April 1995, Ari and Paul were awarded the Jewish Federation of Washtenaw County's first Humanitarian Award. In 2006, Ari was recognized as one of the "Who's Who of Food & Beverage in America" by the James Beard Foundation. In 2007, Ari and Paul were presented with the Lifetime Achievement Award from Bon Appetit magazine for their work in the food industry. Ari was awarded the Lifetime Achievement Award by the American Cheese Society in 2014. And Ari's book, Building a Great Business was on Inc. magazine's list of Best Books for Business Leaders.
Notwithstanding the awards, being engaged on a daily basis in the work of 10 businesses and 21 partners, writing books on business and in-depth articles on food for the Zingerman's newsletter, Ari finds time to be a voracious reader. He acquires and reads more books than he can find room for. Ari might soon find himself the owner of the largest collection of Anarchist books in Ann Arbor outside the Labadie collection at the University of Michigan library!