Abra Berens is a chef, former farmer, writer, and Zingerman's veteran. Her latest cookbook—Grist: a Practical Guide to Cooking Grains, Beans, Seeds, and Legumes—is just that, practical. It breaks down 29 different types of grains and legumes with easy cooking techniques and over 300 recipe variations to make whole grains a delicious part of your everyday repertoire. (You've hopefully heard how much we love whole grains!)
As Berens explains:
Like Ruffage before it, I wrote this book to continue to celebrate and demystify these pantry staples. We have all heard over and over that we need to eat more whole grains and plant-based proteins but that too often comes with a sense of drudgery. Shelf stable pulses are great ways to showcase seasonal vegetables and never need to be same old same old.
And, luckily for us, she's shared two recipes from her book with us. Scroll on to get her recipes for a garlic-lemon-parsley sauce-topped lentil soup and an all-corn cornbread that are just right for tucking into on these cold January days. (But don't forget to try the cornbread again, as written, come peach season!)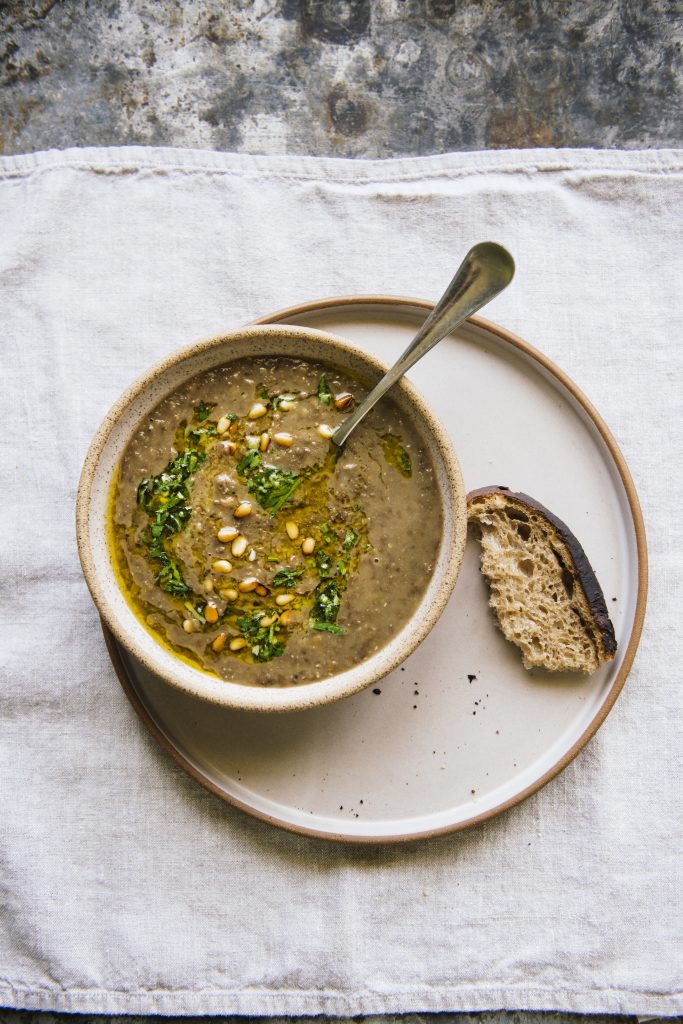 Lentil Soup with Cumin, Garlic, Lemon + Pine Nuts
This soup is an amalgamation of my favorite lentil soups I've had over the years. My friend Hitoko was the first person I knew to combine lentils and cumin—and serve it for breakfast. I had a delicious lentil soup, topped with pine nuts, with dear friends Nikki and Karl at a small restaurant in Red Hook a couple of years ago. The garlic-lemon-parsley sauce is my own, but I'm sure it came from someone else along the way. I like to do the partial blending too, but it's not a must. I hope you'll take this amalgam of lentil soups from friends and make it your own.
Ingredients
1

Tbsp

cumin seed

1

small onion (about 4 oz [120 g]), thinly sliced

Salt

1

cup

[250 ml] white wine

8

oz

[225 g] brown lentils (other colors will work, but the texture will be different)

8

cups

[2 L] chicken stock or water

2

garlic cloves

½

bunch parsley, roughly chopped

1

lemon (about 1 1/2 oz [45 ml]), zest and juice

½

cup

[125 ml] olive oil plus more as needed

4

oz

[120 g] pine nuts or sunflower seeds toasted
Instructions
In a large pot, heat a glug of olive or neutral oil over medium heat. Add the cumin seed and briefly fry, about 30 seconds. Add the onions and 1 Tbsp of salt and stir to coat. Lower the heat and sweat the onions until soft, about 7 minutes.

Add the white wine and cook until reduced by half, about 4 minutes. Add the lentils and briefly toast, about 3 minutes.

Add the stock and increase the heat to bring to a boil. Turn down to a simmer and cook until the lentils are very tender, about 40 minutes.

Mince and smash the garlic with a pinch of salt to make a rough paste. In a medium bowl, combine the garlic, parsley, lemon zest and juice, olive oil, pine nuts, and big pinch of salt to make a very lemony, oily sauce. Reserve.

When the lentils are cooked through, blend briefly with an immersion/stick blender to make it a loosely chunky, slightly thickened soup. Adjust the seasoning as desired.

To serve, portion into serving bowls and top with a heavy slick of the sauce.
Notes
Reprinted from Grist: A Practical Guide to Cooking Grains, Beans, Seeds, and Legumes by Abra Berens with permission by Chronicle Books, 2021. Photographs © EE Berger.
All-Corn Cornbread with Jalapeños, Peaches + Ricotta
I've got a few Andrews in my life, and several of them influenced this recipe. I got the cornbread recipe from my friend Andrew Brix and use it as a regular staple for meals with guests who eat gluten free. The jalapeño peaches come from one of my first food teachers, Andrew Wilhelm, in our time together at Zingerman's Deli. Andrew Harris (along with Wes Rieth) grows the heirloom corn at Granor Farm that is now my go-to cornmeal. Thanks, Andrews.
Ingredients
3

cups

[480 g] cornmeal

6

Tbsp

[90 g] butter or lard or chicken fat

½

tsp

salt plus a pinch

1

Tbsp

baking powder

1

egg lightly beaten

2

medium peaches about 12 oz [340 g], sliced into wedges

1

jalapeño, sliced into very thin rings, seeds removed if you like it milder

1

Tbsp

sugar

¼

tsp

vanilla paste or extract

6

oz

[180 g] ricotta
Instructions
Preheat the oven to 450°F [230°C]. Put a medium ovenproof frying pan in the oven to preheat.

Put half of the cornmeal (1 ½ cups [240 g]) into a heatproof bowl.

In a saucepan, add the butter and the ½ tsp of salt to 2 cups [500 ml] of water and bring to a boil.

Pour the boiling water mixture into the bowl of cornmeal. Whisk together and let stand for 1 minute.

Add the remaining cornmeal and the baking powder and egg to the cornmeal batter and whisk together.

Remove the frying pan from the oven and pour in the batter. Bake for about 30 minutes until the bread has a golden crust on top and a knife comes out clean when inserted in the center. Turn out onto a cooling rack.

Combine the peaches, jalapeños, sugar, vanilla, and the pinch of salt and let sit for 10 minutes to macerate.

To serve, cut the cornbread into wedges, dollop with the ricotta, and top with a hefty spoonful of the peach mixture.
Notes
Reprinted from Grist: A Practical Guide to Cooking Grains, Beans, Seeds, and Legumes by Abra Berens with permission by Chronicle Books, 2021. Photographs © EE Berger.
Hungry for more?