Soup is our jam!
It's no secret we love soup! For over 20 years, we've been serving up 2 hot soups each weekday to hungry guests in our Bakeshop; we've taught many different soup recipes at BAKE!, our hands-on baking school; and we even wrote a soup cookbooklet that includes 15 of our favorite recipes from over the years.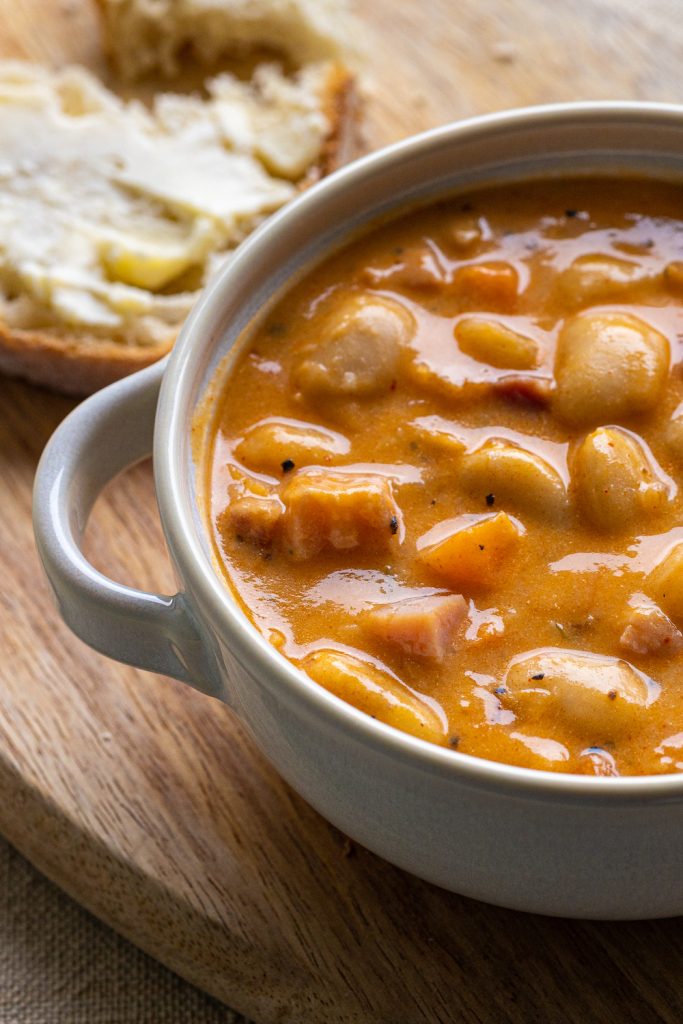 Our repertoire has grown tremendously since embarking on this soup journey and some definite favorites have emerged from the pack—Gabor's Butter Bean & Ham on Mondays and Creamy Tomato De-vine on Wednesdays are year-round fixtures of the soup lineup because of their popularity—but it's always interesting to discover the preferences of others, especially when they differ from your own.
new trend on the block
And nowhere did they differ more than when it came to a new lunchtime phenomenon in the Bakeshop. More and more guests were asking to combine that day's soup flavors. Yes, Tipsy Turkeys (a mixture of Turkey Urfa Chili and 5 O'clock Cheddar Ale) are a long-established Thursday tradition, but these new flavor combinations were going off-script!
I'll admit, I initially wrote this off as odd, but then I started to get curious. Was I missing out on exponential levels of deliciousness? I had to know. So I started experimenting with different soup combinations, adjusting the ratio slightly each week, trying to find the perfect balance. And I have to say, though not all winners (in my opinion), I've discovered a combo that has become my go-to: 60% Creamy Tomato De-vine to 40% Chicken Noodle. The chicken broth both thins out the tomato soup to a consistency more my preference and adds a rounded savoriness and richness that tamps down the tomato's acidic notes; and the noodles and chunks of fresh-roasted chicken add welcome interest to the bowl with some bites being chewy and some not. It's simply divine (*chef's kiss*). I've taken to calling it the Tomato Chicky, although I've heard it referred to as the Yuki Special, in honor of Yuki, previously of our cake studio, who was the first, to my knowledge, to ask for it. Because these two soups rarely leave the rotation, you can come in any Wednesday and give it a try yourself!
we make a great combo
But let's not stop there. Knowing what I know now, my FOMOF (fear of missing out on food) has gotten the best of me and I have to find out if there are any more winning combinations. So I'm throwing it to the staff to find out what combos they believe are greater than the sum of their parts. Here's what they have to say:
Jennifer, Bakeshop Assistant Manager
Soup combo: "I like to mix Papa Chorizo and Potato Leek."
Ratio: "70% Papa Chorizo, 30% Potato Leek"
Flavor notes: "The brothiness of the Papa Chorizo cuts the creaminess of the Potato Leek, making a nice balance. I think leeks add to the flavor of any savory dish and I like the way they compliment the spicier flavors in the Papa Chorizo. When you mix them, it's a much more well-rounded flavor than either soup has on its own."
Proposed combo name: "Papa Potato!"
John, Bakeshop Staff
"I can't believe how hard it is to pick a favorite combo! I've mixed every day's soups in the current rotation even with Monday Mac and Cheese from Zingerman's Creamery. I think my go-to now is Chicken Noodle solids (bonus if you get extra noodles) with mostly Creamy Tomato De-vine but with a little broth from the Chicken Noodle to thin it all out. The resulting combo is a filling, comforting bowl of American classics better eaten with a fork, and partnered with the grilled cheese (on Grilled Cheese Wednesdays) is the highlight lunch of the week. The combo name: Cream Style Chicken!"
Timo, ZingTrain Trainer
Soup combo: "Kickin' Butternut and (Gabor's) Butterbean and Ham"
Ratio: "2/3 butterbean and 1/3 butternut"
Flavor notes: "Amazing richness of flavor. The deep flavor of ham and a creamy thick bean base with the salty smokiness of the bacon permeating through. Adding the Kickin' Butternut, as half of the amount, brings in a whole 'nother level of creamy richness to the bowl. Adding in the little kick of spice just brings everything together. There has not been a mix that I have tried since that has matched this."
Proposed combo name: "Kickin' Butterbean; Double Butter; Angie, a former Bakeshop employee called it Timo's Twist"
Hunter, Bakeshop Supervisor
Soup combo: "Papa Chorizo & (John's) Roasted Reds"
Ratio: "70% Papa / 30% Reds"
Flavor notes: "The Chorizo is meaty and full of flavor and spice. The Reds cuts those flavors with tomato paste and coconut milk richness. The Reds also has a very nice flavor of its own that adds an herbal flair."
Proposed combo name: "Papa Reds or Papa's Reds"
Jalen, Bakeshop Staff
"I'm a big fan of Chicken Noodle and (Creamy) Tomato (De-vine)! The combo proves delicious every time. Also the combo of John's Roasted Reds and Papa Chorizo works nicely as well." 
Lee, Bakehouse Historian and Bakeshop Staff
Soup combo: "Beef & Guiness Stew & Potato Leek"
Preferred ratio: "2/3 stew; 1/3 Potato Leek" 
Flavor notes: "Warm, comfy and filling – Speaks to my Mid West Meat & Potato roots with some extra culinary flair."
Proposed combo name: "'Beefy Stout -n- 'Tater' or 'Stout -n- 'Tater' for short"
Alex, Bakehouse Purchasing Manager
Soup combo: "Cheddar Ale with Turkey (Urfa) Chili"
Ratio: "Cheddar Ale 50.25 % / Turkey Chili 49.75 %"
Flavor notes: "Creamy with some spicy ground meat."
Proposed combo name: "Kill Two Birds with One Stone"
So there you have it. We're a diverse bunch and our taste buds reflect that. Even though I personally never would have come up with some of these combos, reading the descriptions is convincing me they're at least worth a taste. Let us know in the comments if you've ever tried any of these combos or if you've come up with a spot-on concoction of your own that we should try!
Hungry for more?
We're coming up on the official start of soup season and have lots of BAKE! classes to prove it. Join us for one of these soup-centered classes:
Pick up our soup-based cookbooklet, Cup or Bowl, and keep the soup party going with 15 recipes from Persian Chicken Stew to Creamy Quahog Chowda.
Get the recipe for Creamy Tomato De-vine right here on our blog!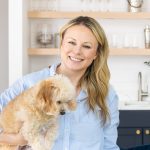 Corynn Coscia is the marketing assistant manager and photographer at Zingerman's Bakehouse. After spending her childhood reluctantly in front of the camera of her hobbyist-photographer father, she was eager to move behind it, prompting her to pursue a BA in Film & Video Studies at the University of Michigan. With degree in hand, she moved to Los Angeles where she worked in the TV and music industries before discovering her passion for food photography while working in marketing with a plant-based chef. 2 dogs, 2 kids, and 13 years later, she's back in Ann Arbor doing what she loves and somehow getting paid for it. She recently completed a photography fellowship with her mentor, New York Times food photographer Andrew Scrivani, and has since been shortlisted for a Pink Lady Food Photographer of the Year award. Her photos can be seen throughout the Bakehouse on the walls, on the website and social media, and in the Bakehouse's series of cookbooklets; she hopes they're making you hungry!