Grilled Cheese Wednesdays at the Bakehouse wouldn't be complete without our creamy Tomato De-Vine soup—it's a classic. And that's a good way to enjoy it at home, too. Pair it with a grilled cheese sandwich made on either our State St. Wheat or Better Than San Francisco Sourdough. 
That's right, now you can make our Tomato De-Vine soup at home! We're sharing the recipe with you not only here, but also in our newly released soup cookbooklet, Cup or Bowl?
With soup still such an important part of our Bakeshop menu nearly 20 years after we introduced them, we've built up quite the repertoire of recipes. Now you'll be able to make those favorites at home. And instead of us asking you, Cup or bowl?, you'll get to decide for yourself. And, there's no need to miss out of the hunk of bread we tuck into your bag, we've provided suggested pairings for you. Our soup cookbooklet contains 15 soup recipes and 4 stock recipes. We've included a mix of past classics (like West African Peanut and Moroccan Harira) and current standards (like Kickin' Butternut and Tomato De-Vine).
Our Cookbook & Cookbooklet Series
Our first cookbook, published in 2017 to mark the Bakehouse's 25th anniversary, includes 65 of our most popular recipes and some in-house favorites. Frank and I wrote the text in the cookbook, with support from bakers throughout the Bakehouse. We have many more recipes to share, though, and the Bakehouse community includes talented bakers and writers who are excited to create more cookbooks.
With that excitement, we're now launching a new series of small-format, thematic "cookbooklets" that blend history, stories, and our dedication to traditional methods and flavorful ingredients with easy-to-follow recipes. The booklets will be co-created by groups of us—bakers, instructors, historians, photographers, and graphic designers. Our normal practice is to collaborate in teams because we believe we get great results with a diversity of perspectives and skills.
Our first cookbooklet, Cup or Bowl?, focuses on soup. In the writing of it, I was joined by Lindsay-Jean Hard, Bakehouse Marketer, and Lee Vedder, Bakehouse Historian. Lindsay-Jean worked for Food52 for many years and is the author of her own acclaimed book, Cooking with Scraps. Lee is a PhD in Art History and had a full career as a museum curator before following her passion for baking. Joining us is Patrick Barber, a Zingerman's graphic designer who has designed many books in previous professional roles; Ian Nagy and Ryan Stiner, Zingerman's illustrators; and Corynn Coscia, Bakehouse Photographer. If you check out the appreciations section, you'll see the names of the many other people who played a role in making this first cookbooklet.
Cup or Bowl?, our first in the series, is available now at the Bakeshop (and online for same-day local pick up). Soon, you'll be able to find it at other Zingerman's businesses and beyond.
For now, we invite you to try your hand at a tasty batch of our creamy Tomato De-Vine soup—a smooth and mellow version of an American classic that's easy to make and loved by many.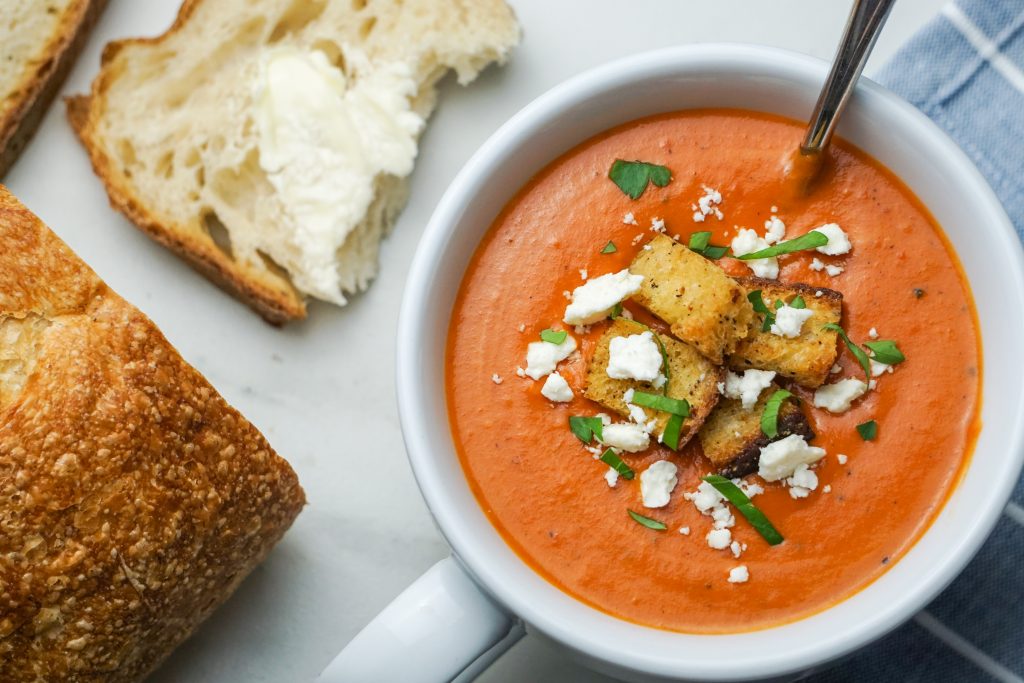 Tomato De-Vine recipe
Serves 6 to 8 as a main dish
Ingredients
Crushed tomatoes                  3 (28-ounce) cans + 1 (14.5-ounce) can
Granulated sugar                   Scant 1/3 cup                          57 grams
Butter                                   16 tablespoons                        227 grams
Yellow onion, 1/2-inch dice      1 cup                                     150 grams
All-purpose flour                     1 1/3 cups                             191 grams
Whole milk                             4 1/2 cups                             1057 grams
Fine sea salt                           1 tablespoon                          18 grams
Ground black pepper               2 teaspoons                           5 grams
In a large stockpot, combine all 4 cans of tomatoes and sugar. Warm on low heat until hot. Stir frequently to make sure it does not burn.

In a medium pot, over medium heat, add the butter and onions, and sauté onions until tender and translucent, 10 to 15 minutes.

Add the flour to the onions and stir constantly until the mixture is a light brown color, resembling peanut butter, 3 to 5 minutes.

Increase the heat to medium-high and slowly add the milk to the onion and flour mixture, while whisking constantly, to make a thick béchamel sauce.

Remove the large stockpot from heat, add in the béchamel, salt, and pepper, and purée the soup until smooth with an immersion blender.

Return to the heat and warm to serving temperature.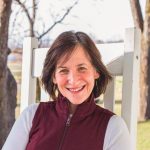 She has been an avid food lover and baker since her childhood in Nova Scotia, Canada. After high school Amy moved to Cambridge, MA and received her bachelor's degree from Harvard University. She then followed her passion for food and learned to cook and bake at L'ecole de Gastronomie Francaise at the Ritz Hotel in Paris, France as well as in Michigan restaurants. In 1999 she received her MBA from Columbia University.
Amy came to Zingerman's Bakehouse when it opened in 1992 as one of the original bakers on the staff of eight. She soon became the first manager of the bread bakery, then the manager of the pastry kitchen and in 2000 she became a partner.
Amy has been working in the food world for over 20 years and is passionate about hands-on baking, teaching about baking and business, developing businesses and people. As well as teaching at BAKE! Amy presents for ZingTrain on our business practices. A few of the Bakehouse items she is personally responsible for developing are the Old School Apple Pie, Buenos Aires Brownies, and our Gingerbread Coffeecake. In addition to developing items, Amy is a promoter of classic bakery favorites from many cultures and has brought traditional standards to the Bakehouse such as Paris Brest, Hummingbird Cake, and Maple Cream Cookies.