We've developed a new bread here at the Bakehouse, State St. Wheat—soft, sliced, and packaged in plastic. It's very different from the breads we usually make, so we wanted to explain why we're doing it, and why we're excited about it!
Here in the United States, a bread revolution unfolded in small pockets of the country, beginning as early as the late 70s and then more extensively in the 80s and early 90s. People began to relearn the art of baking naturally leavened (sourdough), hearth-baked breads—often round and crusty, very different from grocery store bread.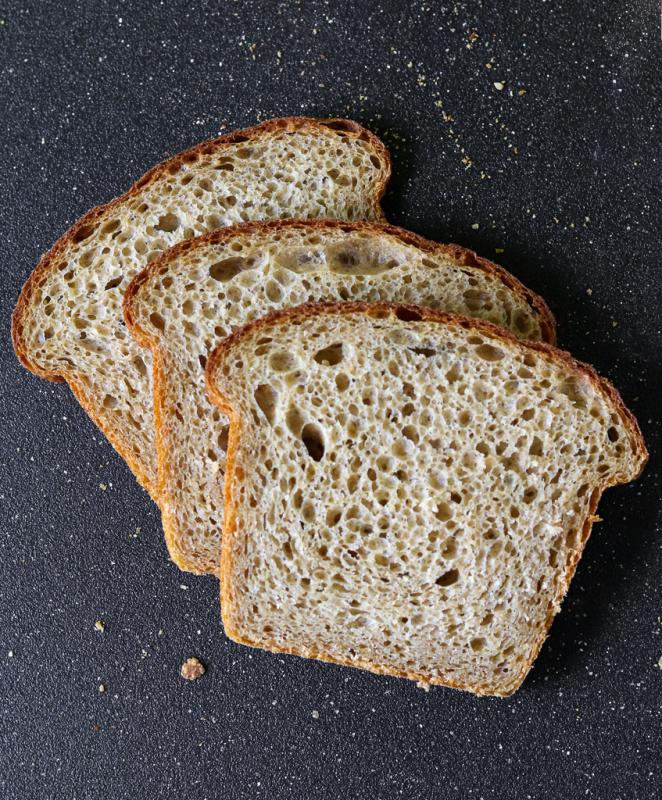 Today, a loose collaborative of bakers is trying to start another revolution. We are calling ourselves The Bread Lab Collective. We're a national group of craft bakers, millers, teachers, students, and wheat breeders inspired by the work of The Bread Lab of Washington State University to work together to make nourishing sandwich bread available nationwide. Together, we've set out to create pure and simple whole grain sandwich breads that have broad appeal—familiar flavor, familiar texture, familiar shape—but are healthier than mass-produced, grocery-store bread because of our ingredient choices and artisan baking techniques.
Our goal is to bring nourishing bread to more people in our communities and to inspire other artisan bakers to join us so that Bread Lab Collective sandwich bread is available in every state. We're excited to be teaming up with more than a dozen other bakeries from across the country, including King Arthur Flour Bakery (Vermont), Barrio Bread (Arizona), Seven Stars Bakery (Rhode Island), Breadfarm (Washington State), Prager Brothers (California), and Elmore Mountain Bread (Vermont), as founding members.
Each bakery in the Collective has made something a little different, in keeping with local tastes and ingredients and with their bakery's flavor and process preferences. The Collective wants some degree of consistency, so we've agreed upon a set of specific criteria to bake by; here they are:
The loaves need to be reminiscent of what many of us are used to on the grocery store shelves: bread that is sandwich shaped, soft, sliced and packaged in plastic, with at least a one-week usability, and is good for all the typical things Americans make with sandwich bread (grilled cheese, peanut butter and jelly sandwiches, basic toast).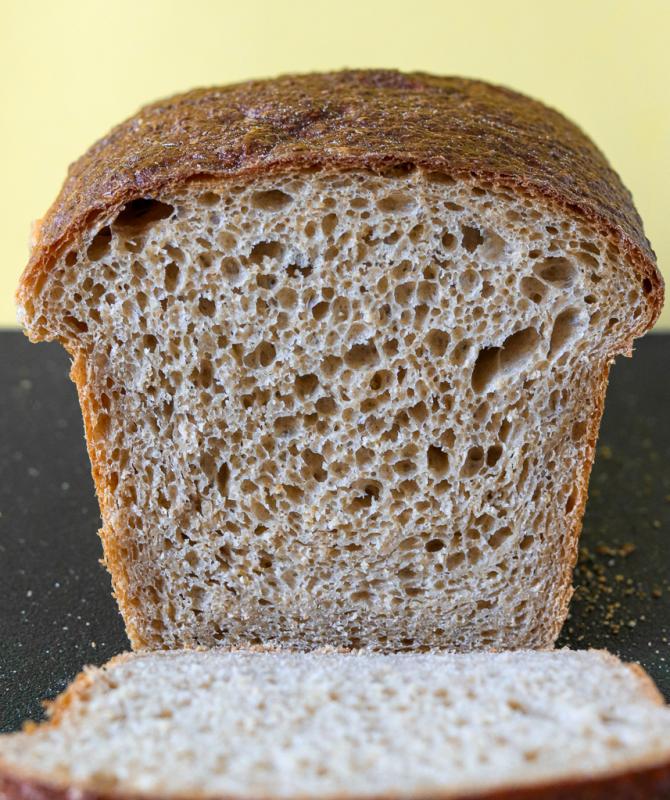 As artisan bakers, we customarily make crusty breads in many different shapes, sold unsliced in paper bags, so this was a significant departure from our typical approach.
The Bread Lab Collective loaves boast short and understandable ingredient lists—seven ingredients or fewer is the agreement! This was normal for most of us, so less of a challenge. Check out the label on some highly manufactured breads and you'll see a much longer list of ingredients, many of which will be unrecognizable as food.

Loaves made for the Collective are mostly naturally leavened, meaning that they're made with a sourdough process, and are good to eat for a full week. Making a naturally leavened bread in a pan and achieving the texture and loft many of us are used to from grocery store bread takes some skill and experimentation. We were all up for it. The naturally leavened process actually lends itself to a longer shelf life so that was to our advantage. Freshly milled whole grain also has longer keeping qualities.
How is our loaf different from typical grocery store bread? Most grocery-store bread is made with a considerable amount of commercial yeast, which allows it to be made quickly and cheaply. Furthermore, typically added fats, sugars, preservatives, and other dough conditioners give grocery-store bread its workability to achieve a lofty look as well as its desired texture and flavor. By keeping our bread naturally leavened (sourdough) and using the right artisan baking techniques, we don't need to rely on heavy quantities of commercial yeast or multiple additives to create an appealing and nutritious loaf.
Finally, at least 50% of the flour used in the loaves must be whole grain. The Bread Lab Collective wants the bread to provide nourishment. Having it taste and look familiar with at least this much whole wheat was also a challenge to our baking skills.
The Bread Lab Collective is passionate about supporting the work of the Bread Lab at Washington State. To this end, we've also all agreed that ten cents from each purchase of State St. Wheat will go to the Bread Lab to fund further research designed to make projects like this possible.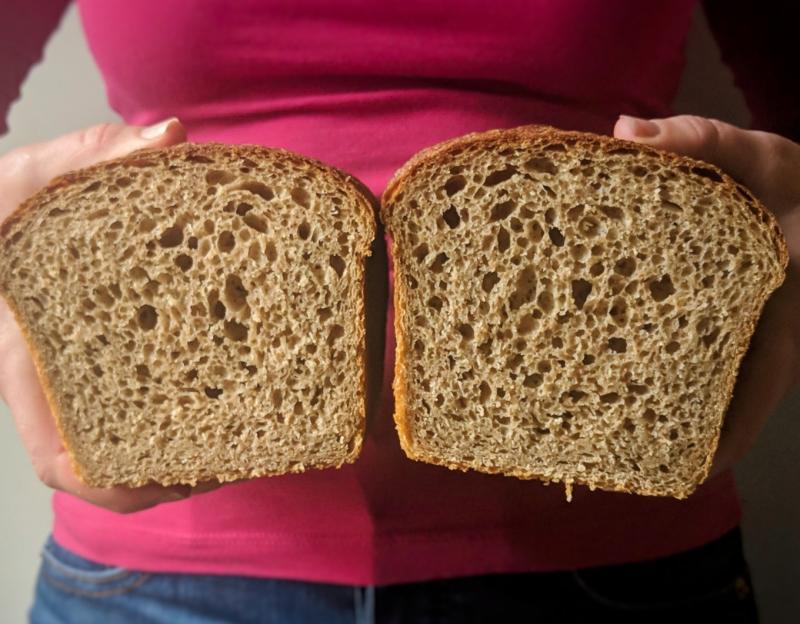 We're done with our experimenting at the Bakehouse and are ready to introduce State St. Wheat. We're using just five ingredients in all, including local wheat and rye, along with Michigan honey, olive oil, and sea salt—that's it! And, of course, we're also adding in some extra attention to detail.
Hazim Tugun, who works on recipe development and grain milling at the Bakehouse, describes our process, clearly showing the care we take: "Our team freshly mills Michigan-grown, organic soft white wheat and combines it with stone-ground, high-extraction, Michigan-grown hard red spring wheat flour we get from our miller in Traverse City.  We take the extra step to lightly cook (scald) a portion of that freshly milled soft white flour for added sweetness and moisture. All of that goes into a naturally leavened dough with a touch of Michigan honey and olive oil for a same-day fermentation to keep the flavors mild. The loaves get a gentle bake in our convection ovens to achieve a thin, relatively light-colored crust. The result is a flavorful sandwich loaf where you can taste the grain, with the added bonus of a tender and moist crumb, and a relatively long shelf-life."
Ready to taste? Stop by the Bakeshop and ask for a sample of State St. Wheat (or any of our breads!), and watch our bread bakers in action while you're here. Maybe you'll even get a little sneak peek of State St. Wheat headed into the ovens! State St. Wheat will also be available at some of the other locations where our breads are sold. It will be the only Zingerman's Bakehouse bread sliced, in a plastic bag with a bright label, so you won't be able to miss it.
Our goal is to sell State St. Wheat so that shoppers in many stores will have access to this familiar yet different, more flavorful and nourishing loaf.
By Amy Emberling, Bakehouse managing partner