People in the bakery are important, and so are our relationships with people we work with outside of the bakery. A particularly appealing aspect of our work is having the opportunity to work with artisanal producers from all over the world and learning how to make their traditional recipes. Sometimes we even get to host them in Ann Arbor.
The Mahjoub family from Tunisia makes olive oil, couscous, harissa, and a variety of Mediterranean vegetable and fruit spreads. Their couscous is so fantastic that we regularly order a 22-pound container of it and share it among ourselves.
On one visit, Majid Mahjoub and his wife, Onsa, taught a class at BAKE! featuring Tunisian specialties. For dessert Onsa prepared this simple but characterful Tunisian Orange and Olive Oil Cake featuring their olive oil, fresh oranges, and sesame seeds. It's perfect with coffee or mint tea.
Tunisian Orange and Olive Oil Cake
Makes one 9-in round cake
Seedless orange            1 large                              320 grams
Large eggs                    2
Granulated sugar          1 cup                                200 grams
Extra-virgin olive oil      1/2 cup + 1 tablespoon      130 grams
All-purpose flour           2 cups + 1 tablespoon        290 grams
Baking powder             1 tablespoon                      14 grams
Fine sea salt                  1/2 teaspoon
Sesame seeds               1 tablespoon
Preheat the oven to 350°F [180°C]. Spray a 9-in [23-cm] round cake pan with nonstick cooking spray.
Wash the orange and cut off both ends. Cut the orange into quarters and put into a food processor, peel and all. Process until the orange is a pulp.
In a large bowl, crack the eggs and add the sugar. Use a whisk to combine, and then beat until light and smooth, about a minute. Add the orange pulp and olive oil and whisk to combine.
In another bowl, combine the flour, baking powder, and salt. Sift the dry ingredients into the orange mixture and stir gently until all the ingredients are combined. All the dry ingredients should be moistened.
Spread the cake batter into the pan and sprinkle it with the sesame seeds. Bake for 35 minutes, or until a toothpick inserted into the middle comes out clean. Remove from the oven and let cool completely before removing from the pan.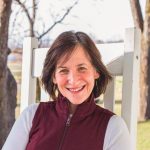 She has been an avid food lover and baker since her childhood in Nova Scotia, Canada. After high school Amy moved to Cambridge, MA and received her bachelor's degree from Harvard University. She then followed her passion for food and learned to cook and bake at L'ecole de Gastronomie Francaise at the Ritz Hotel in Paris, France as well as in Michigan restaurants. In 1999 she received her MBA from Columbia University.
Amy came to Zingerman's Bakehouse when it opened in 1992 as one of the original bakers on the staff of eight. She soon became the first manager of the bread bakery, then the manager of the pastry kitchen and in 2000 she became a partner.
Amy has been working in the food world for over 20 years and is passionate about hands-on baking, teaching about baking and business, developing businesses and people. As well as teaching at BAKE! Amy presents for ZingTrain on our business practices. A few of the Bakehouse items she is personally responsible for developing are the Old School Apple Pie, Buenos Aires Brownies, and our Gingerbread Coffeecake. In addition to developing items, Amy is a promoter of classic bakery favorites from many cultures and has brought traditional standards to the Bakehouse such as Paris Brest, Hummingbird Cake, and Maple Cream Cookies.