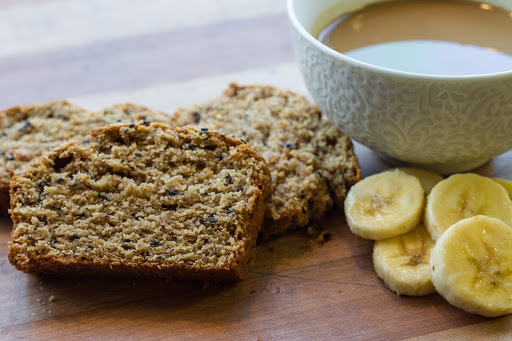 You may wonder how we come up with new baked goods—it's one of the most common questions our guests ask. What seems like a simple question actually has a complicated answer…creativity can be a pretty messy process. Sometimes we discover an ingredient that is especially good and we try to figure out how to use it. That's what happened with Tohum tahini.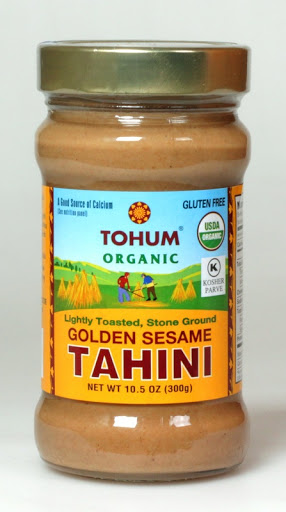 Sometime in the last year, I began to see many references to tahini and baking. I read about it in an article somewhere, saw something online, and started to notice it in cookbooks. I knew about tahini and had eaten more than my share of hummus and baba ghanoush (my husband is an archaeologist who works in the Middle East and I've spent months in the field with him), but it resided in the section of my mind dedicated to Middle Eastern savory cooking. I had never considered adding it to my baking pantry. And then suddenly I started thinking about all the different ways we could use tahini.
The tipping point in my tahini fascination came this spring when Hazim Tugun, one of the newest members of our baking team and a native of Cyprus, arrived at the bakery one day holding two jars in a plastic bag. He offered to share a taste of what turned out to be his coveted supply of Tohum tahini along with a jar of carob molasses. Hazim said it was the best tahini he had ever had and he offered to let us take a little bit of each home to enjoy mixed together and spread on bread. I was curious, took it home, and loved it. I knew that I needed to find a way to use Tohum tahini in our baking.
Let's step back for a moment. What exactly is tahini? It's the paste created from grinding hulled sesame seeds (sesame seeds are an amazing 50% oil!). Tahini has an oily, smooth, sort of dense texture and a tan, light brown color. It tastes nutty and at times a little bitter. The bitterness comes from the sesame seed hulls, which contain oxalates, so if the hulls are included in the paste or not completely removed there may be more bitterness. Historically tahini was the byproduct of oil production. Sesame oil was commonly used and tahini was the leftover that needed a use. Tohum tahini, made in Turkey, is a step above what's typically available. It is made from only heirloom golden sesame seeds that are partially hulled, lightly roasted and stone ground.
Tohum tahini is prepared in a way that preserves its nutritional properties and the taste and aroma of the golden sesame seeds. With this particularly flavorful tahini, we've decided to make three new items.
The first is a dangerously addictive Middle Eastern version of a thumbprint cookie. It's a tahini butter cookie with a medjool date (my favorite) center decorated with white and black sesame seeds. The cookie portion reminds me of American peanut butter cookies. We stopped making peanut butter cookies quite a few years ago for a variety of reasons and I realized that a tahini cookie offers many of the same satisfying flavors and textures. If you or a family member can't eat peanuts and miss them, or if you're just curious, try these cookies!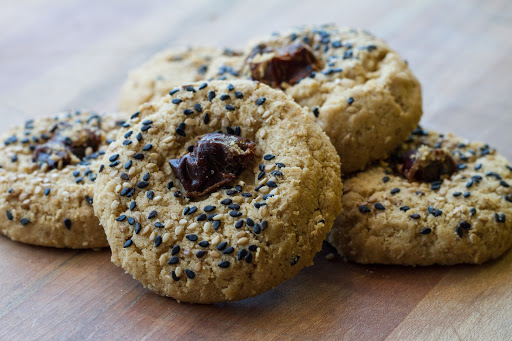 The second tahini treat is a croissant with tahini almond filling—with a difference. When Hazim brought his two jars to the bakery, the second one was carob molasses. Carob had its heyday in America during the early days of "hippie" baking or the beginning of the natural foods movement, and some of us remember it as a less-good version of chocolate. But carob grows naturally in the Eastern Mediterranean (it's from a pod that grows on trees) and when we tasted it, we thought it was a great match for tahini. So try our tahini carob almond twice-baked croissant—we think it's delicious!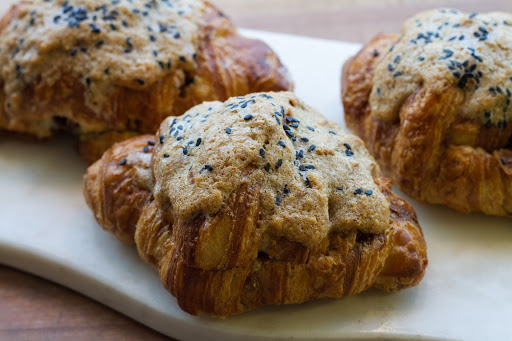 We then started thinking about how we could use tahini in an American standard. Peanut butter and bananas are a classic combo…so why not tahini and banana? And how about using our other favorite new ingredient—Turkey red high extraction flour grown in Ohio with the white flour in the recipe? The combination makes for a rich, moist and nutty flavored banana and tahini bread.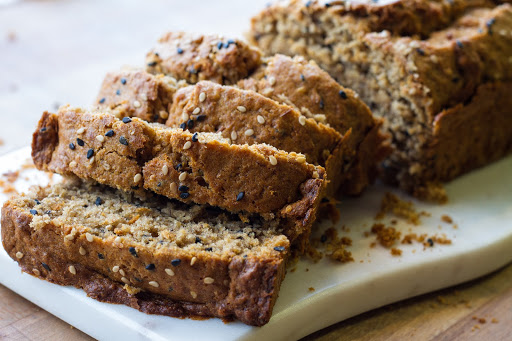 Join us for these tahini treats and some winter eating exploration in January and February 2018. We can dream of the warm Eastern Mediterranean as we savor the flavors.
–Check out our Baking With Tahini class
By Amy Emberling
Zingerman's Bakehouse co-owner, author & baker