As a child I went to Shabbat services twice every weekend for many years, Friday night for about an hour and Saturday morning for a good two and a half hours. Wow! That's a lot of sitting and being quiet for a child. Practically 40 years later it's a little difficult to remember what that young Amy thought about this and what I took from being there. I think probably each week was a little different – some daydreaming with the familiar Hebrew prayers being softly chanted in the background, some nice moments sitting with my Nanny holding her hand and leaning on her, talkative weeks when my friends and I got shooshed by the contemplative adults and plenty of face making at the boys who sat on the other side of the synagogue from us. Oh yes, and some energetic singing of the songs which marked the end of the services!  Attending services was a ritual. It structured the week and I accepted it as what we did. I don't remember ever asking not to go. Must have been appealing in some ways.
Celebrating Purim was a different story. It was almost like having a party in Synagogue and I remember enthusiastically anticipating it every year and vividly remember the celebrations. Purim typically lands in late winter or early spring. It celebrates the foiling of a plot to commit genocide against the Jews of Persia. Hamen was a vizier of ancient Persia who plotted to kill all the Jews in the empire. His plan was stopped by the Persian (and Jewish) queen Esther. Go Esther, hurray for a female heroine! 
Why was it a rowdy holiday? Every year as the Rabbi read the story of Purim we were encouraged to make lots of noise with special noisemakers to drown out the name of the evil Hamen. What could be more fun than being encouraged to make tons of noise in the usually somber and serious prayer chamber! Our Rabbi, Rabbi Weinberg was a ruddy-faced youngish man who the congregation loved. The children loved him because he seemed to enjoy the noise making as much as we did. He had a playful twinkle in his eyes when we wanted to do childish things and often we could get him to participate. In many communities, the children also dress up as the characters in the story, a sort of Jewish mardi gras. It was probably the most joyful day of the year in Synagogue from my little kid's perspective.
As with most holidays around the world, in every culture and religious tradition there's a special food associated with Purim. For Purim, it is a triangular sweet treat called a hamentaschen. Why are they triangular, and what does the name mean, anyway? Oy. It's quite a story. The name is German and means "Hamen's pocket" and may refer to the bribes Hamen took as vizier. It has also come to mean "Hamen's hat". Triangular hats were not worn in ancient Persia, but they were worn in Medieval Germany. There are even Medieval religious interpretations that the three points represent the patriarchs Abraham, Isaac, and Jacob. So the story is complicated! But it's clear that hamentaschen are a celebration of the delicious sweetness of life. 

The cookie is traditionally made either with a cookie dough or with a yeasted dough. They are typically filled with sweetened cheese, preserves of many flavors, and poppy seed paste.  At Zingerman's Bakehouse, we have always made the cookie version. This year, for the first time we're also going to try our hand at the yeasted version. We have time to play and what do bakers do when they play? They make new recipes. Since it's a bit of a test they will only be available at the bakery. If all goes well they'll be at the Delicatessen next year.
So please celebrate Purim with us no matter what your religious affiliation. Make some noise to support life and eat some hamentaschen! Be rowdy for love and peace!
by Amy Emberling, Bakehouse co-owner 
—————–
-Learn to bake them in our Who's Who of Jewish Cookies class
–Send our hamentaschen to yourself or someone else
undefined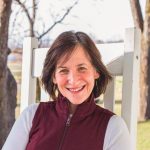 She has been an avid food lover and baker since her childhood in Nova Scotia, Canada. After high school Amy moved to Cambridge, MA and received her bachelor's degree from Harvard University. She then followed her passion for food and learned to cook and bake at L'ecole de Gastronomie Francaise at the Ritz Hotel in Paris, France as well as in Michigan restaurants. In 1999 she received her MBA from Columbia University.
Amy came to Zingerman's Bakehouse when it opened in 1992 as one of the original bakers on the staff of eight. She soon became the first manager of the bread bakery, then the manager of the pastry kitchen and in 2000 she became a partner.
Amy has been working in the food world for over 20 years and is passionate about hands-on baking, teaching about baking and business, developing businesses and people. As well as teaching at BAKE! Amy presents for ZingTrain on our business practices. A few of the Bakehouse items she is personally responsible for developing are the Old School Apple Pie, Buenos Aires Brownies, and our Gingerbread Coffeecake. In addition to developing items, Amy is a promoter of classic bakery favorites from many cultures and has brought traditional standards to the Bakehouse such as Paris Brest, Hummingbird Cake, and Maple Cream Cookies.