It's said that breakfast is the most important meal of the day. French toast is a commonly enjoyed choice, may be seen as a reward on the weekend. Since it is more or less all about the bread itself, bread is the one ingredient that can really make or break that meal. Here at the Bakehouse, we offer a daily selection of a couple dozen different types of bread, not including any of our "Special Bake" breads that only show up on occasion. With all of these choices, how does one select just the right loaf with this breakfast specialty in mind?
At Zingerman's Bakehouse, we are very serious about our bread. We take special care in the selection of ingredients, the way we mix our dough, and the processes we use in handling, proofing, and baking our bread. We are especially particular about the way we eat our bread. With that in mind, I consulted the experts as to which Bakehouse bread is their favorite when making French toast. Clearly by experts I mean the staff of the Bakehouse, who make, bake, sell, and basically live this bread every day.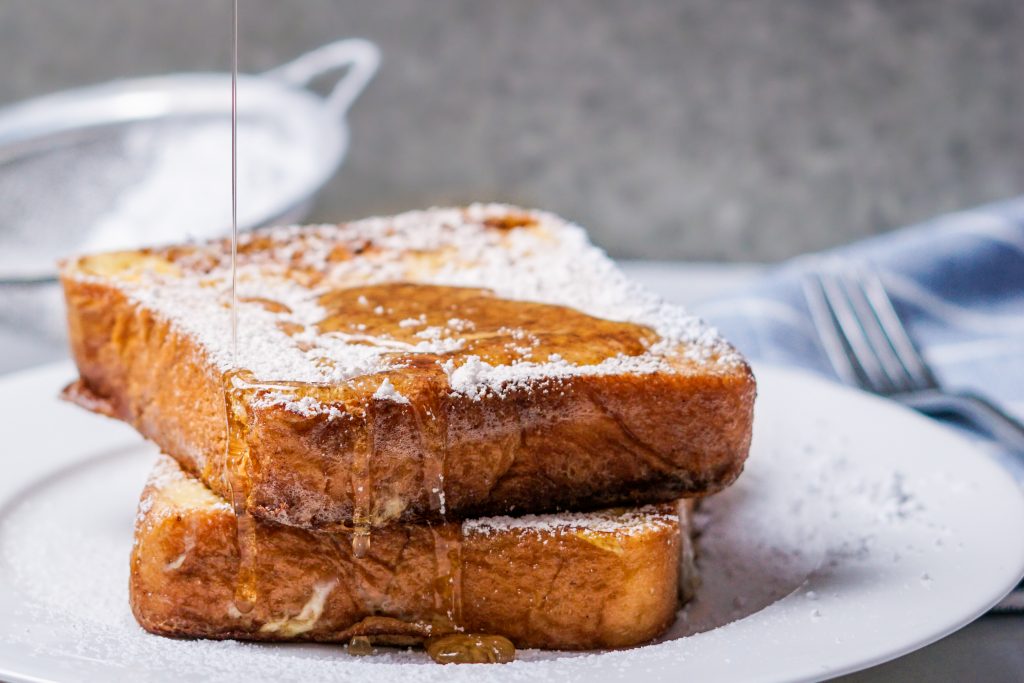 our team's Top 2 Breads for French Toast
After polling the Bakehouse staff, there were some clear winners in terms of favorite loaves of bread to make this classic American breakfast item. With 66% of staff selecting this bread as their favorite for French toast, challah comes out on top. Two special bakes that are currently on vacation round out the top three: Somodi Kálac, a cinnamon-swirl loaf took second, and Chocolate Challah took the third spot. ("On vacation" means we're not making it right now). Next on the list of top picks is our Rustic Italian, followed by Cinnamon Raisin, Pecan Raisin, Cranberry Pecan, Farm, and Rum Raisin Challah Turbans.
Challah is a bread of Jewish descent. All of our challah loaves are made with organic wheat flour, fresh cage-free eggs, local Michigan honey from Gearig Apiaries, yeast, and a little corn oil. Extra egg brushed on the outside of the bread helps deliver that crisp, mahogany crust. Staff cited the soft texture, the egg base of the bread itself, and challah's absorbent nature as their top reasons for making it the perfect choice for French toast. Bakehouse Service Manager, Ally, recommends slicing your challah thick, stuffing it with a bit of your favorite jam, and coating it in both a custard batter as well as a dry mix of almond meal and flour before frying.
Somodi Kálac is a lesser-known gem in the Bakehouse's bread lineup. Had any other sample in Ann Arbor been polled, it's doubtful this bread would have made an appearance; however, 25% of Bakehouse staff rallied behind this bread for their go-to choice for French toast. Somodi Kálac is a Hungarian bread traditionally enjoyed at Easter. The Bakehouse added it to our menu after learning to make it in a remote village in Transylvania in 2012. Damon, a former bread baker, says "Somodi Kálac already tastes like French toast so when you make it into French toast, it's just that much better." "It should be illegal. It's THAT good!" adds Mandie, pastry baker at the Bakehouse.
More French Toast Favorites
Fiona, a longtime Bakehouse accountant, loves using Rum Raisin Challah Turbans when making this special breakfast meal. We start with our fresh egg and clover honey challah bread and add in dark rum-soaked raisins and sultanas for your eating pleasure. (While currently on vacation, Fiona recommends buying a few loaves when it comes back, to freeze and use throughout the year.)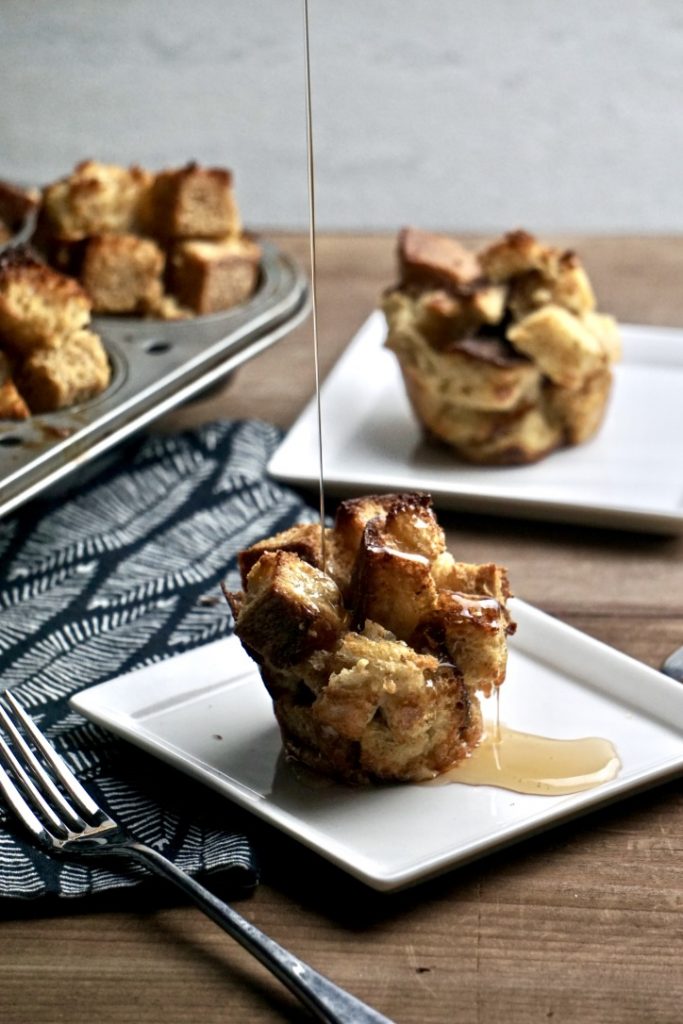 Rustic Italian was cited as a favorite due to the contrast in texture that it provides. If more of a crisp crust is the goal while keeping that super soft interior, Rustic Italian is perfect. Add a touch of sour flavor to that texture and you have French toast made with our Farm bread, which is the top pick of Bakehouse founder, Frank Carollo. The culmination of texture and flavor makes this loaf impeccable, Frank thinks. Corynn, Bakehouse photographer and marketer, is also a fan of Farm—along with Roadhouse! She's mixes cubes of both breads together and bakes them in muffin tins for individual French Toast muffins.
For those of us that are a little more adventurous and less traditional, try one of these Bakehouse specialty bread. Cinnamon Raisin, Pecan Raisin, and Cranberry Pecan are much more dense bread than those typically used. French toast made with these will be full of flavor and more on the chewier side. One Bakehouse staffer lets his Pecan Raisin slice soak in the custard batter for 5 minutes on each side before frying—it takes patience, but the results are worth it.
When it comes down to it, there are many great options to choose from when planning your French toast creation. It just depends on your taste, and we also say the only one that counts is yours. Try a few out and let us know what you think. Or share your favorite French toast recipe with us. We always love discovering new ways to enjoy Bakehouse bread.
Become a breadhead:
—Take a hands-on baking class and learn to make Challah or Somodi Kalács
—Browse all of our breads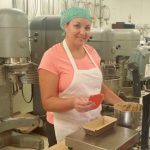 Nina Plasencia is a project manager at the Bakehouse. She's been a part of the team for 18 years (14 of them in a managerial role), and has spent time in every area of production at the bakery. As a part of the bakery's administration team, she works on things like implementing large-scale policy changes, planning and executing for the holiday season ramp-up in production, and product development. In fact, if you've ever enjoyed a Bakehouse pastry, there's a good chance Nina has had a hand in it, whether the item is completely new to the lineup or is a classic that she's tweaked to make it even better (like incorporating whole grains into beloved Bakehouse standards like Funky Chunky Chocolate cookies). She even has a pastry named after her—Nina's 'nolis, classic Italian pignoli pine nut cookies!