The Hummingbird Cake debuted at Zingerman's in 2003, as we expanded our menu of historic American favorites for the opening of Zingerman's Roadhouse. Since then, it quickly grew to become one of our most popular cake flavors and hasn't looked back. Despite its popularity, the story behind this sweet Southern cake and its unusual name is still mysterious to most.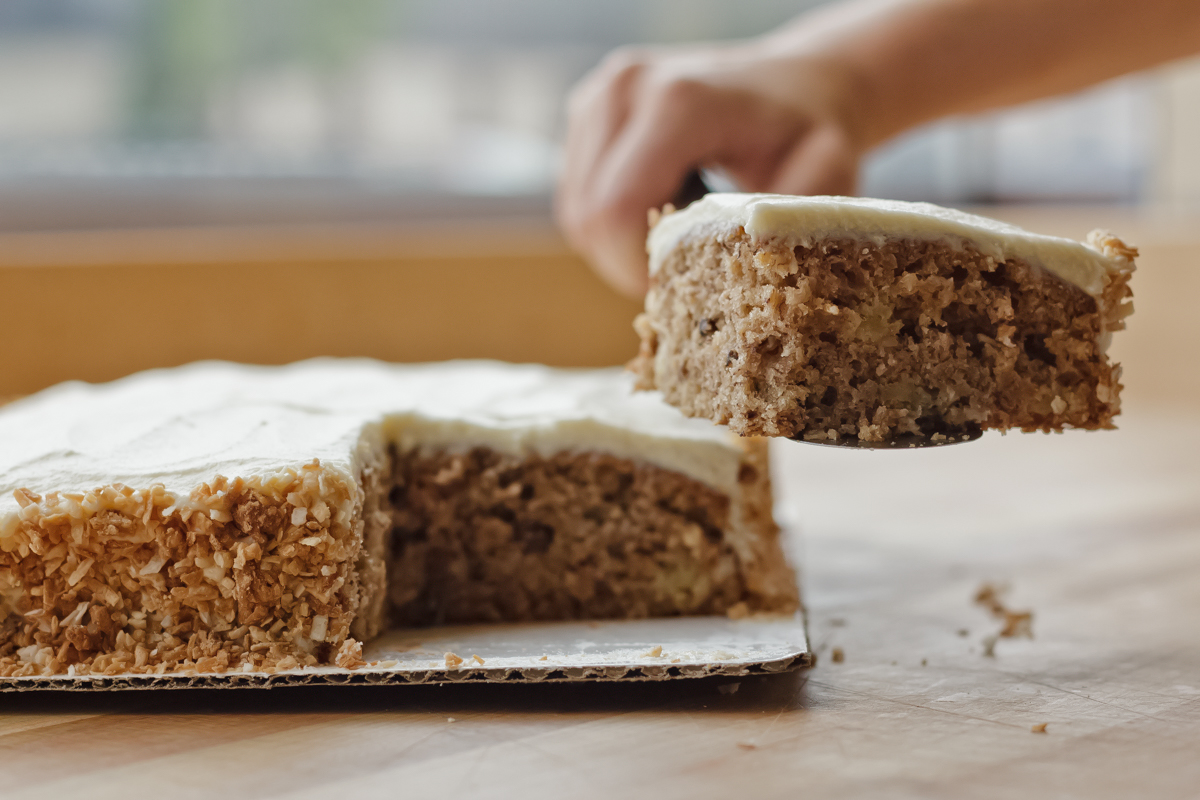 We've learned over years of researching here at the Bakehouse that pinpointing the origins of a recipe or food movement can sometimes prove to be quite tricky. Often there are similar versions of a food in different regions developing at the same time. It's not surprising that the Hummingbird cake is of Jamaican decent with its flavor profile of banana and pineapple. What is surprising is HOW the recipe got here.
In Jamaica, this cake was commonly referred to as the Doctor Bird cake. Doctor Bird is a nickname for Jamaica's national bird, the Red-billed Streamertail, a variety of hummingbird. Jamaican's dubbed the bird the doctor bird because of the similarities between a hummingbird probing flowers with its beak and a doctor prodding a patient during an examination. Hummingbird cake is believed to have gained the Doctor Bird name in Jamaica because it is sweet enough to attract said bird.
In 1968, Air Jamaica was established and began offering flights from Miami and New York to Kingston and Montego Bay. The icon on the tail of these planes was none other than Jamaica's national bird, a hummingbird. Jamaica's tourist board put together some promotional kits to send to the U.S. to increase interest in travel to the country. The kits included recipes of some local cuisine; among which was the Doctor Bird cake. That is how the Doctor Bird cake initially landed in the United States.
The Doctor Bird cake quickly gained popularity in the South. There are numerous references to the cake in county fair reports and baking competitions throughout the 1970's, although not always under the same name. Variations of the name include the Doctor Byrd cake after a familiar regional name dating back to early Virginia and then finally the more generalized name of Hummingbird. The first printed recipe of the cake appeared in Southern Living magazine in February 1978. The Hummingbird Cake has since become the most requested recipe in Southern Living's history.
While there are a few staple similarities among recipes (like finishing it with cream cheese frosting, a batter made with oil rather than butter, and more fruit than flour in the mix!), today there exist many versions of the Hummingbird cake with everything from lime in the cream cheese frosting to an unfrosted Bundt cake to a decadent cake topped with pecan praline. Here at Zingerman's Bakehouse, we like our Hummingbird cake with some coconut in the batter, a hefty dose of ripened bananas and pineapple, a handful of toasted pecans, a generous amount of cream cheese frosting and a tasty and beautiful finish of toasted coconut.
Since joining the cake line up at the Bakehouse in 2003, Hummingbird has become quite a fan favorite, earning a spot in the year-round line up. Find out for yourself. Stop by and ask for a taste.
by Nina Plasencia, baker
————
-Learn to bake our hummingbird cake in our Zingerman's Classics class
-View our cakes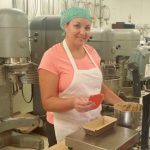 Nina Plasencia is a project manager at the Bakehouse. She's been a part of the team for 18 years (14 of them in a managerial role), and has spent time in every area of production at the bakery. As a part of the bakery's administration team, she works on things like implementing large-scale policy changes, planning and executing for the holiday season ramp-up in production, and product development. In fact, if you've ever enjoyed a Bakehouse pastry, there's a good chance Nina has had a hand in it, whether the item is completely new to the lineup or is a classic that she's tweaked to make it even better (like incorporating whole grains into beloved Bakehouse standards like Funky Chunky Chocolate cookies). She even has a pastry named after her—Nina's 'nolis, classic Italian pignoli pine nut cookies!