A FANCY SCHMANCY HIT
We first created the recipe for Espresso Stars for our most beloved BAKE! class, Fancy Schmancy Holiday Cookies, at the suggestion of Nikki Lohmann, one of our BAKE! Instructors. We started the class in December 2009, and have been teaching it every holiday season since, adding more sessions along the way—we now teach the class 100 times between Thanksgiving and Christmas! The combination of coffee, chocolate, and buttery shortbread was such a hit that, for a time, they made it into our regular line-up at the Bakeshop, Zingerman's Coffee Company, and Zingerman's Roadhouse.
This recipe can be found in our Fancy Schmancy Holiday Cookies cookbooklet, a bite-sized collection of some of our favorite cookies from the class over the years. I'm excited to share that it will also appear in Celebrate Every Day: A Year's Worth of Favorite Recipes for Festive Occasions, Big and Small, our second full-length cookbook, which will be released in the fall of 2023. We packed it full with nearly 80 recipes, most of which have never been published, and included a number of guest favorites. We can't wait to share it with you!
WHAT ABOUT THE FLAVOR?
These shortbread cookies are flavored with freshly ground espresso beans from Zingerman's Coffee Company, making them a rather adult addition to a dessert line-up, both in terms of flavor and the little jolt of caffeine. We like the added help staying awake until the celebratory ball drops at midnight in New York City's Times Square on New Year's Day; but if you'd prefer less of a burst of energy, feel free to use decaf beans. (Just don't be tempted to try and swap in instant espresso powder, which is designed to dissolve; we want both the flavor and the texture from the freshly ground coffee to be front and center.) To make them look as festive as they taste we partially dip them into chocolate, and make the effort to find gold luster dust or gold leaf to garnish them. We hope you enjoy them as much as we do!
Chocolate-Dipped Espresso Stars
Makes 2 to 3 dozen cookies
Ingredients
110

g

unsalted butter, room temperature

50

g

granulated sugar

1/2

tsp

fine sea salt

150

g

all-purpose flour

10

g

espresso beans, finely ground

170

g

semisweet chocolate, chopped

Gold luster dust or edible gold leaf

(optional)
Instructions
Make the cookies
Preheat the oven to 300°F (150°C).

In a medium mixing bowl, cream together the butter, sugar, and salt until sugar is well mixed in.

Add the flour and ground espresso beans and mix until the dough holds together. If necessary, use your hands to gently knead the dough together into a ball.

On a lightly floured surface, roll the dough out to 1/4-in (6 mm) thick. Cut out cookies using a 1 1/2- to 2-in (4- to 5-cm) star cutter. You can reroll scraps and cut out more stars, but take care not to overwork the dough. This cookie will be delicious in many different sizes and shapes. Use what you prefer and what you're able to find. If you choose a much bigger cutter, leave them a little thicker. If they are large and too thin they will break easily.

Carefully place cut cookies on a baking sheet lined with parchment paper, evenly spaced about 1 in apart. 

Bake for 30 minutes. The tops should look dry and cookies should be slightly browned. Cool on the baking sheets for 5 minutes, then transfer to a rack to cool completely to room temperature before dipping in melted chocolate.
Garnish the cookies with melted chocolate
Melt the chocolate slowly in the microwave or over a double boiler until just melted. 

Dip 1/3 of each cookie into the melted chocolate, then place onto a baking sheet lined with parchment paper. If you have gold leaf use a couple of small pieces as garnish and apply them to the soft chocolate. Let the cookies sit at room temperature until the chocolate hardens.

If desired, lightly brush gold luster dust over the hardened chocolate. 
Notes
Storage: 
Store the cookies in an airtight container, with parchment paper between layers of cookies, at room temperature for up to a week or in the freezer for up to 2 months. Thaw frozen cookies at room temperature before enjoying. If thawing cookies with luster dust, do so gradually, moving them from the freezer to the refrigerator, and then to room temperature.
Tip! 
Luster dust is a type of decorating powder used to add color and sparkle to cakes, candy, cookies, and other sweet treats. It's available in stores that sell cake decorating supplies or online, as is edible gold leaf.
HUNGRY FOR MORE?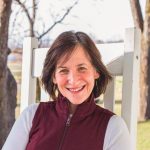 She has been an avid food lover and baker since her childhood in Nova Scotia, Canada. After high school Amy moved to Cambridge, MA and received her bachelor's degree from Harvard University. She then followed her passion for food and learned to cook and bake at L'ecole de Gastronomie Francaise at the Ritz Hotel in Paris, France as well as in Michigan restaurants. In 1999 she received her MBA from Columbia University.
Amy came to Zingerman's Bakehouse when it opened in 1992 as one of the original bakers on the staff of eight. She soon became the first manager of the bread bakery, then the manager of the pastry kitchen and in 2000 she became a partner.
Amy has been working in the food world for over 20 years and is passionate about hands-on baking, teaching about baking and business, developing businesses and people. As well as teaching at BAKE! Amy presents for ZingTrain on our business practices. A few of the Bakehouse items she is personally responsible for developing are the Old School Apple Pie, Buenos Aires Brownies, and our Gingerbread Coffeecake. In addition to developing items, Amy is a promoter of classic bakery favorites from many cultures and has brought traditional standards to the Bakehouse such as Paris Brest, Hummingbird Cake, and Maple Cream Cookies.