Way back in 1992 when we opened the Bakehouse, there were 8 breads on our small list of offerings: Rustic Italian, Farm Bread, Pecan Raisin, Sesame Semolina, 8 Grain 3 Seed, Jewish Rye, Challah, and Pumpernickel. The following year we added a few more—one of them was Chocolate Cherry bread. Today, in 2020, there are literally hundreds of great items that we make at the Bakehouse. Many go on what we call "vacation" but then come back, often for extended visits. That's been even more true this year as we work to get through the challenges of life in a pandemic. Chocolate Cherry bread, it turns out, took much of the summer off. But now that we're all ramping up for the holidays, it's back, two days a week.
In doing the work to write about creativity for what became "Secret #39: Creating Creativity" in Part 3, it became clear to me that creativity is mostly about meaningfully connecting two things that hadn't previously been connected. Hence . . . Chocolate Cherry bread. When we first made it, neither bread nor chocolate-cherries were new news. What got a lot of attention was the idea of putting them into one, very wonderful, format.
The confectionary combo of chocolate and cherries goes back to the middle of the 19th century. They were on record in the U.S. being made by a company called Cella's in 1864, the last year of the Civil War (or what anarchist Albert Parsons' used to call "The Slaveholder's Rebellion"). Chocolate-covered cherries became famous half a century later, in great part because of Dolly Varden chocolates. Founded in 1900 in Cincinnati by a Jewish immigrant from Bavaria named Isaac Weinreich (the brand name came from a Dickens novel character—back in that era, one wouldn't use a Jewish name for mass marketing), the firm turned what was originally only a small piece of their product line into a nationally-known confection. Other companies started doing the same, and by the time we opened the Bakehouse in 1992, chocolate and cherries had been popular for nearly 90 years.
The bread has been a hit pretty much from the start. I do remember a few cynics, but they were quickly converted. Chocolate Cherry Bread is just too good to naysay. Michael London, who taught us the recipe, remembers working to make something that had a good chocolate flavor, that wasn't sweet, and would combine both cocoa powder and finished chocolate. At the Bakehouse we make the bread with organic flour, and it's made with a natural sour starter. The integrity of the actual bread—for me it's as much about the bread as the chocolate and the cherries—is a big thing that sets this apart from many other chocolate-cherry offerings that are out there these days. Belgian chocolate, French chocolate, Farm bread dough, and Michigan dried cherries—without any sugar added, the bread is remarkably not sweet. Make bread pudding. Warm it in the oven. Toast (carefully) and put some vanilla gelato on. The aromas when you heat it up are exceptionally enticing.
My friend Ed Levine, who started "Serious Eats," says,
"The Zingerman's Bakehouse makes a chocolate cherry bread that can be used as the base of the best French toast you've ever had in your life."
People have been going crazy for the Chocolate Cherry bread for nearly 30 years now. It makes folks happy. Maybe I should add it to the list of ways to counter worry above. For at least a few minutes, the worries of the world will almost certainly be shifted aside. The slogan of Dolly Varden was the very effective, "When words fail, send Dolly Varden chocolates!" I'm gonna modify it for the moment. "When words fail (as they seem to do so often this year,) bring Chocolate Cherry bread."
HUNGRY FOR MORE?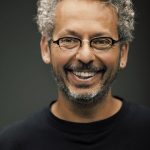 In 1982, Ari Weinzweig, along with his partner Paul Saginaw, founded Zingerman's Delicatessen with a $20,000 bank loan, a Russian History degree from the University of Michigan, 4 years of experience washing dishes, cooking and managing in restaurant kitchens and chutzpah from his hometown of Chicago. They opened the doors with 2 employees and a small selection of specialty foods and exceptional sandwiches.
Today, Zingerman's Delicatessen is a nationally renowned food icon and the Zingerman's Community of Businesses has grown to 10 businesses with over 750 employees and over $55 million in annual revenue. Aside from the Delicatessen, these businesses include Zingerman's Bakehouse, Coffee Company, Creamery, Roadhouse, Mail Order, ZingTrain, Candy Manufactory, Cornman Farms and a Korean restaurant that is scheduled to open in 2016. No two businesses in the Zingerman's Community of Businesses are alike but they all share the same Vision and Guiding Principles and deliver "The Zingerman's Experience" with passion and commitment.
Besides being the Co-Founding Partner and being actively engaged in some aspect of the day-to-day operations and governance of nearly every business in the Zingerman's Community, Ari Weinzweig is also a prolific writer. His most recent publications are the first 4 of his 6 book series Zingerman's Guide to Good Leading Series: A Lapsed Anarchist's Approach to Building a Great Business (Part 1), Being a Better Leader (Part 2), Managing Ourselves (Part 3) and the newly-released Part 4, The Power of Beliefs in Business. Earlier books include the Zingerman's Guides to Giving Great Service, Better Bacon, Good Eating, Good Olive Oil, Good Vinegar and Good Parmigiano-Reggiano.
Ari regularly travels across the country (and world) on behalf of ZingTrain, teaching organizations and businesses about Zingerman's approach to business. He is a sought-after Keynote speaker, having delivered keynotes for Inc. 500, Microsoft Expo Spring Conference, Great Game of Business Gathering of Games, Positive Business Conference at the University of Michigan Ross School of Business, American Society for Quality (ASQ), and the American Cheese Society. Most recently, Ari and Paul Saginaw were invited to address an audience of 50,000 for the University of Michigan 2015 Spring Commencement.
One of Zingerman's Guiding Principles is being an active part of the community and in 1988, Zingerman's was instrumental in the founding of Food Gatherers, a food rescue program that delivers over 5 million pounds of food each year to the hungry residents of Washtenaw county. Every year Zingerman's donates 10% of its previous years profits to local community organizations and non-profits. Ari has served on the board of The Ark, the longest continuously operating folk music venue in America.
Over the decades, the Zingerman's founding partners have consistently been the recipients of public recognition from a variety of diverse organizations. In April 1995, Ari and Paul were awarded the Jewish Federation of Washtenaw County's first Humanitarian Award. In 2006, Ari was recognized as one of the "Who's Who of Food & Beverage in America" by the James Beard Foundation. In 2007, Ari and Paul were presented with the Lifetime Achievement Award from Bon Appetit magazine for their work in the food industry. Ari was awarded the Lifetime Achievement Award by the American Cheese Society in 2014. And Ari's book, Building a Great Business was on Inc. magazine's list of Best Books for Business Leaders.
Notwithstanding the awards, being engaged on a daily basis in the work of 10 businesses and 21 partners, writing books on business and in-depth articles on food for the Zingerman's newsletter, Ari finds time to be a voracious reader. He acquires and reads more books than he can find room for. Ari might soon find himself the owner of the largest collection of Anarchist books in Ann Arbor outside the Labadie collection at the University of Michigan library!