Back in 1891, newspaper editor Pierre Giffard wrote a book called La Reine Bicyclette about the (less than a 100-year) history of the bicycle. Hoping to encourage bike riding, he
started a bicycle race from the capital city of Paris, west to the Breton port of Brest. The race was 1,200 km (750 mi) and the challenge for riders was to complete it in under 90 hours. In 1910, hoping to build attention for the race, Giffard asked a local Parisian pastry chef, Louis Durand, to create a dessert to help promote the race. Patisserie Durand is still there, in the village of Maisons-Laffitte, to the northwest of Paris. It still features the pastry as its signature item! This year marks the 50th anniversary of the last time the actual race was run, in 1951. Fortunately, although the bike wheels stopped turning, bakeries around the world—including ours—continue to turn out the beautiful pastry that was created in its honor back in the early 20th century.
Giffard clearly liked long-distance events. In 1892 he started a 380-kilometer running race between Paris and Belfort. Two years later, he founded the world's first automobile race from Paris to Rouen. In 1896 he got the Paris Marathon going. In a more controversial context, Giffard was a big defender of Alfred Dreyfus, the Jewish French Army officer falsely accused of treason. In a story that is not all that distant from other controversial cases, Dreyfus was twice convicted despite evidence to the contrary. (In a classic example of the influence of the filter we all have because of our beliefs—what we believe alters what we see—prosecutors seized on the fact that the handwriting on captured pieces of evidence did not match Dreyfus' previous letters as proof that he was trying to falsify the writing to hide his identity!). To save face, the French government pardoned Dreyfus—he was set free, but was still "guilty." Finally,
two years later he was officially exonerated by a military tribunal. Over a hundred years down the road, the Dreyfus Affair remains a study in social biases and show trials.
Coming back to the wonderfully tasty pastry which Giffard had the good marketing sense to have made, essentially it's a giant circular cream puff, created by the baker Durand to resemble a bicycle tire. We've been making it at the Bakehouse for over 20 years now, and it's long been one of managing partner Amy Emberling's favorites. This past year Amy had the thought of making more seasonal versions of it. Later this spring when the local strawberries are in season, you'll probably see those in the Paris Brest. Right now, we've gone with lemon cream (homemade Bakehouse lemon curd gently blended with pastry cream) for a refreshing and lovely after-dinner treat. Great too for afternoon tea. Last year Eater called Paris Brest "the New Crème Brulee!"
Take note that although most of us around here will unconsciously say the name in English and pronounce the "s" as we would here in the U.S., in France, where the pastry originates, "Paris" rhymes with "we," or you might say in French, "oui." Which is exactly what I would say to the opportunity to partake in a piece of this French classic. With its light pastry "crust" and its lovingly luscious lemony cream filling, it's a wonderful way to lighten and brighten a lovely spring day.
Hungry for More?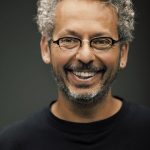 In 1982, Ari Weinzweig, along with his partner Paul Saginaw, founded Zingerman's Delicatessen with a $20,000 bank loan, a Russian History degree from the University of Michigan, 4 years of experience washing dishes, cooking and managing in restaurant kitchens and chutzpah from his hometown of Chicago. They opened the doors with 2 employees and a small selection of specialty foods and exceptional sandwiches.
Today, Zingerman's Delicatessen is a nationally renowned food icon and the Zingerman's Community of Businesses has grown to 10 businesses with over 750 employees and over $55 million in annual revenue. Aside from the Delicatessen, these businesses include Zingerman's Bakehouse, Coffee Company, Creamery, Roadhouse, Mail Order, ZingTrain, Candy Manufactory, Cornman Farms and a Korean restaurant that is scheduled to open in 2016. No two businesses in the Zingerman's Community of Businesses are alike but they all share the same Vision and Guiding Principles and deliver "The Zingerman's Experience" with passion and commitment.
Besides being the Co-Founding Partner and being actively engaged in some aspect of the day-to-day operations and governance of nearly every business in the Zingerman's Community, Ari Weinzweig is also a prolific writer. His most recent publications are the first 4 of his 6 book series Zingerman's Guide to Good Leading Series: A Lapsed Anarchist's Approach to Building a Great Business (Part 1), Being a Better Leader (Part 2), Managing Ourselves (Part 3) and the newly-released Part 4, The Power of Beliefs in Business. Earlier books include the Zingerman's Guides to Giving Great Service, Better Bacon, Good Eating, Good Olive Oil, Good Vinegar and Good Parmigiano-Reggiano.
Ari regularly travels across the country (and world) on behalf of ZingTrain, teaching organizations and businesses about Zingerman's approach to business. He is a sought-after Keynote speaker, having delivered keynotes for Inc. 500, Microsoft Expo Spring Conference, Great Game of Business Gathering of Games, Positive Business Conference at the University of Michigan Ross School of Business, American Society for Quality (ASQ), and the American Cheese Society. Most recently, Ari and Paul Saginaw were invited to address an audience of 50,000 for the University of Michigan 2015 Spring Commencement.
One of Zingerman's Guiding Principles is being an active part of the community and in 1988, Zingerman's was instrumental in the founding of Food Gatherers, a food rescue program that delivers over 5 million pounds of food each year to the hungry residents of Washtenaw county. Every year Zingerman's donates 10% of its previous years profits to local community organizations and non-profits. Ari has served on the board of The Ark, the longest continuously operating folk music venue in America.
Over the decades, the Zingerman's founding partners have consistently been the recipients of public recognition from a variety of diverse organizations. In April 1995, Ari and Paul were awarded the Jewish Federation of Washtenaw County's first Humanitarian Award. In 2006, Ari was recognized as one of the "Who's Who of Food & Beverage in America" by the James Beard Foundation. In 2007, Ari and Paul were presented with the Lifetime Achievement Award from Bon Appetit magazine for their work in the food industry. Ari was awarded the Lifetime Achievement Award by the American Cheese Society in 2014. And Ari's book, Building a Great Business was on Inc. magazine's list of Best Books for Business Leaders.
Notwithstanding the awards, being engaged on a daily basis in the work of 10 businesses and 21 partners, writing books on business and in-depth articles on food for the Zingerman's newsletter, Ari finds time to be a voracious reader. He acquires and reads more books than he can find room for. Ari might soon find himself the owner of the largest collection of Anarchist books in Ann Arbor outside the Labadie collection at the University of Michigan library!