Here at the Bakehouse, we grate nearly 30 pounds of carrots to make one batch of our 24 Carrot Cake. All those carrots add an incredible moistness and a fresh sweetness to this classic. Combine that with toasted California walnuts, aromatic spices, and the complex flavor from freshly milled, organic soft white whole wheat flour off of our stone mill…you get a great cake that's totally delicious on its own. Cover it with a generous amount of luscious cream cheese frosting and a decorative sprinkling of chopped walnuts and it becomes irresistible.
Carrot cake's early origins
Carrot cake's ancestry dates back to the Middle Ages. For centuries, Europeans added cooked or mashed carrots to sweeten puddings, cakes, and confections in lieu of refined sugar and other sweeteners, which were far more expensive and difficult to come by. Carrot cake grew out of centuries-old steamed or boiled carrot
"pudding," which was cooked low and slow to accentuate the carrot's natural sugars, enriched with spices, and bound with eggs and a touch of flour. As ovens for baking grew more widespread, the boiling and steaming were replaced by dry heat methods, and the pudding, baked in pans, developed a lighter consistency, more akin to cake, with higher quantities of flour and fat.
Carrots, of the orange variety, came to America in the early 17th century with the first English settlers, who brought seeds with them to colonial Virginia and Massachusetts. There, the orange root grew bigger and sweeter than anything found in England. Colonists shared the seeds with the Native American Indians, who, along with later west-bound settlers, went on to plant carrots across the country. Today orange carrots are still the most popular variety of carrots in the United States.
By the 18th century, colonial Americans were well versed in
utilizing carrots as a sweetener, cooking them first, then mashing and straining them through a sieve to make them fine enough to fold into cakes and other baked desserts, which they then baked in a wood-fired oven. Cake historian Anne Byne, author of American Cake: From Colonial Gingerbread to Classic Layer, the Stories and Recipes Behind More Than 125 of Our Best-Loved Cakes: A Baking Book (Emmaus, PA: Rodale, 2016), notes that one of the earliest recorded recipes for an American carrot cake is the carrot tea cake, "a cousin of the pound cake," that was served for dessert at the Fraunces Tavern in New York City on November 25, 1783.  The occasion was the large feast the tavern staged to honor General George Washington on British Evacuation Day, following the American victory in the Revolutionary War. The tea cake recipe, recorded by Byrne in her book, called for semi-cooked carrots, which were then grated; butter and sugar, creamed by hand;  followed by eggs, flour, salt, and a generous amount of aromatic cinnamon and nutmeg. The cake would most likely have been topped with sweetened whipped cream.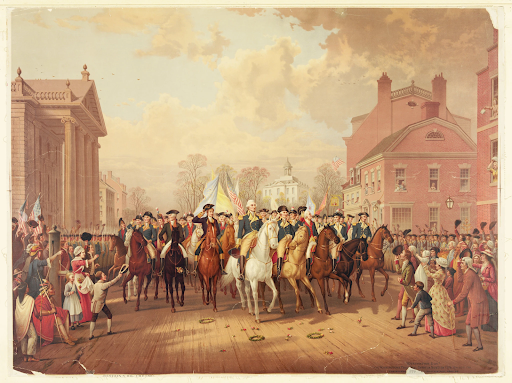 Carrot cake from the 20th century on
Fast forward to the 20th century, and the modern multi-layered carrot cake, baked in round cake pans and served with icing, began to take shape, with recipes appearing in American cookbooks and newspapers starting in the 1910s. One of the earliest of these was included in the first edition of The Neighborhood Cookbook published in 1912 by the Council of Jewish Women in Portland, Oregon. By the 1930s, most recipes for carrot cake called for the now-familiar aromatic spice mix of cinnamon, nutmeg, and cloves. After World War II, bakers began applying the chiffon principle of eggs and oil to carrot cake, resulting in the dense, tender, and moist cake we know today. Yet it wasn't until the 1970s that carrot cake, once paired with cream cheese frosting, truly came into its own and emerged as a standard in American restaurants, bakeries, magazines, and cookbooks. While food fads of that era have come and gone, carrot cake with cream cheese frosting is now an American classic, one which we've perfected, here at the Bakehouse, with the best ingredients we can find.