It's Hungarian Month at the Bakehouse and our pastry kitchen is now in full swing, rustling up our favorite, incredibly delicious—and beautiful—sweet and savory pastries, all true to Hungarian tradition. Topping this year's February selection of delectable Hungarian treats is our new torta, Mézes Krémes (pronounced may-zesh krem-esh). A multi-layered honey cream cake, our new torta evokes the structural elegance and flavor complexity that make such pastries in the Hungarian tradition so magical and oh so tasty! Our Mézes Krémes torta features four layers of tender, sweet, honey sponge cake, enlivened with "burnt" (i.e. caramelized) honey and touches of orange and cinnamon, sandwiched between luscious layers of cream filling infused with "burnt" honey, sour cream, and a hint of orange zest. It's the flavorful blend of burnt honey and sour cream that gives our new torta its distinctive sweet, tangy, and caramelly deliciousness.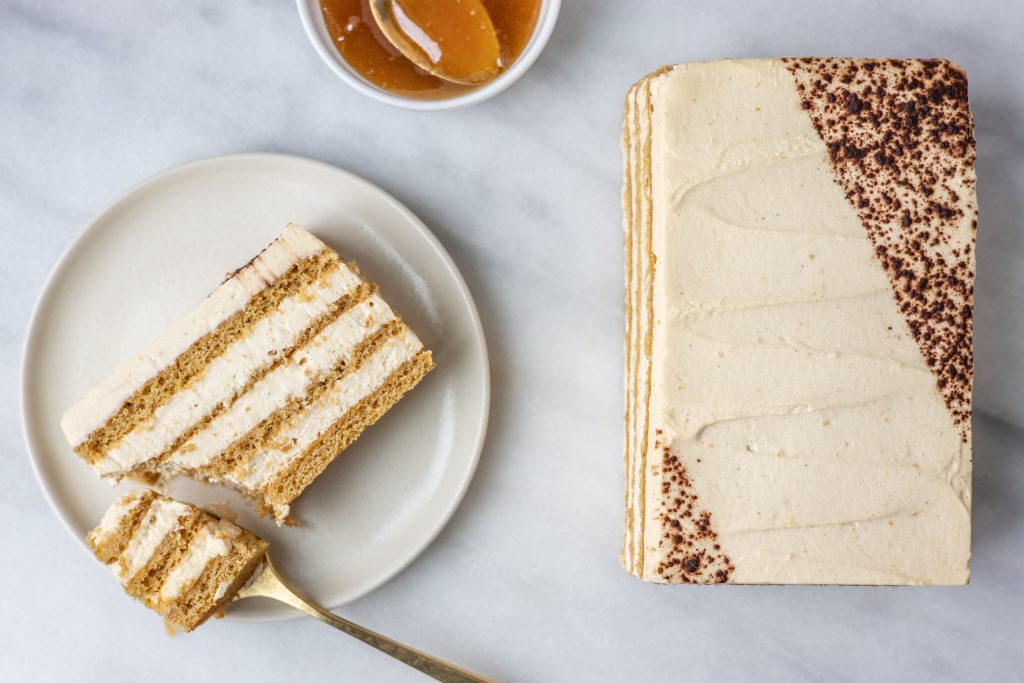 THE INSPIRATION BEHIND OUR MÉZES KRÉMES 
Our Mézes Krémes ("Honey Cream" in Hungarian) is, first and foremost, an inspirational nod to the traditional Hungarian torták in the Bakehouse's repertoire—Dobos, Esterházy, and Rigó Jancsi—which were all the rage in the coffee houses of Budapest, Hungary's capital city, at the height of the Austro-Hungarian Empire, from the late 19th to the early 20th centuries. Our new torta is also true to a Russian influence that first permeated Hungarian pastry during Soviet/Communist rule following World War II (1949-1989), namely the popular Russian honey cake, Medovik (Russian: Медовик, from мёд – "honey"). Steeped in such varying pastry traditions, our Mézes Krémes is yet another inspired example of the seamless absorption of diverse cultural and culinary influences that continues to shape the evolution of Hungarian pastry and cuisine to this day. 
SOME HISTORY BEHIND BUDAPEST'S HISTORIC COFFEE-HOUSE CULTURE 
Budapest's coffee houses, both grand and intimate, were centers of the city's intellectual and cultural life—at the height of the Austro-Hungarian Empire there were some 500 coffee houses scattered throughout the city. They served as common gathering places
where philosophers, writers, artists, musicians, politicians, and the social elite met to share ideas and camaraderie, and also to work, all while eating luscious cakes accompanied by their preferred brew, whether it be kávé (coffee), presszókávé (espresso), or fekete (strong black coffee). Indeed some of the writers, artists, and thinkers would spend the entire day at their favorite establishment, musing and writing at their regular tables with free ink and rolls of paper—known as "dog tongues"—often provided to them. Folks from other walks of life frequented the city's coffee-houses as well; popping in on a Sunday afternoon for a cup of coffee and slice of cake was a surefire way to catch up on the latest news and gossip around town. 
Only a few of the myriad establishments that fueled this thriving coffee-house culture in turn-of-the-century Budapest were destined to survive the two world wars and Soviet Communist rule that followed in the 20th century. Many were destroyed during World War II (1940-1945); and the Soviet Regime, after taking over in 1949, saw Budapest's surviving coffee houses as hotbeds of underground resistance and anti-communist ideology. Determined to thwart any political or cultural conspiracy, leaders of the Soviet Communist Party saw fit to close the city's most popular establishments.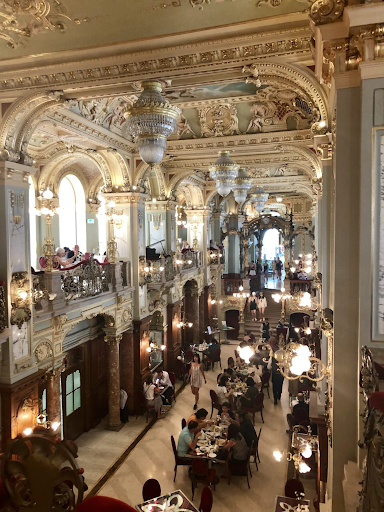 Today, however, Budapest's coffee-house culture is no longer forsaken, having experienced a renaissance in recent years. A number of the city's surviving historic coffee houses, tucked away in Neo-Renaissance palaces, 18th-century townhouses, or art-nouveau residential buildings, have been restored to their original splendor, along with their abundant offerings of fancy tortes and coffee, all in an effort to revive the dazzling coffee-house culture that was lost. Today, to step back in time and experience the trappings and ambiance of this glorious by-gone era, one need only visit such historic establishments as the landmark, Centrál Kávéház (Est. 1887) and the opulent New York Kávéház (Est. 1894), both havens for writers, poets, journalists, and progressive thinkers during a golden age of Hungarian literature; the elegant and refined Gerbeaud Kávéház (Est. 1858), famous for its delicious tortes and once a favorite haunt of the Hapsburg royal family; or the more intimate Ruszwurm Cukrászda (Est. 1827), Budapest's oldest coffee house that counted nobility among its loyal clientele, who frequented the café twice a week to indulge their sweet tooths. 
FOR THE LOVE OF CAKE! HUNGARY'S ANNUAL CAKE OF THE YEAR CONTEST
George Lange, the renowned Hungarian-born American restaurateur, food and travel writer, critic, and journalist, was not exaggerating when he proclaimed Hungary to be the "land of 10-million pastry lovers"! Delicious elegant tortes still rank high on Hungarians' favorite sweet-tooth indulgences, so much so, that since 2007, the Hungarian Confectioner Craftsmen Corporation (HCCC), at the invitation of the Government of Hungary, has held an annual Cake of the Year contest to celebrate the most successful, talented, and upcoming confectioners and pastry chefs in Hungary and to promote culinary innovation. Each year, on the occasion of Hungary's national holiday on August 20, the day when Saint Stephen founded the Hungarian state, the HCCC announces the competition and assembles a professional jury to select the winning entry in two categories: sugar and, since 2014, sugar-free. 
As for the HCCC's guidelines for the contest, competitors are expected to come up with innovative and creative ideas while respecting Hungarian confectionery and pastry traditions. In the first two rounds of the competition, the jury selects six cake entries anonymously, which they then re-taste, score, and make suggestions for their improvement. In the final round, the six chosen confectioners make their creations live in front of the jury, who then taste and score the cakes once again and proclaim the 2 winners. Once the jury makes its decision, which is presented in Hungary's House of Parliament, the official recipes for the award-winning cakes, one in each of the two categories, are then shared with the professional confectioner and pastry community throughout the
country. This enables confectioner/pastry establishments all over Hungary to offer their patrons a slice of the Cake of the Year. 
THE WINNERS OF HUNGARY'S 2020 CAKE OF THE YEAR CONTEST!
In 2020, the winning cake in the sugar category was "Curiositas," an almond cake layered with milk-hazelnut crisp, quince jelly, orange-almond mousse, and coated with dark chocolate mirror glaze. It was created by Krisztián Füredi of Hisztéria Confectionery in the village of Tápiószecső, in Pest County, Hungary. The top prize winner in the sugar-free category was the "Szentivánéji Álom" ("Midsummer Night's Dream"), created by Andrea Dienes from the JÓkenyér pékség és cukrászat in Pilisszentiván, a village outside of metropolitan Budapest. The HCCC, in collaboration with the Egy Csepp Figyelem Alapítvány (One Drop of Attention Foundation, a charity organization that fights diabetes), introduced this new sugar-free category in an effort to draw attention to the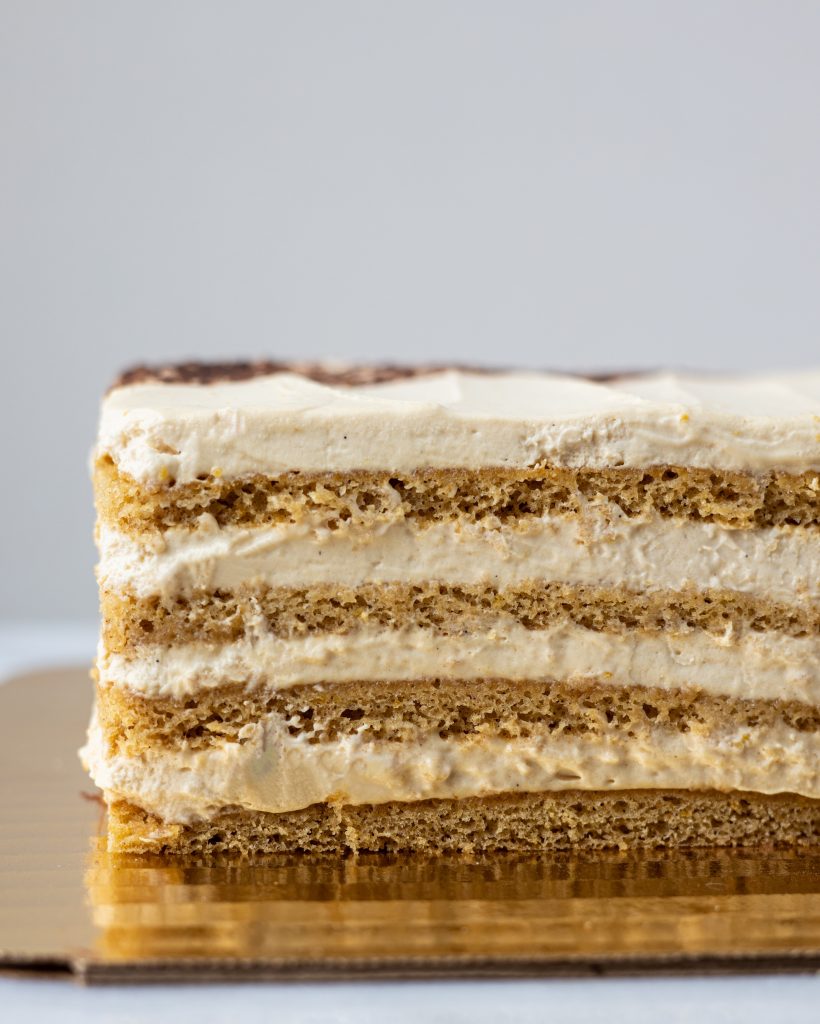 importance of a healthy lifestyle. As the winning cake, the "Szentivánéji Álom," contains no sugar, it derives its taste mainly from the layered combination of cinnamon-sour cherry jam and light sour cherry whipped cream, which is completed with the cream-oatmeal English custard (Crème anglaise). The cake is covered with sugar-free white chocolate, and decorated in a wreath-like layer with lyophilized (freeze-dried) cherries. 
So there you have it—the reigning 2020 Cake of the Year contest winners. Stay tuned for the announcement of this year's competition in August 2021! In the coming years, here at the Bakehouse, we hope to join in on Hungary's Cake of the Year celebration by making the year's winning cake during Hungarian month. In the meantime, we think that our new Mézes Krémes is a prize winner as well. Stop by the Bakehouse and grab a slice or, if you're looking to serve six to eight discerning cake lovers, pick up the whole shebang! Either way, you're in for a real treat in the Hungarian tradition.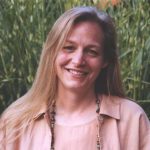 After a long, established career as a Ph.D. art history scholar and art museum curator, Lee, a Michigan native, came to the Bakehouse in 2017 eager to pursue her passion for artisanal baking and to apply her love of history, research, writing, and editing in a new exciting arena. Her first turn at the Bakehouse was as a day pastry baker. She then moved on to retail sales in the Bakeshop, followed by joining the Marketing Team and becoming the Bakehouse's designated culinary historian. In addition to her retail sales and marketing work, she's a member of the Bakehouse's Grain Commission, co-author and editor of the Bakehouse's series of cookbooklets, and a regular contributor to the BAKE! Blog and Zingerman's Newsletter, where she explores the culinary, cultural, and social history and evolution of the Bakehouse's artisan baked goods.