The Bakehouse has been part of Jake's life since nearly the beginning. His mother, Managing Partner Amy Emberling, began working at the bakery when it opened in 1992 while his father, Geoff Emberling was completing his doctorate at the University of Michigan. Jake was just 1 year old at the time. The Bakehouse really became a central part of his life in 2000, at age 10, when Amy became a managing partner. Somewhere along the line, he got the idea of making a career at the Bakehouse and has never shaken it even as he set out on a different path. 
Some might say that Jake has taken the Grand Tour of Zingerman's Bakehouse. His first Bakehouse experience was as a middle schooler when he worked with Frank Carollo's daughters Anna and Margaret at the Bakehouse stand at Top Of The Park. He then worked part-time in the Bakeshop through high school, spent a summer working in the service office during college, and returned twice to work in the bread bakery during breaks from school. He continued his tour of the bakery in 2019 and worked in the pastry kitchen and in 2020 joined the bread bakery as a co-manager for a year. And now, Jake is settling down. He's been the Bakeshop Manager since February of 2021.
Say hi the next time you see him in the shop, but in the meantime, read on to get to know Jake a little better: 
You shared that you worked at the Bakehouse during college, what did you go to school for? 
I earned my Master of Social Work degree and for several years worked as a program coordinator for a local substance use disorder treatment center and part-time in inpatient psychiatry at Michigan Medicine. 
Does your master's degree help you do your job well?
I hope so! 
Has it helped you to work effectively with your mother? How is that by the way? Has working together changed your relationship?
Who said I was working effectively with my mother?! Just kidding—I love my mom and have always admired her. Working with her has been interesting, and in a lot of ways, it does not feel new. We're a close family and make a lot of decisions together.
I'm not sure if it's changed our relationship in any way that it would not have changed naturally over time. My hope is that working together feels for both of us like having a committed and dedicated teammate.
You've been eating Bakehouse food for a long time, almost your entire life. Do you have any strong memories of the food from your childhood? 
I do! I vividly remember the smell at the Bakehouse early in the morning. I was probably about 10 years old and I was smelling that morning's French baguettes. Sometimes guests in the Bakeshop comment on the same smell—I normally don't notice it anymore—and when they mention it that memory always comes back to me. 
Other than that, I had some pretty decent times cutting class with a friend or two in high school to grab a breakfast sandwich or grilled cheese from the shop. 
You now have two children! Zoe is just a newborn so we'll probably have to wait to hear about her food preferences in the future. Word on the street is that 3-year-old Miles has quite a sweet tooth. What does he like to eat? What do you bring home for him?
Miles is a big Bakehouse fan. He loves bread, and he always wants to have the biggest piece available. He also has an abnormally large second stomach with unlimited capacity for pastries, cookies, coffeecake, and cupcakes.
When I was his age my dad would give me a slice of Sour Cream Coffeecake to eat while he did whatever he was doing and we would hang out at the Deli Next Door. That coffeecake is my personal ultimate comfort food and I hope that my bias and frequent offering of it to Miles makes it the same for him! 
Do you ever bring them to the bakery? How does that feel to have been a child when the bakery opened and now you're introducing your children to this world? 
Zoe has not yet been to the Bakehouse, but I hope she will soon! Miles loves walking around the bakehouse and watching the action happen—so far he has said he would like to bake the bread and cookies. It's a little surreal. I'm really grateful that we get to do it.
You've been managing the shop for a year now. What's been most rewarding or interesting during this year? 
The past year was exceptionally busy at work. I did not have a rigid expectation about what this role would be like, which was great because I would have been wrong! The most rewarding part has been continuing to see this little store grow towards meeting the needs and wants of our guests while continuing to be a great place for my teammates to work. 
Zingerman's is known for its service. Do you have anything to share about the service you and the shop team are trying to provide?
I am really grateful for the people I work with in the Bakeshop—they are a very invested and supportive team, and they work at an incredible clip together. What I appreciate most about their effort is their willingness to acknowledge as a group that while we may have 500 customers in a day, each guest only has one interaction with us. Their ability to reconcile that tension by engaging with each guest with kindness and accurate energy is central to giving great service in the shop. 
The pandemic put some real challenges into our world in terms of giving great service. Have you learned any service lessons as a result?
Yes! We made some adjustments to our service in order for as many of our guests as possible to continue to engage with us during the pandemic. Some of those adjustments lend themselves to a nicer experience overall and some I suspect will become less salient over time.
We've limited our capacity which we had never imagined doing prior to the pandemic. It makes for a more pleasant shopping experience. I can imagine having a limit from now on. We created an online store which I'm sure we'll keep and we have curbside pick up. Not that many people are using the curbside pick up so that may not stay forever. We'll see. There's no need to rush. As long as people use it we'll do it. Plexiglass became part of our decor. I hope that we'll all feel safe enough to make that disappear at some point. It hasn't added to the experience.
Really, we trusted local health officials the moment they began giving guidance and that provided some boundaries we could be creative within. We made real efforts to communicate with our customers directly as restrictions have changed so they would know what to expect at the shop. 
Any advice for customers about how they can have a great experience in the shop?
Ask questions! The Bakeshop staff has a ton of knowledge of what is happening around here as well as personal experience with our food. Do you know what you're eating for dinner? Share with us and we will share what bread would be a nice complement. 
Also, if there is something special you're coming in for or hoping to enjoy—call us ahead of time (734-761-2095) so we can make sure we've got it for you when we get to see you!
What are you looking forward to in the Bakeshop in the months ahead?
The courtyard! We set up tables, chairs, and umbrellas outside of the Bakeshop during the warmer months of the year. There is a really fun energy that comes off of it during a mid-day lunch hour. I look forward to the sun bringing life back to that part of the Bakehouse. 
Okay, tell us your favorite bread, pastry, cake, and go-to lunch items?
Bread: Paesano. Contrary to some, I believe it makes a great sandwich. The big get is the incredibly tender crumb, and I love the cornmeal we use to dust the crust. 

Pastry: Pecan Blondie. It is what I consider "the single-most slept on Bakehouse food." 

Cake: Zingerman's Classic Cheesecake. With contributions from our Creamery counterparts and a Graham cracker crust from our own Graham crackers, it is simply delicious on its own, but also a potentially blank slate for any at-home riffs you may enjoy topping it with. 

Lunch: A Genoa salami sandwich (I peel the provolone off mine—always have) and Gabor's Butterbean and Ham soup. 
Hungry for More?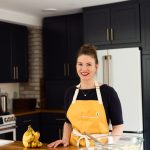 Lindsay-Jean Hard's passion for sustainability and education at the University of Michigan went on to inform and inspire her in many ways from going to extreme lengths to recycle at a post-college job to creating her cookbook, Cooking with Scraps, a labor of love inspired by her Food52 column of the same name. Today, she strives to convince everyone she meets to try eating banana peels and works to build and connect new communities as a marketer at Zingerman's Bakehouse in Ann Arbor, Michigan.