It's only been a week since we introduced you to our new mill, but we're already going full steam ahead and have milled over 300 pounds of organic rye that we've sourced from Breslin Farms, a father-and-daughter operation focused on biodiversity and sustainability in northern Illinois. 
We're excited about this for a couple reasons: It's the first grain that we've been able to mill ourselves on a larger scale. Freshly milled flour has a number of benefits, among them, that it's more flavorful and it's more nutritious, that's a win-win in our book. An easy comparison is coffee: Would you rather have a cup of coffee made from freshly ground beans or one from beans ground months ago? Fresh, right? We believe the same goes for flour—fresh is better. And freshness doesn't just apply to the flour, when properly made, breads made with freshly milled flours will stay fresh for longer thanks to the natural oils present in the flour. We're also excited about milling more flours ourselves due to the benefits of eating whole grains—you can read a little bit about that in our post about our new mill and we'll be talking more about that in the months ahead, too.
And second, it's helping us with our goal of going more organic at the Bakehouse. You might remember that in April of last year we shifted to using 100% organic all-purpose wheat flour. We use exponentially more all-purpose flour than any other ingredient, so that switch was a big deal, but one that we felt was an important one to make. Now we're able to add one of our rye flours to the list of organic ingredients we use including all-purpose wheat flour, cornmeal, 7-grain mix, and more. 
The first bread that we're using our freshly milled rye in is our Roadhouse bread, which was created for Zingerman's Roadhouse fifteen years ago. At that time, they came to us at the Bakehouse looking for traditional American baked goods to add to their initial lineup, and we were happy to develop a few new signature items for them, including a bread that was common in early American cookbooks, called Thirded bread or Rye and Indian bread, but not so common in bakeries today. Roadhouse bread has stood the test of time both at the Roadhouse and here at the Bakehouse, and it even made it into our cookbook.
Our Roadhouse bread is based on those early American recipes and is made with wheat, corn, rye, and a bit of molasses. It's got a really great dark crust and soft chewy center that has a slight sweetness from the dark molasses. And, with our shift to organic rye flour, Roadhouse bread is now made with ALL organic flours: the organic rye from Breslin Farms, IL; organic wheat from Bay State Milling, CO; and organic cornmeal from Champlain Valley Milling, NY.
We look forward to incorporating our freshly-milled rye and other grains into more of our breads soon. So keep in touch and follow us for updates!
Lindsay-Jean Hard, Marketer
Bakehouse Grain Commission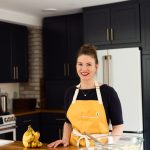 Lindsay-Jean Hard's passion for sustainability and education at the University of Michigan went on to inform and inspire her in many ways from going to extreme lengths to recycle at a post-college job to creating her cookbook, Cooking with Scraps, a labor of love inspired by her Food52 column of the same name. Today, she strives to convince everyone she meets to try eating banana peels and works to build and connect new communities as a marketer at Zingerman's Bakehouse in Ann Arbor, Michigan.