We've been talking lately about our passion for whole grains and freshly milled grains, and we're excited to share that we're now able to move forward with more of that here at the Bakehouse thanks to the arrival of our beautiful, hand-built stone mill.
(Heck yes mills can be beautiful! Take a gander at that beaut! At the powder-coated Bakehouse orange frame! …okay, that might not be the true name of the color, but that's what we're going with.)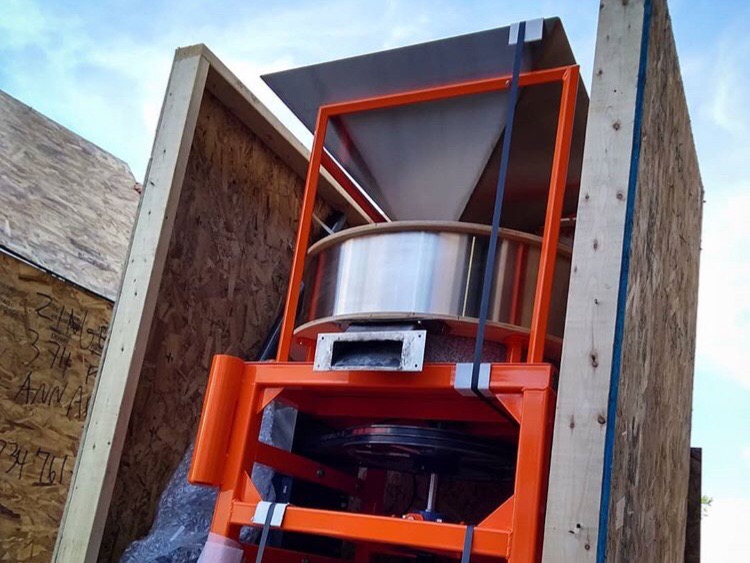 We wanted to use a stone mill both because it's a traditional form of milling and because the entire grain kernel is ground together: bran, germ, and endosperm. In contrast, modern commercial roller milling produces highly refined flour with only the starch-laden endosperm. By opting for stone milling flour, we still have the option to sift the flour and refine it if desired, but some of the bran and germ will remain, resulting in more nutritious and complex flavored flour. It's also less wasteful!
We started down this path just over a year and a half ago, when Bakehouse staffer Hazim Tugun (read more about his path to working with us here) would occasionally bring in his breads made with freshly milled flour for us to try. He's been milling at home for over 3 years now, so he brings a lot of knowledge and experience to our endeavor.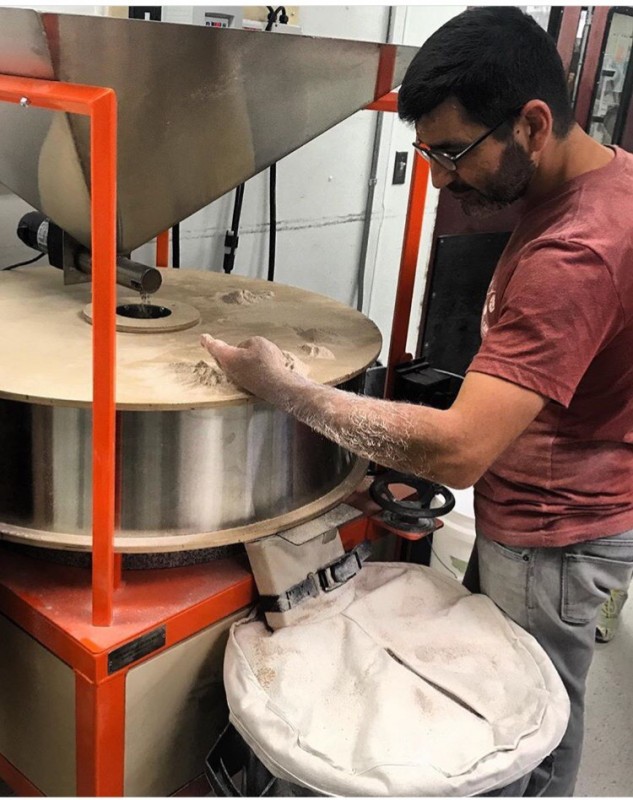 Then in May of last year, Bakehouse co-owners, Amy and Frank attended a bread conference in Charlotte, NC where they met Wolfgang Mock, a passionate advocate for freshly milled flour, and immediately ordered his Mockmill upon returning to Ann Arbor. Once it arrived, we started playing around with milling small quantities of grain, but as it's meant for home use, we could only mill small quantities. To mill on a larger scale, we'd need to upgrade to a larger mill.
Once we knew we were ready to take that step, we turned to Andrew Heyn. He is the owner of Elmore Mountain Bread and the creator of American Stone Mills, his stone mill building project, both located in Elmore, VT. He starts building mills out of necessity, as explained on the website:
"He wanted to use large portions of fresh-milled, locally-sourced grain in the bakery, and found that commercially available stone mills could benefit from design improvements conceived by thoughtful bakers. He spent months researching, designing and building a new breed of stone mill that uses locally quarried, natural granite, commonly available motors and parts, and the insights gained by working daily with stone mills in bakery settings."
Back in March of this year, we commissioned Andrew to build one for the Bakehouse. We love that his ultimate goal is, "to build a community of bakers who bring fresh-milled flour to their products, sourced from local grain farmers, to deliver the fullest nutrition and flavor to their customers," and we're happy to be a part of making that happen. And, it's clear that he's well on his way with furthering that goal—due to popular demand of his mills, we knew we'd have to wait a few months to get ours (it was worth the wait). Around the same time, while we were waiting, we started to educate ourselves about whole grains and formed our Grain Commission.
In anticipation of the imminent arrival of our mill, we met with Andrew this past summer at the 8th Annual Grain Gathering in Burlington, WA and took his Stone Mill Anatomy class, where we learned all about the internal makeup of stone mills, as well as how to maintain them. (Read more about what we learned at this event here.)
It was an exciting day when our mill arrived at the beginning of September. We crowded around the crate to get the first glimpse of it as it was unboxed. If you're interested in a peek under the hood (or is it, under the stone?) here are a few of the specs on ours:
26″ Vermont-quarried Barre Gray granite stones

Approximate weight: 1,200 pounds

Dimensions: 34″W x 48″D x 66″H (this means it fits through a standard doorway, helpful since it arrived fully assembled!)

Stainless steel hopper with 100-pound grain capacity

Production rate: 60 to 80 pounds per hour (and that's for very fine flours; coarser milled products can be fed at a faster rate)

We've added a sifter, or bolter, to our mill, which is what allows us the option of sifting flour when desired
Andrew visited us later that month to help us get the mill and bolter properly set up, as well as train our staff how to use it. We've been doing some milling with a variety of grains and having fun experimenting with them. Expect to see more products with freshly milled flour in the months ahead!
By Lindsay-Jean Hard, Bakehouse Marketer
Photos by Andrew Heyn and Hazim Tugun
PS: The mill will be playing a major role in how we do things here at the Bakehouse, so we think it needs a name. If you have a suggestion, let me know at [email protected]—we'll keep you posted on what we settle on.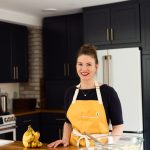 Lindsay-Jean Hard's passion for sustainability and education at the University of Michigan went on to inform and inspire her in many ways from going to extreme lengths to recycle at a post-college job to creating her cookbook, Cooking with Scraps, a labor of love inspired by her Food52 column of the same name. Today, she strives to convince everyone she meets to try eating banana peels and works to build and connect new communities as a marketer at Zingerman's Bakehouse in Ann Arbor, Michigan.