That's right, we've been working on our second cookbook—well, cookbooklet, to be precise—and we're tickled to finally be able to tell you about it. (And give you a sneak peek!) 
We weren't sure about writing another comprehensive cookbook, but we started receiving requests for other recipes that didn't make it in the book almost as soon as it was published. So, we're excited to share that we'll be sharing more of our favorite recipes with you in the form of cookbooklets—smaller, soft-cover pamphlets, focused on a single topic. And we're starting with… soup!
Cool! So… Why soup? 

We'll let Managing Partner Amy Emberling explain:
"Our vision for the shop has always been to keep it simple and to keep the offerings limited to our baked goods, items related to baking, and good accompaniments to baked foods. Sometime in the late 90s, we began to sell modest pre-made sandwiches for our park neighbors. They were an appealing way to give service to our neighbors and to introduce people to breads they had never tasted. By 2001, we had a buzzing little shop and our guests wanted more variety.

We were challenged to satisfy our guests but stick to our vision. Frank (Bakehouse founder) came up with the idea of serving a couple of hot soups every day. Why? Because soup and bread are a natural pair. It made sense. We'd serve soup and give guests a piece of bread to enjoy with it. All these years later the tradition has continued!"


Cup or Bowl? The Soup cookbooklet
With soup still such an important part of our Bakeshop menu all these years later, we've built up quite the repertoire of recipes. The menu rotates seasonally, and we can always tell when the season's about to change—customers start asking for their upcoming favorites about a month ahead of time!
Now you'll be able to make those favorites at home. And instead of us asking you, Cup or bowl?, you'll get to decide for yourself. And, there's no need to miss out of the hunk of bread we tuck into your bag, we've provided suggested pairings for you. Our soup cookbooklet will contain 15 soup recipes and 4 stock recipes, with a mix of past classics (like West African Peanut and Moroccan Harira) and current standards (like Kickin' Butternut and Tomato De-Vine).
Soon enough, you'll be able to say, "Soup's On!" at home, but in the meantime, you can get cooking with this sneak preview of Kickin' Butternut from our soup cookbooklet:
Kickin' Butternut
Serves 6 to 8 as a main dish
Ingredients
Butternut squash                                             2 medium              1814 grams
Butter                                                             9 tablespoons        130 grams
Yellow onion, 1/2-inch dice                               1 ½ cups               202 grams
Celery, 1/2-inch dice                                        1 ½ cups               202 grams
Carrots, 1/2-inch dice                                       1 ½ cups               202 grams
Fine sea salt
Ground black pepper
Vegetable stock                                               5 cups                   1037 grams
Chipotle peppers in adobo sauce                       Scant ¼ cup           50 grams
Ground smoked cumin                                     1 ½ teaspoons        3 grams
Heavy cream                                                   1 ⅔ cups                389 grams
Cilantro, leaves & tender stems finely chopped   1 medium bunch     86 grams

Preheat oven to 375°F.

Cut the butternut squash in half, leaving the skin on, and scoop out the stringy interior and seeds. Discard the squash guts or save the seeds for roasting. Place squash halves on a baking sheet and roast skin-side up in the oven until fork-tender, about an hour. To minimize sticking, squash can be lightly oiled with a neutral-flavored oil or placed on parchment paper. Allow the cooked squash to cool enough to comfortably handle.

While the squash is cooling, in a large stockpot, melt the butter over medium heat, add the onion, celery, carrots, and a generous sprinkle of salt and pepper, and sauté until soft, 10 to 15 minutes.

Scoop out the squash flesh, adding it into the stockpot and discarding the skins. Add vegetable broth to the stockpot until the top of the vegetables are just covered in liquid. Any additional broth can be reserved for another use.

Bring the soup to a boil over medium-high heat, then reduce heat to medium-low and let simmer with the lid on for 10 minutes.

Remove the pot from the heat, add chipotle peppers with adobo sauce and smoked cumin, and purée the soup until smooth with an immersion blender.

Add the heavy cream and cilantro and stir to combine well. Season to taste with additional salt and pepper.

Return to the stove and warm to serving temperature.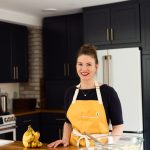 Lindsay-Jean Hard's passion for sustainability and education at the University of Michigan went on to inform and inspire her in many ways from going to extreme lengths to recycle at a post-college job to creating her cookbook, Cooking with Scraps, a labor of love inspired by her Food52 column of the same name. Today, she strives to convince everyone she meets to try eating banana peels and works to build and connect new communities as a marketer at Zingerman's Bakehouse in Ann Arbor, Michigan.