"Which of your breads are vegan?" is a common question we hear at our Bakeshop. Honestly, we're often a little stumped by it, because it's almost easier to list which breads are not vegan. Most of our breads are vegan! They usually contain just flour, water, salt, and yeast or a sourdough starter. Flavor comes from the process we use, lots of time, and the grains.

We do have a few non-vegan breads made with milk (Bakehouse White), butter (Brioche), or eggs (Challah). A few breads use honey as a sweetener (8 Grain 3 Seed, Cinnamon Raisin, State St. Wheat) and there are the more obvious non-vegan breads made with cheese (Parmesan Pepper and Chile Cheddar). But that still leaves a lot of vegan options to choose from.


Here are a few of our favorites:
Vegan Breakfast Bread

Pecan Raisin
organic wheat flour, water, pecans, raisins, whole wheat flour, sea salt

There's over a half-pound of toasted pecan pieces and big juicy red flame raisins in every loaf of our pecan raisin bread. That's more than half the total loaf! Clearly, we're not messing around when it comes to building a great loaf of bread. The raisins and pecans are nestled into our naturally leavened bread made with organic wheat flour creating a sweet and sour addictive loaf. Frank Carollo says it's a "magical combination." We bake the loaves on a stone hearth to ensure a thin crispy caramelized crust. The result of all this is intense and satisfying. That must be why it's our most popular breakfast bread and a go-to gift. The New York Times raved that it "redefines the category" of breads baked with fruit and nuts.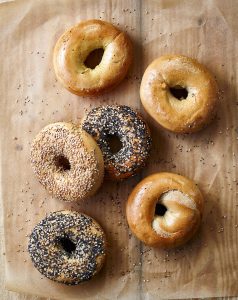 Bialys & (Most) bagels
organic wheat flour, water, organic malt extract, sea salt, sugar, yeast (plus other ingredients by type)

The demise of the old fashioned bagel was lamented left and right. Bagel traditionalists all over the country complained they couldn't get the sort of crusty, chewy bagels they used to buy in days of yore. In 2001, we put real bagels back on board. We make our bagels the old fashioned way. We start with great ingredients, give lots of time for the dough to ferment, and use traditional boiling and stone hearth baking.
Our 1610 Traditional, Sea Salt, Grand Poppy, Detroit St., Sesame Street, Roasted Garlic, Enough Already, and Flipped Out Onion bagels are all vegan, as are our Bialys.
Vegan Sandwich & Lunch Breads

Farm Bread

organic wheat flour, water, whole wheat flour, sea salt

Imagine sitting around a French farmhouse table waiting for dinner to be served–this would be the bread they'd bring out. It has a thick dark brown crust and a soft, but substantial interior. The flavor profile is of aromatic toasted wheat with a touch of sour and a bit of sweetness from the caramelized crust. To make it, we start with the star of all our naturally leavened breads: the sourdough starter. Then we add organic wheat flour, a pinch of whole wheat flour, water, and sea salt and let the dough rise in floured willow baskets for 12 hours. We bake this one darker than some other loaves to get the desired flavor.
Farm bread is Bakehouse co-founder Frank Carollo's favorite bread. And that's really saying something considering its competition. Farm bread is a bread of all trades. Your everyday toast, sandwich, or a simple slice with some good butter, are all made even infinitely better with Farm bread.
Jewish Rye

organic wheat flour, water, rye, sea salt, yeast, caraway

The bread that's been an important building block of thousands of famous sandwiches at Zingerman's Delicatessen since the Bakehouse opened in 1992. Check out their vegetarian and vegan sandwich menu.
In the "Sandwich Issue" of Saveur magazine, Jane and Michael Stern—"two aficionados of traditional Jewish rye"—embark on a quest to track down the country's tastiest loaves. "America's very best rye?" they write, "No contest. We found it in Ann Arbor, Michigan…It comes from Zingerman's Bakehouse, which makes loaves of rugged rye that are dense and springy, laced with the taste of hearth smoke."
Traditional Jewish rye bread is actually an endangered species in the United States making it even more important to us to continue crafting a great loaf. Ours is rye like our co-owner Amy's grandparents ate on the lower East side in New York City: a high percentage of rye flour, about 25% (believe it or not, most "rye bread" sold in America has hardly any rye flour), a natural rye sour starter which we feed daily and "old" a mush made from leftover rye bread and water (a step usually skipped in the modern-day). "Old" is a bit of Jewish spiritual tradition connecting yesterday with today and is a nod to the frugality of our baking forebears. We actually have to bake rye every day to serve this purpose. The irony is not lost on us.
For another layer of flavor we add ground caraway to this already complicated mix. Plus, we use an organic midwest rye (that's freshly milled at the Bakehouse) flour to feed our rye starter (20% of each loaf) each day. Every detail adds up on our path to baking a robust flavorful loaf.
This bread can handle just about any sandwich you can dream up, really. So don't be afraid to stack those fixins high and nosh on. Your sandwich will be sending you a thank you note for the upgrade.
Sicilian Sesame Semolina

semolina, water, durum, sesame seeds, sea salt, yeast
Meet the bread you didn't even know you needed in your life. Its claim to flavor fame is something to see, and taste of course. The entire loaf is rolled in unhulled sesame seeds before baking. The natural oil in all those seeds that cover the dough gets slowly roasted in the oven, contributing an intense flavor and aroma, not to mention a lovely little crunch. And that's just the crust! Inside, the crumb is firm, rich and almost cake-like. Plus, it's a beautiful shade of yellow thanks to the golden semolina flour—the same flour that's often used to make pasta.
Toast, griddle, or broil our Sicilian Sesame Semolina bread to turn the flavor dial up even higher. Then pair it with garlic butter, pesto, olive tapenade or a sprinkle of good parmesan. Our neighbor Zingerman's Coffee Company, features it on their Toast Bar menu, topping it with cream cheese and lutenitsa, a Bulgarian tomato and eggplant spread. Trust us fellow bread lover, you want to give Sicilian Sesame Semolina a whirl.
Green Olive Focaccia Slices
water, olives, organic spelt, whole wheat flour, garlic, olive oil, sea salt, organic whole rye, lemon juice, lemon zest, coriander, oregano
We make these pieces of naturally leavened (sourdough) focaccia with a rye sour starter as well as freshly milled, hard red spring wheat and freshly milled, organic spelt from neighboring states, and garnish them with fruity Castelvetrano green olives, marinated çakisdez (Turkish Cypriot) style, with cracked coriander, garlic, lemon, oregano, and plenty of California olive oil.
Vegan Dinner Breads 
Paesano

organic wheat flour, water, organic cornmeal, sea salt, yeast

This bread hails from Puglia, the heel of the boot of Italy. The name itself translates to "villager" or "countryman." It's a rustic peasant bread we make with nothing but organic wheat flour, water, sea salt, and yeast, along with an organic cornmeal-dusted crust.
This is what bakers call a high hydration bread, at 72% water. The high water content and long fermentation process results in a bread with large air pockets of varying sizes. We love them! They aren't a mistake. After a trip to our hearth oven when all that moisture and air inside has escaped, the end result is a tender, airy crumb and a thin, chewy crust. It has a sweet and buttery flavor even though there's no butter or sugar in the recipe. It's all about the fermentation process.
Paesano is perfect for passing around the table to rip and dip in olive oil, pasta sauce or soup. This bread brings people together and brings any dinner up a few flavor notches. Add this to your bread bucket list: try slices of Paesano brushed with olive oil and garlic on the grill. It's going to steal the spotlight from the rest of the meal and make you look like a culinary master.

Better Than San Francisco Sourdough

organic wheat flour, water, whole wheat flour, sea salt

This naturally leavened loaf is made with only organic wheat flour, water, sea salt and the sourdough starter we've been caring for since 1992. Time is a critical, albeit unofficial, ingredient in this bread allowing for flavor development during fermentation. From the time we feed our starter to when a caramel-colored loaf emerges from the stone hearth oven,18 hours will have elapsed.
This all American bread has a beautifully thin, blistered crust with an almost papery quality and a moist and remarkably tender crumb. This soft, almost melt in your mouth interior is the result of the high percentage of starter in the recipe which is greater than most naturally leavened breads.
We love the pleasant tang and chewy texture of our sourdough so much, we made it the star of grilled cheese Wednesdays at the Bakehouse. It's ready for anything, though. Grab a loaf and instantly upgrade tonight's dinner. Nothing left for you to do but savor the flavor.

Country Miche

water, wheat flour, rye, spelt, buckwheat, sea salt

Zingerman's Bakehouse co-founder Frank Carollo says "It's one of the best breads we've ever made." That's really saying a lot after more than a quarter-century of baking.
"Miche" is French for loaf and typically refers to the large size and round shape in the style of traditional French country bread. In this case, the loaf is a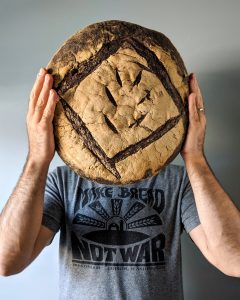 whopping 4 pounds! Bigger loaves have bigger flavor, a more moist crumb, and longer staying power. Ours is a "country" miche because it's made of a flavorful combination of whole grains including high extraction hard red spring wheat grown and milled by Bill Koucky in the Leelanau peninsula, organic spelt from neighboring states, organic buckwheat from Natural Way mills, and organic rye from Hampshire Farms—the latter three of which are all freshly milled right here at the Bakehouse.
Like most of our bread, this one is naturally-leavened, but here it has its own starter unique to our Country Miche. We feed it with high extraction hard red spring wheat flour, and then make it into a 'levain' with more of the same flour as well as some buckwheat flour. So it's got a different flavor from our white flour sourdough starter. We boldly bake the fully fermented aromatic dough speckled with the black ground hulls of buckwheat of our Country Miche to a dark caramelized crust bringing out the grains' natural sweetness and a deep, complex flavor. The whole process takes about 18 hours. We know you really can taste the difference.
Pack a big, beautiful Country Miche for your summer cottage vacation—or park it on your kitchen counter at home—and it'll last the week. Bring it to a tailgate and feed a tent full of fans. Or make it the centerpiece of a big family dinner and boldly break bread together.
Vegan Dessert Bread
Chocolate Cherry

organic wheat flour, water, chocolate, dried cherries, whole wheat flour, dark chocolate, cocoa powder, sea salt

Yes, you really can bake a chocolate-based bread. And yes, it's as good (or better) than your imagination. A chocolate lover's fantasy come true—the best Belgian and French dark chocolates and dozens of Michigan dried cherries. A few minutes in the oven and the chocolate chunks begin melting and the aroma of cocoa fills the air. It's a decadent bread with a devoted following.  


Time To Enjoy Some (Naturally-Vegan) Bread

Those are just a few of our favorite vegan breads at Zingerman's Bakehouse. To find more vegan breads like Vollkornbrot, Rustic Italian, and Roadhouse, check out our ingredient list. We invite you to visit our bakery shop to taste for yourself and find your favorites.
Or if you're far away, send yourself the 6-month bread club from Zingerman's Mail Order.
For those wanting the chance to get more up close and personal with your carb of choice, check this out. Learn to bake bread at home with Zingerman's Bakehouse, the cookbook, containing 60 recipes including several vegan breads. And for a guided approach, visit us in Ann Arbor at BAKE!, our hands-on teaching bakery where we offer more than 70 classes including naturally leavened breads, french baguettes and more.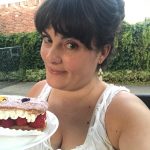 Sara grew up in metro Detroit making her own birthday cakes and dreaming of a career in baking. At age 17 her path began with the Schoolcraft College Culinary Arts program, and at 18 she got her first job in the field right here in the pastry kitchen of Zingerman's Bakehouse. That work evolved over a couple of decades to include baking, customer service, cooking, project management, copywriting, and much more. She even helped to create BAKE! and this blog! Today, Sara leads the creative team at Zingerman's Service Network, supporting the blogs, websites, copywriting, packaging, and other marketing for Zingerman's Community of Businesses. Sara remains a die-hard fan of Pecan Pie, Pavlova, Paris Brest, Patti Pockets, and other desserts that start with 'P.'