Looking for things to do while visiting Ann Arbor? There is no shortage of fun to be had, sites to see, and food to enjoy. Start with a visit to BAKE!, the hands-on teaching bakery at Zingerman's Bakehouse. Since 2006, we've hosted thousands of baking and cooking classes for avid home bakers and for novices looking for an introduction to the craft.
The BAKE! Experience
At BAKE! you'll learn valuable techniques like fashioning a flaky pie crust, working with yeasted doughs, decorating cakes or creating a sourdough starter at home. We'll share some of Zingerman's most famous recipes with you, including Sour Cream Coffee Cake, Jewish Rye Bread, Magic Brownies, Ginger Scones, and much more. Not to mention we'll do all the pesky measuring and clean up so you can just learn, enjoy, and taste your work!
For the ultimate baking experience, check out our BAKE!-cations®. They're action-packed baking weekends worth planning a trip to Ann Arbor around. Bake by day and enjoy Ann Arbor by night. On your baking vacation, you can choose to immerse yourself in the world of bread baking, both sweet and savory pies, a spectrum of cakes, or other menus. You'll need an extra suitcase to cart home your creations. 
BAKE! is located in Ann Arbor, Michigan at Zingerman's Southside, near the intersection of State Street and Ellsworth Roads. You'll find us at 3723 Plaza Drive, which is just off of Airport Boulevard, across from Costco. Our entrance has a red sign that says "BAKE!," in between the entrances to Zingerman's Bakehouse and Zingerman's Creamery. There is ample free parking right in front of our building. Get a detailed map & directions here. 
Zingerman's Southside Businesses
While you're here at BAKE!, be sure to visit our Zingerman's Southside neighbors who offer even more artisan food and unique learning experiences, just steps away from our door!
Zingerman's Bakehouse is the home of BAKE!, as well as a retail and wholesale bakery featuring fresh-baked artisan breads and pastries (some made with in-house freshly milled whole grains), custom cakes, and a bakery shop that also serves breakfast and lunch.
Zingerman's Coffee Company is our local coffee roaster that sources beans from around the world and creates relationships directly with coffee farmers. Visit the café and toast bar and don't miss their unique hand brew methods: Pour Over, Clever, Chemex, Aeropress, French Press, and Syphon. Each one is like a cool science experiment—that you can drink! These caffeinated experts also host coffee cupping classes and events to meet coffee growers.
At Zingerman's Candy Manufactory you can live out your kid-in-a-candy-store fantasy. This retail and wholesale candy maker creates old-fashioned American sweets by hand, including fresh candy bars, marshmallows, and nut brittles. The candy shop also offers a collection of some of the best candy, chocolate and sweet gifts from all around the world. 
Zingerman's Creamery holds a variety of cheese tastings, pairings, and
cheese making classes. Their Cream Top shop sells hand-crafted award-winning cow's milk and goat's milk cheeses, fresh gelato and sorbet, Michigan wine and beer, elegant cheese platters and grilled sandwiches.
For more than 25 years, ZingTrain has shared Zingerman's approach to business, training, service, open-book finance, and staff management through seminars, online learning, and customized workshops. The seminars include plenty of Zingerman's food, of course! 
Other Iconic Ann Arbor places to visit

Don't miss the University of Michigan campus and attractions including the Museum of Natural History, Museum of Art, and football stadium. Downtown Ann Arbor is very walkable and offers dozens of shops, restaurants, and must-see spots. Don't miss the restored State Theater, historic Nickels Arcade shops, and children's Hands-On Museum. Browse your way through the Kerrytown Shops and Ann Arbor Farmers Market. Both are adjacent to the legendary Zingerman's Delicatessen and the newest Zingerman's eatery, Miss Kim. It all sounds like a good start to us! And, of course, don't miss
the rest of the Zingerman's Community of Businesses.

There a number of hotels in southeast Ann Arbor that are less than a mile from BAKE!, including Sheraton, The Kensington Hotel, and Hilton Garden Inn. If you prefer to stay in downtown Ann Arbor, check out The Graduate hotel, which is four miles away. Weber's Inn, is seven miles from BAKE!, but it's an Ann Arbor landmark and very close to Zingerman's Roadhouse. To receive the Zingerman's rate at Weber's Inn call (734) 769-2500. 
Destination Ann Arbor is a great resource for finding additional things to in Ann Arbor, a calendar of local events, hotel accommodations, and more. We hope you enjoy planning your trip to Ann Arbor. You might want to stay a couple of extra days to enjoy all it has to offer!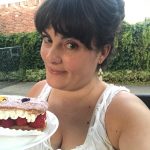 Sara grew up in metro Detroit making her own birthday cakes and dreaming of a career in baking. At age 17 her path began with the Schoolcraft College Culinary Arts program, and at 18 she got her first job in the field right here in the pastry kitchen of Zingerman's Bakehouse. That work evolved over a couple of decades to include baking, customer service, cooking, project management, copywriting, and much more. She even helped to create BAKE! and this blog! Today, Sara leads the creative team at Zingerman's Service Network, supporting the blogs, websites, copywriting, packaging, and other marketing for Zingerman's Community of Businesses. Sara remains a die-hard fan of Pecan Pie, Pavlova, Paris Brest, Patti Pockets, and other desserts that start with 'P.'