Baking bread at home is somewhat of a lost art. We understand. It seems like it can be a lot of work and if you haven't done it before, a little mysterious. At Zingerman's Bakehouse, we're thrilled to be your neighborhood baker and spend our days turning out loaves for our community to enjoy. It's our job, and we love it! But, if you want to bake bread yourself, we've got you covered there, too.

Whether you're looking to try something new in your home oven or teach your kids some basic life skills in the kitchen, our Bakehouse White Bread is a good place to start for those new to bread making. It is a yeasted dough, but does not require the same time commitment or involved process as our sourdough-based bread recipes. This bread recipe can be completed in three to four hours in all. And when it's finished, you'll be beaming with pride and rewarded with warm golden loaves emerging from your oven.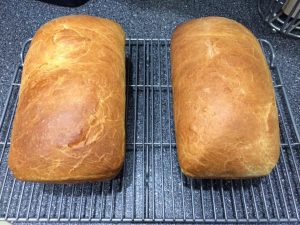 Bake Bread at Home
Zingerman's Bakehouse White is our version of the classic crowd-pleasing American white bread, but with more flavor than other white breads you may have had. It's made with a little butter and milk to make for a soft crumb and tender crust. 
Take pleasure in this incredibly versatile bread. It's great with butter, toasted or not. Grilled cheese, club sandwiches, French toast, and garlic bread are all made the better for it. We can't wait for you to gather around the table and try it! Give our recipe a try, so you can bake bread and break bread at home.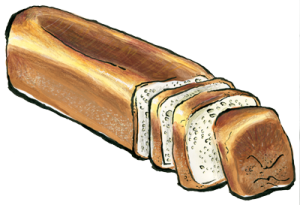 Bakehouse White Bread recipe 
Yield: 2 loaves
Ingredients                           volume                  pounds                grams
Milk (whole, room temp)          1 1⁄2 cups              0.75 lb.                341 g.
Granulated sugar                    1⁄4 cup + 1 tsp.      0.12 lb.                55 g.
Eggs (XL, room temp)             2 each                    2 each                  2 each
Instant yeast*                        1 tbsp.                   1 tbsp.                  1 tbsp.
Butter (room temp)                1⁄2 cup + 2 tbsp.     0.31 lb.                141 g.
All-purpose flour                     5 cups + 1⁄2 tbsp.   1.55 lb.                704 g.
Sea salt                                 1 tbsp.                    1 tbsp.                 1 tbsp.

For conventional ovens, preheat the oven to 375°F 20 minutes prior to baking.
For convection ovens, preheat the oven to 350°F 20 minutes prior to baking.
Instructions:
In a large bowl, combine the milk, granulated sugar, eggs, and instant yeast. Mix

thoroughly with a wooden spoon. You can also use a stand mixer.

Add the butter and half of the flour and beat with a spoon or using the paddle attachment of the mixer, until the mixture becomes well incorporated and smooth. Some lumps of butter are okay.

Add the salt and the remaining flour. Stir/mix until well combined.

Scrape all the leftover flour out of your mixing bowl onto a work

surface and knead the dough for 6-8 minutes. If using a mixer, use the hook attachment and knead for 6 minutes. The dough will be wet and sticky during the kneading process but will strengthen and become smooth.

Place the dough in an oiled bowl, cover with plastic and ferment for 1 hour.

After 1 hour, lightly flour a work surface. Turn the dough out of the container

onto the floured surface. Cut the dough into 2 equal-sized pieces.

Shape each piece into a round (pre-shape). Allow the dough to rest on a lightly floured surface covered with plastic for 10 minutes.

To shape the dough, lightly press each piece into a rectangle with even thickness.

Starting at the top edge, start folding the dough onto itself pressing the seam as you go. Continue until you get to the bottom edge making sure to close the seam tightly.

Prepare two 9"x5"x4" loaf pans with nonstick cooking spray. Place the loaves

seam side down in the pans, and press the dough so that it fills the pans completely and evenly from end to end.

Cover dough with plastic and proof at room temperature for 1 to 1 1⁄2 hours.

Once the loaves have risen to 1 1⁄2 times their original size, bake for 30 minutes,

until the loaves are nicely browned and the internal temperature is 190° F.

Turn the loaves out of the pan immediately and allow them to cool to room

temperature on a wire rack.

Store room temperature loaves in a paper bag, or freeze.
*If you'd rather use active dry yeast, the ratio of active dry to instant is 1.5 to 1.
So, in this case, you could substitute 1.5 tablespoons of active dry yeast.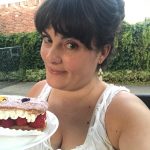 Sara grew up in metro Detroit making her own birthday cakes and dreaming of a career in baking. At age 17 her path began with the Schoolcraft College Culinary Arts program, and at 18 she got her first job in the field right here in the pastry kitchen of Zingerman's Bakehouse. That work evolved over a couple of decades to include baking, customer service, cooking, project management, copywriting, and much more. She even helped to create BAKE! and this blog! Today, Sara leads the creative team at Zingerman's Service Network, supporting the blogs, websites, copywriting, packaging, and other marketing for Zingerman's Community of Businesses. Sara remains a die-hard fan of Pecan Pie, Pavlova, Paris Brest, Patti Pockets, and other desserts that start with 'P.'