At the Bakehouse, edible centerpieces are always our first pick. (What can we say, we love to eat!) The Celebration Wreath's decorative design lends itself to easy tearing and sharing; it really invites you and your family to break bread together—and makes a photo-worthy addition to your holiday table, too.
Of course, its beauty is more than crust deep. This bread is a flavor powerhouse, made with two whole-grain, freshly milled wheats—True North and Warthog (not to worry, no warthogs were harmed in the baking of this bread!). True North is a hard red spring wheat that's grown in Michigan's Leelanau peninsula—that makes up 30% of the flour used. The other 70% is Warthog, an organic, hard red winter wheat that's grown in Ashkum, Illinois at The Mill at Janie's Farm. We're freshly milling them both here at the Bakehouse on our new stone mill, in order to produce true whole-grain flours that preserve the integrity of the grains. Our stone mill slowly grinds the wheat berries into a flour containing all of the wheat bran and the germ together with the endosperm—allowing us to tap into the full flavor and nutrition potential of the grains.
Our Celebration Wreaths start by mixing a bit of the freshly milled Warthog flour with boiling water (this is called a "scald") to let the enzymes naturally present in the flour bring out the sweetness of the grain. Once cooled, we combine the scald with the freshly milled flours, our magical, naturally leavened bread starter, water, and sea salt for a long and cold overnight fermentation. The next day, we divide the fermented dough, shape it into baguettes, cover them in unhulled sesame seeds, and give them time to rise (or "proof"). Next, we carefully round and hand-snip the loaves to create the wreaths, and send them off to bake in our hot ovens. All that time and care adds up to a very special bread; a bread that reveals the sweet, toasted wheat flavors of the freshly milled grains in its moist and ever-so-slightly sour crumb, which is complemented by the crunch and nuttiness of the toasted-sesame-seed-covered crust. Enjoy it at room temperature or slightly warm it up in your oven to bring it to its full potential. It is definitely worthy of being the centerpiece of those memorable holiday meals this season.
Celebration Wreaths are a Zingerman's exclusive, meaning they'll only be available here at the Bakehouse, the Deli, and the Roadhouse.
Bake dates are very limited!
3 days leading up to Thanksgiving: 11/19-11/21
3 days leading up to Christmas: 12/21- 12/24
And every Fri-Sun the rest of this year: 11/23-11/25, 11/30-12/2, 12/7-12/9, 12/14-12/16, 12/28-1/1
Call us to reserve yours! 734-761-2095
By Sara Whipple, Marketing Manager
Bakehouse Grain Commission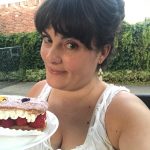 Sara grew up in metro Detroit making her own birthday cakes and dreaming of a career in baking. At age 17 her path began with the Schoolcraft College Culinary Arts program, and at 18 she got her first job in the field right here in the pastry kitchen of Zingerman's Bakehouse. That work evolved over a couple of decades to include baking, customer service, cooking, project management, copywriting, and much more. She even helped to create BAKE! and this blog! Today, Sara leads the creative team at Zingerman's Service Network, supporting the blogs, websites, copywriting, packaging, and other marketing for Zingerman's Community of Businesses. Sara remains a die-hard fan of Pecan Pie, Pavlova, Paris Brest, Patti Pockets, and other desserts that start with 'P.'