Here's a tale of how three foods we now know and love came to be. Not just as a part of the fabric of the American south, but later as a part of the food landscape of the land of 1,000 flavors, Zingerman's Community of Businesses. Let's go back fourteen years to the opening of Zingerman's Roadhouse. Their vision was to create a full-service restaurant serving "really great American food" to hungry Ann Arborites and visitors. That is still their focus today and they're known around these parts and around the country for their pit-smoked barbecue, grits, macaroni and cheese, fried chicken, corn dogs, and other down-home fare. In fact, their macaroni and cheese was named the Best Comfort Food in America by Alton Brown's Food Network show America's Best and Bon Appetit named them one of the "Top 10 New Barbecue Restaurants."

Now back to the start. As they prepared to open and developed their debut menu, they came to us at the Bakehouse looking for traditional American breads, pies and cakes to add to the line up. Nothing we were making exactly fit the bill and we were excited to develop a few new signature items for our new partners in food, so we hit the books and hit the kitchen. Among the original round of extensive recipe testing and tasting (yes, that's as fun as you imagine) were Roadhouse Bread, Chocolate Chess Pie and Hummingbird Cake. The remarkable thing to us is that these three favorites stood the test of time and have been added to the list of things Zingerman's Bakehouse and Roadhouse are known for. They're so special, all three made it into the Zingerman's Bakehouse cookbook!
Roadhouse Bread- Like No Other
While this bread was common in early American cookbooks, called Thirded bread or Injun' bread, it's not something you see in bakeries today. And that's where we come in. We love reviving old food traditions. Our Roadhouse bread based on those early American recipes, is made with wheat, corn, rye and a bit of molasses. The ratio of wheat we're using is probably higher than the typical farmer would have afforded; but anyone from an 18th Century New Englander to Laura Ingalls Wilder, who wrote about it in the Little House on the Prairie, would recognize and enjoy it today.
It's got a really great dark crust and soft chewy center that has a slight sweetness from the dark molasses. You can find a couple warm toasty slices in your bread basket at Zingerman's Roadhouse today. Just spread on a little butter and set sail for bread heaven. It's worth noting this is Zingerman's co-founder Ari Weinzweig's official favorite bread, and that's saying something considering he is never without loaf of bread in his shoulder bag. He practically lives on bread. But he's not alone in the Roadhouse bread fan club.


Chocolate Chess Pie- Say What?
Chess pie is another American food staple, this time a Southern tradition, that most of us weren't familiar with. It first came from England to our New England region. There are many varieties of this baked custard pie including buttermilk, vinegar, lemon and chocolate. We're often first asked what the name "chess" refers to. Not surprising there is a lot of folklore about the name that has been passed down. It probably doesn't have anything to do with the strategy board game. Some would say it was stored in a pie chest and evolved into chess pie. One tale says suggests that "just pie" pronounced with a sweet accent sounded like "chess."
Our chocolate chess pie is a creamy, firm chocolate custard in an all-butter crust. For us, it all starts with a very special dark chocolate from Mindo chocolate makers in Dexter, MI. Whatever the name, it's a velvety smooth, rich and chocolatey experience you've gotta try. We also sometimes make lemon chess pie, too.
Hummingbird Cake- More Fruit Than Flour
A cake sweet enough to attract hummingbirds? This is another beloved southern food with a adorable name, that's just plain delicious: hummingbird cake. In Jamaica, where hummingbird cake originated, it was commonly referred to as the Doctor Bird cake. Doctor Bird is a nickname for Jamaica's national feathered friend, the Red-billed Streamertail, a member of the hummingbird family.
So how to did it migrate to the US? In 1968, Air Jamaica was established and began offering flights from Miami and New York to Kingston and Montego Bay. The icon on the tail of these planes was none other than Jamaica's national bird, a hummingbird. Jamaica's tourist board put together some promotional kits to send to the U.S. to increase interest in travel to the country. The kits included recipes of some local cuisine; among which was the Doctor Bird cake.
It gained popularity in the American south. There are numerous references to the cake in county fair reports and baking competitions throughout the 1970's, although not always under the same name. The first printed recipe of the cake appeared in Southern Living magazine in February 1978. The Hummingbird Cake has since become the most requested recipe in Southern Living's history.
Here at Zingerman's Bakehouse, we like our Hummingbird cake with some coconut in the batter, a hefty dose of ripened bananas and pineapple, a handful of toasted pecans, a generous amount of cream cheese frosting and a tasty and beautiful finish of toasted coconut. It's another generous recipe, with more fruit than flour in the cake. Since joining our cake line up at the Bakehouse in 2003, Hummingbird has become quite a fan favorite, earning a spot in the year round lineup. It's one of our most requested cake flavors for weddings too, spreading its sweet flavor to thousands over the years.
It all comes together
Now here we are in November 2017. This year we celebrate the really great food and relationships that have helped make up the Zingerman's Community for the last 35 years. This month we also honor the American food traditions being served everyday at Zingerman's Roadhouse for more than a decade. Here at Zingerman's Bakehouse we're so thankful to bake for all our Zingerman's partners and our local community each day. Without your appetite for great food we couldn't keep these old recipes alive. Thanks for being a part of these stories we share. Now let's eat!
-Written by Sara Whipple, Zingerman's Bakehouse
—–
-Get the recipes in the Zingerman's Bakehouse cookbook
-Read more stories about the food at Zingerman's Roadhouse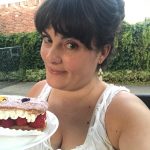 Sara grew up in metro Detroit making her own birthday cakes and dreaming of a career in baking. At age 17 her path began with the Schoolcraft College Culinary Arts program, and at 18 she got her first job in the field right here in the pastry kitchen of Zingerman's Bakehouse. That work evolved over a couple of decades to include baking, customer service, cooking, project management, copywriting, and much more. She even helped to create BAKE! and this blog! Today, Sara leads the creative team at Zingerman's Service Network, supporting the blogs, websites, copywriting, packaging, and other marketing for Zingerman's Community of Businesses. Sara remains a die-hard fan of Pecan Pie, Pavlova, Paris Brest, Patti Pockets, and other desserts that start with 'P.'