Since 2006, we have hosted thousands of home bakers in our baking classes, helping them get started on the path to success in their home kitchen, regardless of skill level or previous experience.
Our mission at BAKE!, the teaching bakery at Zingerman's Bakehouse in Ann Arbor, Michigan, has always been to spark a love of baking and keep that tradition alive in our community. We go about it with care, offering one-on-one instruction in a casual and intimate learning environment led by our expert instructors. We're confident we can teach anyone to bake!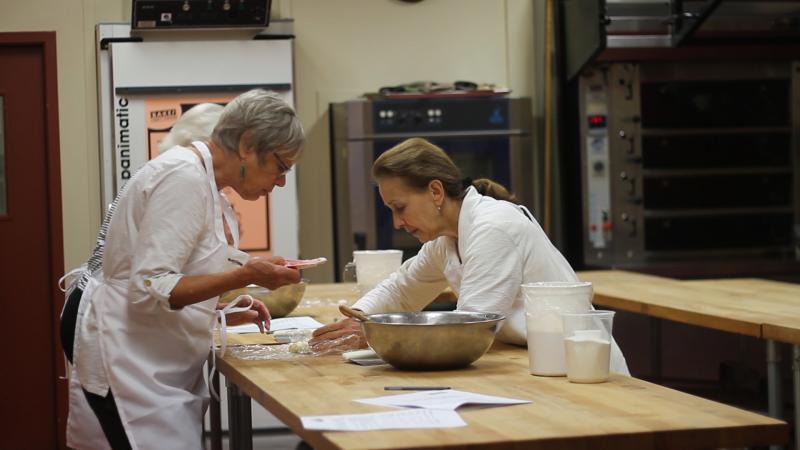 Ready to get baking?
Our original class lineup is still where it's at. These classes have been around since we first opened BAKE!, and they're the place to learn the necessary building blocks for baking from scratch. They include recipes and techniques that will give you the foundation you need to start having fun in the kitchen and successfully whipping up delicious breads and treats. You'll be impressed with what you can do!
Most Popular Baking Classes
Whether you are new to our baking school or have been around the block a few times, we highly recommend these classes. They teach the fundamentals of baking and some of our favorite recipes. A great refresher for some of our more seasoned bakers or a solid way to jump-start your home baking for newer BAKE! students, these classes cannot be missed.
Remember when you were little and the gym teacher pulled out a compact plastic bundle and magically unfurled it into a huge parachute that the whole class could fit under? Well, you'll have that experience all over again when we take a grapefruit-sized piece of strudel dough and stretch it out to cover a 24 sq. ft. table. Then we'll make sweet and savory fillings to finish it off. This is just about the most fun you can have making food, and there's nothing like enjoying warm, flaky strudel fresh from the oven.
Learn how to make a perfect pie crust the Zingerman's way—creating a flaky crust with butter, and another crust using lard and butter (no shortening allowed!). We'll teach you how to make the dough by hand, successfully roll it out, par-bake the crust, and crimp the edges to make your pies look beautiful. You'll make a double-crust fruit pie and a single-crust baked custard pie. Roll up your sleeves and join in the fun. These are recipes and skills you'll use again and again.
One of our best bread classes for new bakers! We teach you to make the traditional French baguette recipe, starting with a flavorful poolish, hand rolling your dough, proofing and baking them just right, and ending up with a crisp crust surrounding a soft, airy interior. Imagine serving your guests and bringing out a perfect baguette that they swear must have been airlifted from Paris—but you made it yourself!
Learning to make a really good scone will have you ready to host high tea. In this class, we share the secrets to flaky and tender scones and biscuits, such as how to properly cut butter into flour. These are downright simple to make and will surely become a recipe staple at home!
You know that enticing cinnamon-sugar smell you notice every time you walk past the mall food court? After taking this class, you'll be able to recreate that sumptuous scent in your very own home (and the results will taste a whole lot better). Learn the basic techniques of creating a yeasted sweet dough, including mixing, kneading and rolling, hand-shaping, and properly proofing the dough before baking. We'll also demonstrate how to make pecan sticky buns, a staff favorite. Wait until you taste these warm from the oven in class!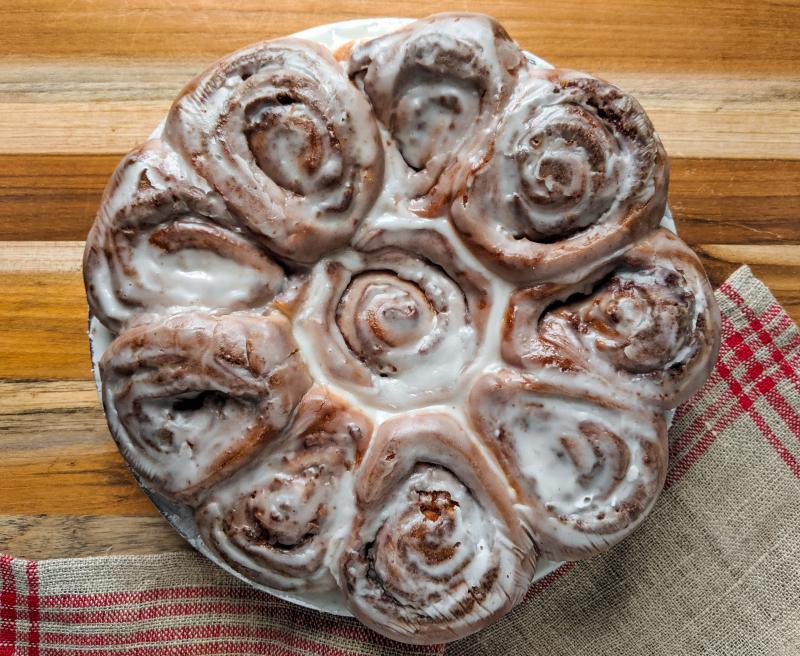 Few foods are more magical than a buttery, flaky, beautifully layered croissant. There are some tricks to baking them perfectly, but it's mostly about taking the time to do it right. You'll learn the techniques of creating traditional folded and butter laminated dough, then turn it into plain, almond and chocolate filled croissants! You'll reach for this recipe at home again and again.
Take an Italian bread-baking tour and return home with loads of Paesano, Rustic Italian, Focaccia, and Sesame Semolina breads. What's more, you'll learn the skills to make them any time you want to satisfy the craving for warm, fresh bread at home. You'll get plenty of hands-on practice at working with yeasted doughs, including kneading, shaping, and proofing too. While your loaves are rising, we'll sneak over to Zingerman's Bakehouse to see the professionals at work.
Learn to make three cakes, each requiring a different mixing technique: rich, yellow Buttermilk Cake (which we'll use to make pineapple upside-down cake); fluffy, white angel food cake; and dark, intense flourless chocolate truffle cake. We'll talk about choosing great ingredients and helpful tips for proper cake baking, plus you'll get hands-on practice properly mixing your cake batters. These cakes will outshine the box mix versions any day. Add them to your baking bag of tricks!
There you have it! Our most popular classes that will get you well on your way to better baking. We hope to see you in an apron soon!
By Sara Hudson, Marketing Coordinator for the Zingerman's Community of Businesses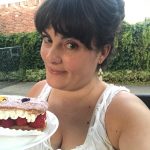 Sara grew up in metro Detroit making her own birthday cakes and dreaming of a career in baking. At age 17 her path began with the Schoolcraft College Culinary Arts program, and at 18 she got her first job in the field right here in the pastry kitchen of Zingerman's Bakehouse. That work evolved over a couple of decades to include baking, customer service, cooking, project management, copywriting, and much more. She even helped to create BAKE! and this blog! Today, Sara leads the creative team at Zingerman's Service Network, supporting the blogs, websites, copywriting, packaging, and other marketing for Zingerman's Community of Businesses. Sara remains a die-hard fan of Pecan Pie, Pavlova, Paris Brest, Patti Pockets, and other desserts that start with 'P.'