Early in my career at the Bakehouse, I worked in our retail shop. One of my fondest memories is the aroma of Sicilian Sesame Semolina bread when it emerged from the oven around noon and rolled into the shop, still warm. To me, and my younger, less articulate, burgeoning foodie self, it smelled like pancakes. And that was a very good thing. It was amazingly intoxicating. I would jump at the chance to slice one up to sample to guests. I'd pass it through the slicer and inhale that sweet smell. I was in love. I'd offer some up to every customer, probably with a dab of American Spoon Sour Cherry Spoon Fruit, knowing they'd love it as much as I did.
I adore the aromas of the bakery as much as I do the flavors. I always joked that I would someday have my own line of Zingerman's scented candles. Buttermilk cake, pecan pie, and Sicilian Sesame Semolina bread topped my list of the scents that would be part of the debut collection. That Zingerman's business is still just an idea in my memory, and probably better off that way.
Sesame Semolina is not just for smelling, though—it's for eating, too! So let's get to the story behind this bread. Its claim to flavor fame is truly something to see (and taste, of course). The entire loaf is rolled in unhulled sesame seeds before baking. The natural oil in all those seeds gets slowly roasted in the oven, contributing an intense flavor and aroma, not to mention a lovely little crunch. And that's just the crust! Inside there's a firm, rich and almost cake-like crumb made with golden semolina flour, yielding a beautiful yellow interior. Durum flour — the same flour often used to make pasta — is a creamy, silky, fine golden flour created from durum wheat, which is different from the hard wheat that's used for almost all bread making. Just that difference alone is what sets this bread apart. It's such an enjoyable bite.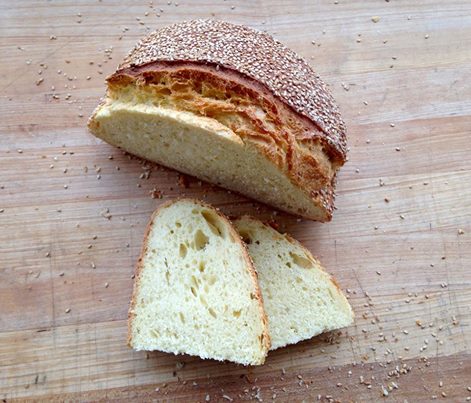 Meet the bread you didn't even know you needed in your life. Our Sicilian Sesame Semolina bread begs to be toasted, griddled or broiled to turn the flavor up even higher. It has a great nutty flavor but plays well with others. Pair it with garlic butter, pesto, olive tapenade, or a sprinkle of good Parmesan. Trust me, fellow bread lover. You want to give Sicilian Sesame Semolina a whirl.
Sara's picks for enjoying Zingerman's Bakehouse Sicilian Sesame Semolina bread
Serve some warm slices for dipping in tomato basil soup

Toast and spread with butter and orange marmalade

Grab a slice of Sausage Strata, Thursdays only at the Bakehouse

Try the Bulgarian toast from Zingerman's Coffee Company, served with Zingerman's Creamery cream cheese and Lutenitsa, a Bulgarian tomato and eggplant spread

Pick up a Roasted Turkey sandwich with cucumber and house-made ranch at the Bakehouse (I'd add Zingerman's grey salt chips)

Order the #77 (Jimmy Wants Rosemary's Baby) at Zingerman's Delicatessen. It's a stellar sandwich stacked with rosemary ham, Zingerman's handmade fresh mozzarella, tomato, olive oil, and red wine vinegar (+ a new pickle for me!)

Dive into the bread basket with marinated olives and herb butter at Zola Bistro (then order the grilled asparagus and crispy prosciutto salad if you can)

Enjoy some warm slices served up in a cute little paper bag with spreads like sheep's milk ricotta and hot honey at San Morello restaurant at the Shinola hotel in Detroit (I'm a sucker for both the presentation and my favorite bread)

Take your love for this loaf all-the-way and bake it at home: get the recipe from our cookbook or our Italian bread baking class at BAKE!
By Sara Hudson, Marketing Coordinator for Zingerman's Community of Businesses
(former Marketing Manager for Zingerman's Bakehouse)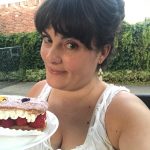 Sara grew up in metro Detroit making her own birthday cakes and dreaming of a career in baking. At age 17 her path began with the Schoolcraft College Culinary Arts program, and at 18 she got her first job in the field right here in the pastry kitchen of Zingerman's Bakehouse. That work evolved over a couple of decades to include baking, customer service, cooking, project management, copywriting, and much more. She even helped to create BAKE! and this blog! Today, Sara leads the creative team at Zingerman's Service Network, supporting the blogs, websites, copywriting, packaging, and other marketing for Zingerman's Community of Businesses. Sara remains a die-hard fan of Pecan Pie, Pavlova, Paris Brest, Patti Pockets, and other desserts that start with 'P.'