Stollen, a quintessential German Christmas bread has been a highlight of the holidays at Zingerman's Bakehouse for more than two decades. And no wonder. We make ours with a symphony of great ingredients: sweet butter, Bacardi® White Rum, candied orange and lemon peel, lemon zest, fresh orange juice, Michigan dried cherries, citron, currants, toasted almonds, golden and Red Flame raisins, organic wheat flour, Indonesian cinnamon, lots of real vanilla, and more. We brush each precious loaf with rum butter—not once, but three times—and finish it with lavish dustings of cinnamon sugar, followed by snowy-white powdered sugar. The colors and flavors are very festive and all the butter and sugar allow the bread to keep for weeks throughout the holiday season. Just the thing to slice and serve with a pot of tea or glass of champagne, best enjoyed by a crackling fire with the ones you love.
​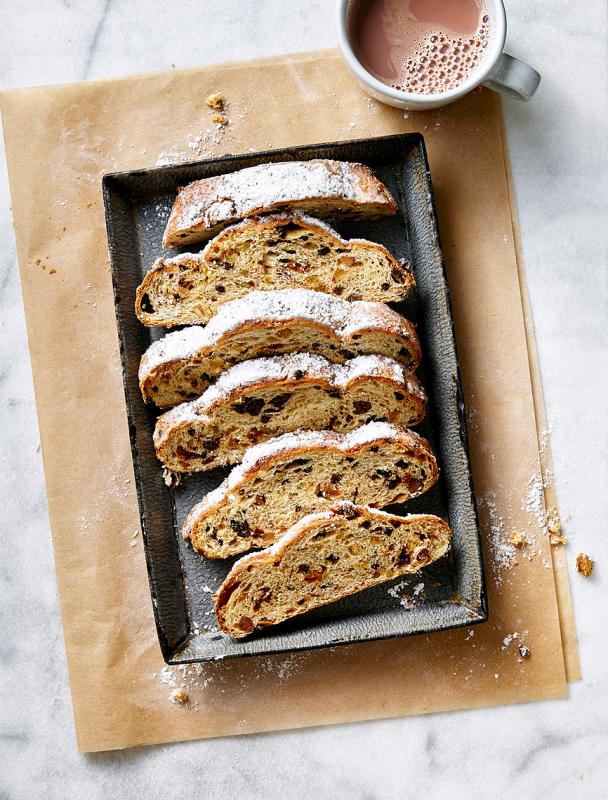 Photo credit: Antonis Achilleos
Now for some history
Stollen has been a German Christmas tradition since the early 14th century. The name is derived from an Old High German word, stollo, meaning a support or post, and its characteristic shape—oblong, tapered at each end with a ridge down the center—is believed to represent the Christ Child in swaddling clothes, hence the name Christstollen sometimes given to it.
Culinary historians trace the first iteration of stollen—created as a Catholic offering during the liturgical season of Advent leading up to Christmans—to 1329, in the German city of Naumburgh an der Saale (near modern-day Leipzig) in Saxony (Central Germany). Composed solely of oats, water, flour, and oil, medieval stollen was hard and rather tasteless, a far cry from the rich, buttery, fruit-filled, sweet confection we know and love today. The meager recipe, devoid of milk and butter, was in keeping with Catholic Germany's then strict observance of fasting during Advent, when animal food stuffs, such as meat, butter, and dairy, were, by papal decree, forbidden to be used or consumed in any fashion.
It wasn't until the 15th century that stollen began to shed the culinary shackles imposed on it by Catholic doctrine. Around 1450, in their desire for a more flavorful and indulgent offering with which to ring in the Christmas season, two Saxon nobles based in Dresden, Prince Ernest, Elector of Saxony (1441-1486) and his brother Albrecht III, Duke of Saxony (1443-1500), wrote to the Catholic Pope in Rome, Nicolas V (1397-1455), imploring the Pontiff to rescind the so-called "butter-ban" then in effect during Advent.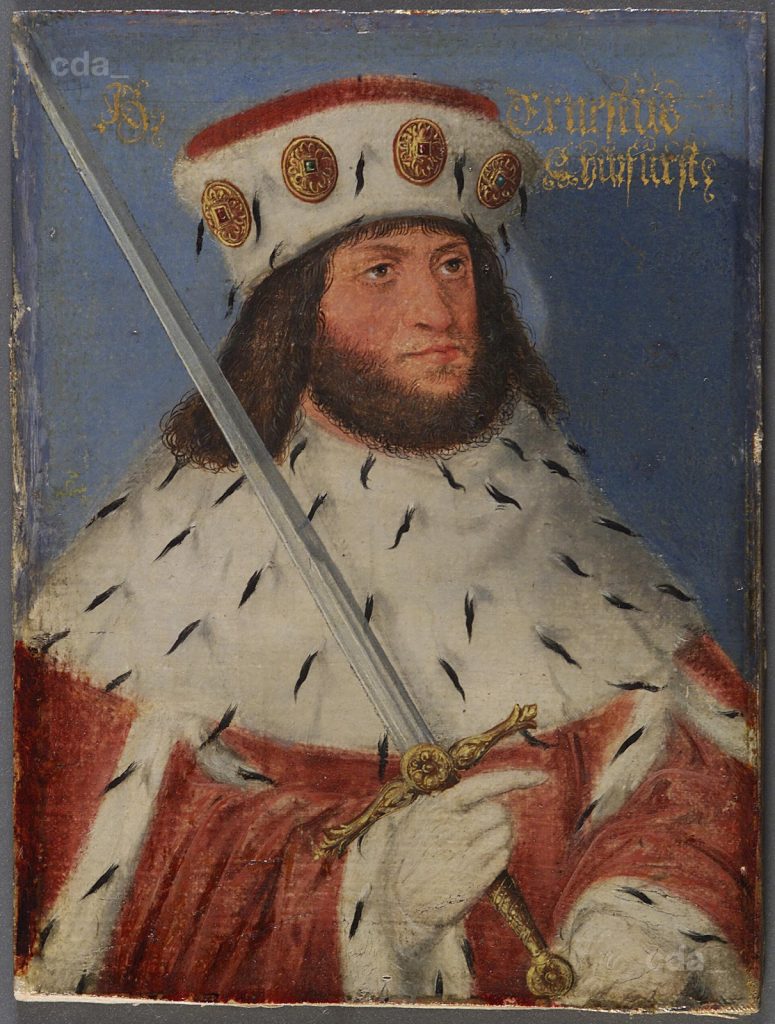 Posthumous Portrait of Prince Ernest, Elector of Saxony (1441-1486), ca. 1580.
By Lucas Cranach the Younger (German, 1515-1586). 
The brothers claimed that their Dresden bakers needed to use butter in their stollen, as oil in the Saxon region was expensive, hard to come by, and had to be made from turnips. Pope Nicolas denied their appeal, as did the next four succeeding Pontiffs. In 1490, after forty years of persistent Saxon entreaties, the Catholic Church finally acquiesced, prompting Pope Innocent VIII to send a letter to Prince Ernest's son and successor, Prince Frederick III, Elector of Saxony (1463-1525). Known as the "Butterbrief" or "Butter-Letter," the papal decree granted that butter and milk could indeed be used in baking the Christmas stollen and could be done with a "clear conscience and with God's blessing," after making the "appropriate penance." The catch, or "penance," entailed paying an annual fee of 1/20th of a gold Gulden to support the building of the Freiberg Minster (in southern Germany)—a sort of revenue-generating 'butter indulgence' for the Catholic Church. The butter decree, along with its obligatory fee, was officially revoked in 1527 when, in the midst of the Protestant Reformation sweeping Europe, the Electorate of Saxony renounced Catholicism and became Protestant, making the region no longer subject to papal authority.
The Stollen Tradition in Dresden, Germany
While stollen can be found all over Germany, especially around Christmas time, it has long been closely tied to the city of Dresden. It's named in official city documents as early as 1474, in the accounts of the Christian Hospital of St. Bartholomew, where it is referred to as a cake for the fasting period of Advent, consisting of only flour, oats, and water, as then required by Catholic doctrine. Yet with the lifting of the papal butter ban, in 1490, thanks to the persistent efforts of Prince Ernest and his brother Duke Albrecht, stollen in Dresden was now free to evolve, becoming a celebratory bread fit for royalty. In addition to butter, Dresden bakers started adding more expensive and indulgent ingredients, among them sugar, exotic spices like cardamom, cinnamon, and clove, and candied fruits, nuts, citrus peels, and marzipan. With those additions, the stollen we know and love today was essentially born. And while bakers have their own take on stollen, each with their own secret blend of spices and mix of candied fruits, the recipe for the rich, fruit-ladened bread/cake has changed very little over the past 500 years.
Indeed, by the sixteenth century, stollen was at the heart of Dresden's holiday baking tradition, taking a star turn at the city's annual Striezelmarkt, the oldest existing German Christmas market. Beginning in 1560, the city's master bakers and their journeymen ushered in a new Christmas tradition—baking one or two festive stollen for the Saxon sovereign at the royal court in Dresden. In its inaugural year, the ceremonial Christmas stollen baked for the Elector of Saxony weighed in at 36 pounds and was carried through the city to Dresden castle, the royal residence, by eight master bakers and their journeymen.
This annual Dresden tradition continued until the eighteenth century, when the Elector of Saxony, Augustus II the Strong (also King of Poland and Grand Duke of Lithuania) (1670-1733), probably Saxony's most famous elector, instituted yet another stollen custom that has persisted throughout the centuries up to the present day.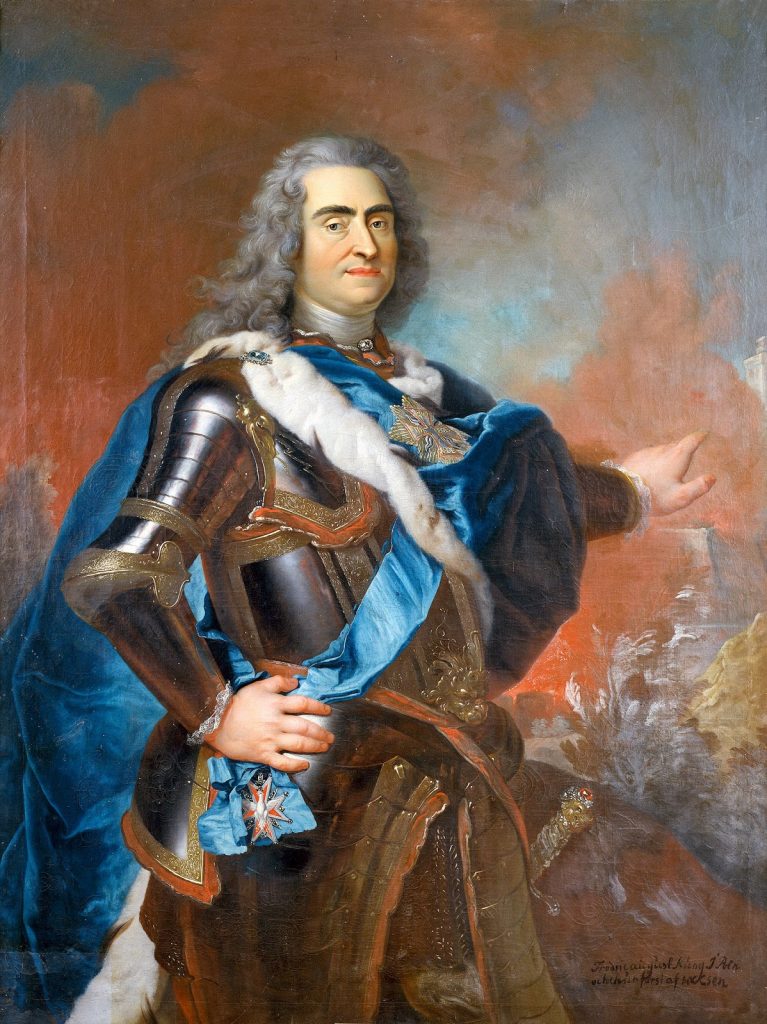 Portrait of Augustus II, The Strong, Elector of Saxony, King of Poland, and Grand Duke of Lithuania, ca. 1720. By Louis de Silvestre (French, 1675-1760), court painter to Augustus II and director of the Royal Academy of Arts in Dresden.
In the spring of 1730, to show off the strength of his military forces at the end of the Great Northern War (1700-1721), Augustus invited the important nobility and military figures from all over Europe to a military display and festival known as Zeithainer Lustlager. The highlight of the celebration was a giant stollen, which Augustus, who was also a self-confessed stollen enthusiast, commissioned from one of Dresden's master bakers, Johann Andreas Zacharias and 60 journeymen bakers. Working for nearly a week, Zacharias with his baking crew combined 3,600 eggs, 326 churns of milk, and 20 hundredweight of flour to produce an enormous stollen weighing just shy of two tons! To bake the goliath, Augustus had his court architect, Matthäus Daniel Pöppelmann, design a huge oven for baking and then had his carpenter craft a special stollen knife, around five feet in length, for slicing and serving. Once completed, the giant stollen, with its slicing knife, was brought to Augustus in a procession to the festival grounds, paraded on the back of a carriage pulled by eight horses, and then sliced up into 24,000 portions, which were distributed among the thousands of festival guests and soldiers.
Baking of the Giant Stollen for Augustus II the Strong's Zeithainer Lustlager, 1730.
Engraving by Elias Baeck called "Heldenmuth" (German, 1679–1747).
The inscription on the engraving, roughly translated from German, reads as follows:
Praise and glory of the laudable Beckhen handicraft. Illustration of the large baking oven at the Royal Pohln and Churfürstl held in June 1730 at the Campiment bey Zeithayn between Großenhayn and Mühlberg, in which the large Strietz or cake was well baked by a Dresden based master named Zacharias; to make such a large Stritzel 18 bushel white flour, so 21 ct. 36 ℔ are weighed, 1½ ton of yeasts, 326 cans of milk, 60 shock or 3600 pieces of Eyer, 3 ℔ muscat flowers. The cake, which was pulled on a slider, for which 57 boards were used, by rolling with 2 chains and 1 thau in and out of the oven. The machine was long 8 Elen, the Strietz 18 Ellen in the length, 8 in the width, 1½ Schuch diek, and led with 8 horses on a scaffold into the Royal Main Quarter at Radewitz, where himself with a large knife, like a sabre (the same was several Ellen long), the Brod was cut up and divided out.
Dresden's Annual Stollen Festival—A Highlight of the Christmas Season
The festive tradition ushered in by Augustus and his giant stollen is alive and well in Dresden today with its annual Stollenfest. Every year in December, hundreds of bakers and pastry makers that comprise Dresden's Stollen Association come together to bake a giant Christstollen, which they then parade through the city's Old Town in a custom horse-drawn carriage, joined by marching bands, actors in historical costumes, and military regiments. Cheered on by tens of thousands of festival goers, the giant stollen is then cut up and sold in slices, with a majority of the proceeds going to a charitable cause. Calling to mind Augustus's Zeithainer Lustlager, the festival celebrates the centuries-old baking tradition and vibrant craft that is the Dresdner Christstollen.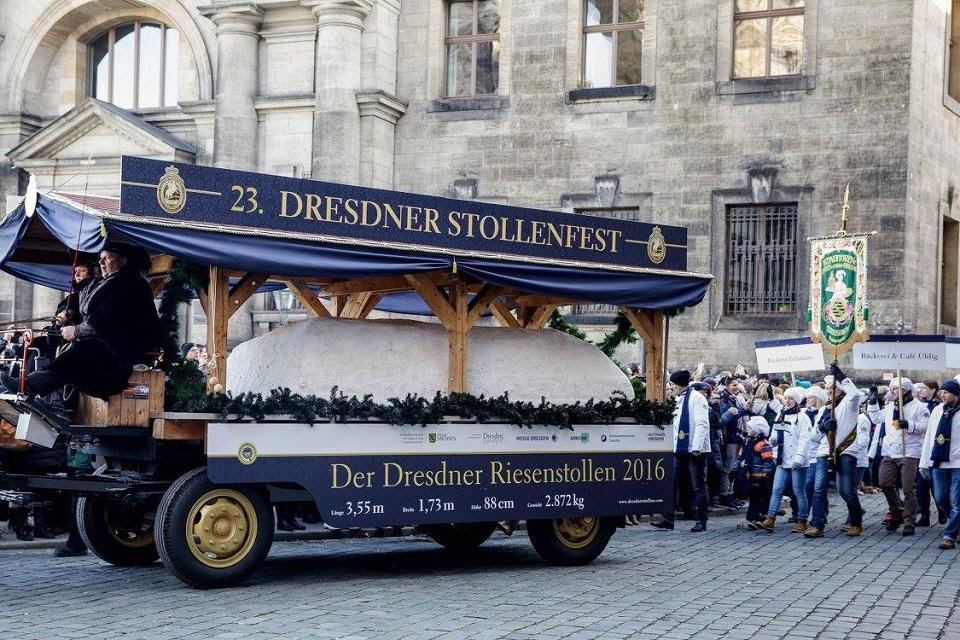 Images from the 2014 and 2016 Dresdner Stollenfest, Dresden, Germany
Here at the Bakehouse, our annual month of holiday stollen baking is now in full swing. Our passionate dedication to incredible ingredients, tradition, and mastery of technique comes through in our stollen's amazing flavor and texture. We package the festive loaves in lovely cloth bags for gift-giving and offer it by the slice in the Bakehouse Bakeshop. By season's end, we expect to make close to 3,000 total pounds of stollen for our community! Come in ask for a taste…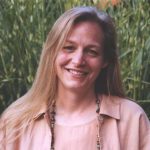 After a long, established career as a Ph.D. art history scholar and art museum curator, Lee, a Michigan native, came to the Bakehouse in 2017 eager to pursue her passion for artisanal baking and to apply her love of history, research, writing, and editing in a new exciting arena. Her first turn at the Bakehouse was as a day pastry baker. She then moved on to retail sales in the Bakeshop, followed by joining the Marketing Team and becoming the Bakehouse's designated culinary historian. In addition to her retail sales and marketing work, she's a member of the Bakehouse's Grain Commission, co-author and editor of the Bakehouse's series of cookbooklets, and a regular contributor to the BAKE! Blog and Zingerman's Newsletter, where she explores the culinary, cultural, and social history and evolution of the Bakehouse's artisan baked goods.