Stop by the dairy shelves in the Bakeshop! We're brightening your winter days with another take on our yogurt cups made with Hiday Family Farm yogurt. The newcomer is a blend of creamy, organic, grass-fed, Mediterranean-style yogurt, a touch of sugar, and the zest and pulp of Meyer lemons, a citrus fruit that's much sweeter and less acidic than regular lemons. Pair it with our blueberry muffins for an extra special breakfast treat or afternoon pick-me-up.
With this new addition to the Bakeshop, you might be wondering why we're so taken with Hiday Family Farm yogurt. Here at the Bakehouse, we pride ourselves on sourcing local ingredients from Michigan farmers who care about sustainable practices. Dan Hiday, the owner and principal farmer of the Hiday Family Farm, fits this bill to a T and we've been carrying pints of his organic, grass-fed yogurt in the Bakeshop for close to a year now. Dan's evolution from conventional cattle farmer to organic dairy farmer is an inspiring one and his yogurt, now a Bakeshop staple, is a flavorful testament to his steadfast dedication to grass-based, sustainable farming and animal husbandry.
Dan founded his 155-acre family farm back in 1987, raising beef cattle primarily on grain, utilizing conventional farming methods. Six years later, in 1993, he switched course and became an organic cattle farmer; he sold all his grain equipment, stopped using chemicals, pesticides and herbicides and converted his entire farming operation over to a natural grass- and pasture-based system. In an article last year for the Battle Creek Enquirer, Dan recalled what propelled him to make the conscientious decision to go organic, long before it was deemed desirable, practical, or wise to do so:
"I just got to thinking about, OK, all these chemicals I'm putting on this farm, where's this stuff going? Is it going down to groundwater? Are my kids consuming this? And I just became concerned, one, about my family and their health, two, the land that I was farming and the animals that I was raising."
Since then, Dan and his family have been raising their cattle on wide-open, lush salad-bar grass pastures free of pesticides and herbicides. Four years ago, Dan put his organic farming chops to the test, yet again, when he sold off some of his beef cattle to make room for a small herd of dairy cows, having decided to make a go of it in the organic dairy industry. With the recent decline of milk sales nationwide, Dan, ever the resourceful farmer, has focused his efforts instead on making some of the best local organic, grass-fed Mediterranean-style yogurt around.
So what makes Hiday Family Farm yogurt so special and delicious? Well, to put it simply, it's a thick, creamy, and refreshing bite of healthy, organic, fermented milk from happy, pasture-raised, grass-fed dairy cows. Nothing is added to the grass-fed milk and milk cultures and it's made in very small batches. Quantities are thus limited, so we feel very fortunate to have it available in the Bakeshop for you all. It's outstanding flavor and nutritional punch won't disappoint. Because it's made from the milk of grass-fed cows, Dan's yogurt is of a much higher quality and is richer in omega-3 fats and CLA, a powerful fatty acid known as conjugated linoleic acid. Moreover, according to a recent study in the Journal of Food Science and Nutrition, the unique balance of omega-3 and CLA fatty acids found in grass-fed milk can potentially reduce the risk of cardiovascular and other metabolic diseases. And Dan's nutrient-rich yogurt tastes incredible. Testimonials on just how delicious it is abound on the farm's Facebook page.
So come to the Bakeshop and pick up some pints of Hiday Family Farm Mediterranean yogurt or indulge in our bright Meyer Lemon Yogurt cups for a tasty snack—to satisfy your body and your culinary soul!
By Lee Vedder
First photo from Hiday Family Farm's Facebook page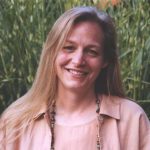 After a long, established career as a Ph.D. art history scholar and art museum curator, Lee, a Michigan native, came to the Bakehouse in 2017 eager to pursue her passion for artisanal baking and to apply her love of history, research, writing, and editing in a new exciting arena. Her first turn at the Bakehouse was as a day pastry baker. She then moved on to retail sales in the Bakeshop, followed by joining the Marketing Team and becoming the Bakehouse's designated culinary historian. In addition to her retail sales and marketing work, she's a member of the Bakehouse's Grain Commission, co-author and editor of the Bakehouse's series of cookbooklets, and a regular contributor to the BAKE! Blog and Zingerman's Newsletter, where she explores the culinary, cultural, and social history and evolution of the Bakehouse's artisan baked goods.